Rebuild or replace? Marzocchi Z1 drop off ii

08-02-11, 11:41 AM
Holy crip he's a crapple
Join Date: Jun 2011
Posts: 164
Mentioned: 0 Post(s)
Tagged: 0 Thread(s)
Quoted: 0 Post(s)
Likes: 0
Liked 0 Times in 0 Posts
Rebuild or replace? Marzocchi Z1 drop off ii
---
I have an `04 santa cruz bullit, and have been playing around with air pressures lately in my shocks to get the right feel for myself.
I have the manual for my fork, but it is still confusing if I should be using 0-15psi or 52-65psi in my fork, I'm 220lbs. The manual covers every fork Marzocchi made in 2004, and I don't know enough about forks to know which of the setup guides I need to follow for mine, and Marzocchi hasn't responded to any messages I left via phone, or emails, ugh.
The fork is a Bomber Z1 drop off ii.
I was riding with it at 55psi and it always felt very stiff to me, I hardly get the seals to wipe the dirt off past the 1/2 way range of the forks.
this is a pretty typical 'after ride' look of my front forks -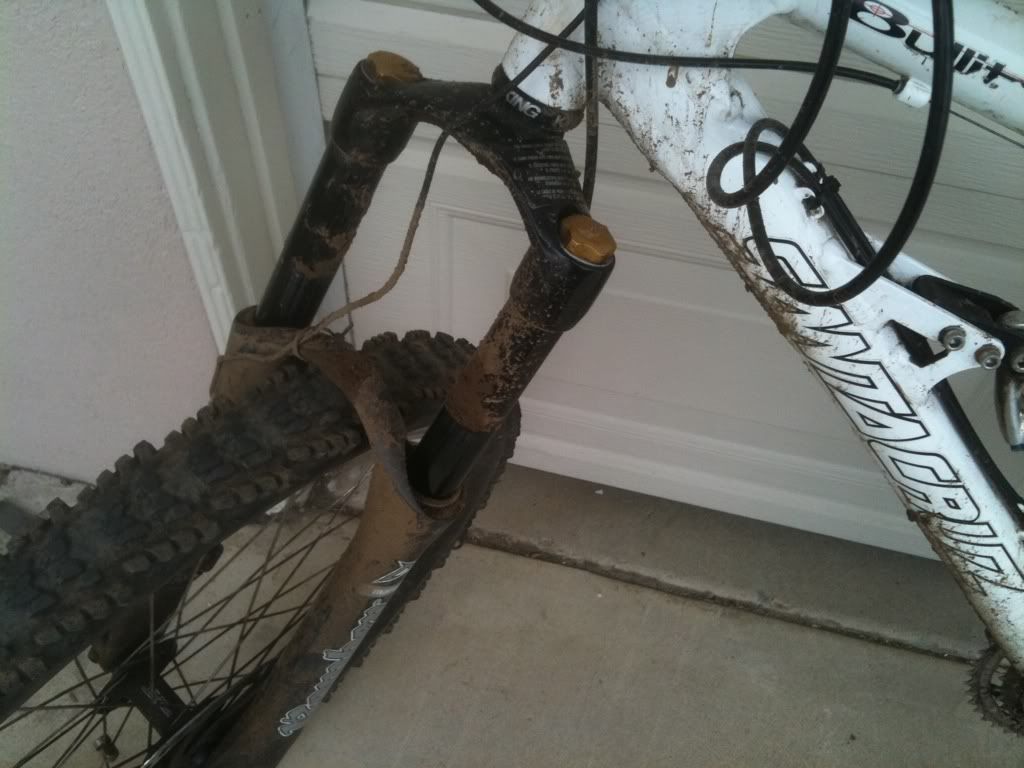 So this weekend to change things up, I released all the air of the top air fittings on the fork and pumped them to 15psi. Everything felt much nicer! The ride was more plush, the travel was getting used much more, etc.
However, shortly after, the left leg started leaking oil past the seal, so I immediately tried to pump both sides back up to 50psi, the left one just bubbled out oil past the seal and would not hold any pressure, the right leg held the pressure fine and I was able to continue riding, and as the fork was much stiffer not much oil leaked out after that point as very little compression travel was being used.
I think I have the tools needed to replace the seals on this fork myself, but as it's so stiff at 50-55psi, would I be better off just getting a better/newer fork?
Where can I buy replacement seals and oil? I found a flickr set of pics taking apart a similar marzocchi fork so I'm good to go as far as that.

08-02-11, 07:21 PM
Single-serving poster
Join Date: Aug 2009
Location: Toronto, Canada
Posts: 5,098
Mentioned: 0 Post(s)
Tagged: 0 Thread(s)
Quoted: 1 Post(s)
Likes: 0
Seals -
online at Enduro seals
Fork oil - well stocked motorcycle shop you need to find the cST for that fork's oil
Thread
Thread Starter
Forum
Replies
Last Post

Posting Rules
You may not post new threads
You may not post replies
You may not post attachments
You may not edit your posts
---
HTML code is Off
---