Senior Member
Join Date: Feb 2008
Location: Carson Valley Nevada
Bikes: Cervelo Serotta Santa Cruz
Posts: 226
Mentioned: 0 Post(s)
Tagged: 0 Thread(s)
Quoted: 0 Post(s)
Alta Alpina Challenge: Riding the Wild Sierra
---
Yep this is not a Rockies area ride but having lived in CO for a long time and still living part time in GJT I thought I would post this for all my Mountain Zone ride buddies. I'll be doing BTC, hopefully Deer Creek Century, and a bunch others this year.
Registration is now open for the 2011 Alta Alpina Challenge: Riding the Wild Sierra presented by the
Alta Alpina Cycling Club
.
Date: June 11 Start Location: Turtle Rock Park, Markleeville CA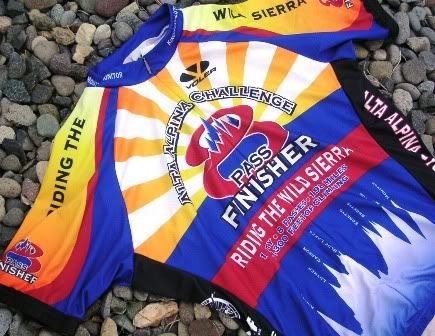 The Alta Alpina
Wild Sierra
is actually 4 events on one day in Alpine County California and Carson Valley Nevada.
The Wild Sierra Metric is 64 miles and 5000 feet of relatively moderate climbing including Luther Pass and Blue Lakes Summit.
The Wild Sierra Century includes Daggett Pass, Ebbetts Pass East, and Monitor Pass West for 110 miles and 11,000 ft of climbing in the heart of the Tahoe Sierra.
The 5 Pass Challenge is the reverse of Alpine County's most famous ride plus Diamond Valley for 135 miles and 16,000 feet.
The 8 Pass Challenge is a California Triple Crown ride and just may be the "Worlds Toughest Double Century" at 198 miles and 20,300 ft of climbing including the famous summits such as Kingsbury (Daggett), Carson, Luther, Blue Lakes, Monitor and Ebbetts.
Four fully supported and challenging rides in the Wild Sierra