JFK Drive

04-27-22, 01:19 PM
Senior Member
Join Date: Jun 2013
Location: location location
Posts: 2,954
Bikes: MBK Super Mirage 1991, CAAD10, Yuba Mundo Lux, and a Cannondale Criterium Single Speed
Mentioned: 0 Post(s)
Tagged: 0 Thread(s)
Quoted: 314 Post(s)
JFK Drive
---
I posted this in a thread in General, but it might be worth its own thread here.
San Francisco voted last night to make JFK Drive in Golden Gate Park car-free on a permanent basis.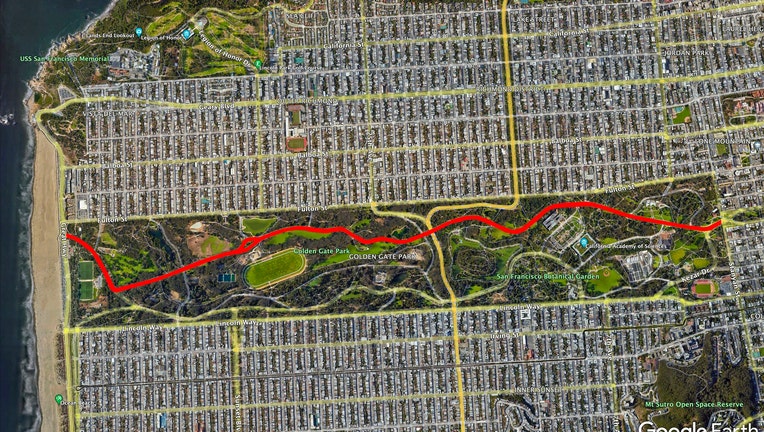 While it's undoubtedly a big win for recreational cycling, I can't help think that in the greater scheme of bike advocacy, it's a bit of a windmill tilt; unless JFK connects with some new bike infra on some of the streets going downtown east of the park, I can't see it making a huge difference in how City residents actually get around town.
Any SF folk on here to comment?

04-28-22, 01:03 PM
Happy banana slug
Join Date: Sep 2015
Location: Arcata, California, U.S., North America, Earth, Saggitarius Arm, Milky Way
Posts: 2,971
Bikes: 1984 Araya MB 261, 1992 Specialized Rockhopper Sport, 1993 Hard Rock Ultra, 1994 Trek Multitrack 750, 1995 Trek Singletrack 930
Mentioned: 26 Post(s)
Tagged: 0 Thread(s)
Quoted: 1172 Post(s)

04-29-22, 01:41 PM
Klaatu..Verata..Necktie?
Join Date: May 2007
Location: SF Bay Area
Posts: 11,340
Bikes: Litespeed Ultimate, Ultegra; Canyon Endurace, 105; Battaglin MAX, Chorus; Bianchi 928 Veloce; Ritchey Road Logic, Dura Ace; Cannondale R500 RX100; Schwinn Circuit, Sante; Lotus Supreme, Dura Ace
Mentioned: 34 Post(s)
Tagged: 0 Thread(s)
Quoted: 6216 Post(s)
I can't comment as a San Francisco CURRENT resident, nor as a someone who was ever a cyclist there, but we did live in the middle Richmond (28th Ave) and it was a much easier and less congested commute to the Peninsula to enter the park at 30th, take JFK Dr. West past the Buffalo corral, hang two lefts and a right and come out on Sunset Blvd. WAY less congested than 19th. If I still lived in The Richmond, I'd probably be a bit miffed. Basically you have to either take 25th or take Fulton to the Great Highway, which means 20 block out of your way.

That aside, I'm curious whether there's enough traffic on a constant basis West of 25th to justify closing what is a really wide boulevard to car traffic. Last time I was in that area - coming back from buying a bike up in Rohnert Park - I didn't see much bicycle traffic. I think if you banned parking on it, and made that part of the road into bike lanes, you'd accomplish almost as much with less disruption.
__________________
"Don't take life so serious-it ain't nohow permanent."

"Everybody's gotta be somewhere." - Eccles

04-30-22, 09:01 PM
Senior Member
Join Date: Aug 2010
Location: Monte Rio CA
Posts: 1,083
Bikes: Motobecane Le Champion, Raleigh International, Bertin, Raleigh DL-1 1980, Colnago Super, Centurion Pro Tour, Follis, Bianchi Competizione, Zunow Di Picce, Brompton M6L, V.O. Passhunter, Don Farrell, Specialized Stumpjumper, Black Mountain Monstercros
Mentioned: 45 Post(s)
Tagged: 0 Thread(s)
Quoted: 115 Post(s)
It will be great for recreational riders and sometimes that is the gateway to commuters and errand runners. It will help the cause.

-D

05-01-22, 12:07 AM
please no more flats
Join Date: May 2021
Location: San Francisco
Posts: 798
Bikes: aethos, creo, vanmoof, public ...
Mentioned: 1 Post(s)
Tagged: 0 Thread(s)
Quoted: 430 Post(s)
the bike plan actually has provisions for major east-west improvements from the park to market street, and there are already some semi-decent bike lanes. The protected stretch on fell from Steiner is not bad at all. not perfect but a big improvement. I ride JFK every couple days, but I can't say I ever rode it before the pandemic. It doesn't seem like it would have been a terrible road to ride on even with traffic. The bigger benefit is probably to pedestrians, runners, roller skaters, dog walkers, etc.

05-01-22, 03:54 PM
Callipygian Connoisseur
Join Date: Nov 2008
Posts: 1,383
Mentioned: 13 Post(s)
Tagged: 0 Thread(s)
Quoted: 564 Post(s)
I'm of the mind that any step in the right direction is a good step. Whether it starts or ends nowhere is a matter of perspective, but at least it's there and can serve as a building block for more.

05-28-22, 07:51 AM
Full Member
I lived in San Francisco from1988 until 1995, and this is a huge win for everyone who enters the park. JFK Drive was over-used and greatly abused by frustrated and downright hostile automobile drivers who are in a hurry and have no problem speeding like idiots. Years ago the De Young Museum was instrumental in keeping JFK open to drivers; how on earth would people be able to visit the museum with out driving to within a few hundred yards of the place? It is a park for people, not an escape route to relieve traffic congestion by the endless stream of cars. Keeping it open to drivers is really not be changing the crisis of a city overcrowded by cars, not by one iota. This is long overdue and I'm glad to hear it.

06-01-22, 08:41 AM
Member
Join Date: Feb 2009
Posts: 102
Mentioned: 0 Post(s)
Tagged: 0 Thread(s)
Quoted: 20 Post(s)
Likes: 0
I just got back from a road trip to the east coast, stopping along the way at the in-laws in New Jersey. I brought my bike and rode from the in-laws on the Jersey side of the Hudson River, over the George Washington Bridge, along the Hudson Greenway, and around Central Park which has been car-free for at least the last 3 years. It was absolutely incredible to see the transformation, how peaceful and quiet it was in the middle of Manhattan, yet very well-used by cyclists, runners, pedestrians and others on just a weekday in May.
Here's an interesting article from a year ago about making JFK car-free and comparing it to what has happened in Central Park. It should be a no-brainer for the politicians in San Francisco to make JFK car-free.
https://www.sfweekly.com/news/learni...ar-free-parks/

06-01-22, 10:14 AM
Senior Member

Join Date: Jan 2020
Location: San Jose
Posts: 723
Bikes: Blur / Ibis Hakka MX
Mentioned: 1 Post(s)
Tagged: 0 Thread(s)
Quoted: 289 Post(s)
I think it's too short and does not really connect anything meaningful for commuters. It's great win for families to bring their children on scooters, bikes, roller blades etc...

When I lived in SF back in 90s it was fun to go to the park on sundays when they closed down from autos, ride our bikes and inline skates.

06-22-22, 02:09 AM
Only the eastern portion of JFK is closed. The part has been closed every Sunday since the 1960s. SF did install bike lanes on this part of JFK, but they were pretty dangerous to use. Even SF's own survey found bicyclist were slowed by 20% immediately after. SF striped the bike lane between parked cars and the sidewalk which sounds good on paper. But in reality drivers did not want to get hit by cars, so they park in the buffer spaces which means the passenger side doors open into the bike lane. Also the buffer space is about 1ft shorter than typical car door if people parked correctly, so the doors will intrude regardless.

Parking utilization along this closed part of JFK regularly exceeds 100%, peaking at 110% or 120%, meaning people start making up their own parking spaces in the bike lane when the legit parking supply is exhausted.

There would regularly be 300-500ft queues of automobiles along JFK at stop signs during commute times because nearby high speed high volume streets overflowed on to JFK.

The western part is still open to automotive traffic and is unchanged.