Trici Taxi

07-28-08, 12:49 PM
It's MY mountain
Trici Taxi
---
New angle on pedicabs. This is in Madrid. These have electric motor assists and are aimed at somewhere between the distances Fishermen's Wharf pedicabs travel and the distances regular taxis travel. Of course, the taxi union is up in arms.
http://www.typicallyspanish.com/news...le_11114.shtml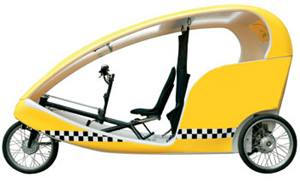 I don't see any reason these couldn't be commuter vehicles though... might appeal to folks who are reluctant to try bikes or Vespas.

07-28-08, 12:56 PM
Wheres my snuggie?
Join Date: Mar 2007
Location: San Francisco
Posts: 3,068
Mentioned: 0 Post(s)
Tagged: 0 Thread(s)
Quoted: 0 Post(s)
Likes: 0
Liked 0 Times in 0 Posts
I wonder if I could buy the shell and put it on my taxi bike...? Start charging and I might get rich!

07-28-08, 01:01 PM
Uber Goober
Join Date: Sep 2007
Location: Dallas area, Texas
Posts: 11,641
Mentioned: 2 Post(s)
Tagged: 0 Thread(s)
Quoted: 151 Post(s)
Likes: 0
That style of cab has been around for years, and electric drive has been; not sure if they have been combined that often. To me, it pretty well defeats the purpose.

Last time I saw any pedicabs operating was down in Houston. One of the girls driving looked to be maybe 17 and about 100 lbs. Just about the worst person in the world to drag 400 lbs of strangers around. Hence the need for electric power.
__________________
"be careful this rando stuff is addictive and dan's the 'pusher'."

07-28-08, 08:43 PM
Senior Member
Join Date: Jul 2008
Location: Sacramento, California
Posts: 149
Bikes: Nishiki NFS-B and Fuji Team 2007
Mentioned: 0 Post(s)
Tagged: 0 Thread(s)
Quoted: 0 Post(s)
Likes: 0
Liked 0 Times in 0 Posts