Tour of Napa Valley - Ride Report

08-19-08, 09:40 AM
moth -----> flame
Join Date: Dec 2007
Location: SF Bay Area
Posts: 5,913
Bikes: 11 CAAD 10-4, 07 Specialized Roubaix Comp, 98 Peugeot Horizon
Mentioned: 0 Post(s)
Tagged: 0 Thread(s)
Quoted: 1 Post(s)
Likes: 0
Liked 0 Times in 0 Posts
Those photocrazy pics worked out quite well! The setup did seem a little odd when we went through, but the end results weren't bad. I just need to work on bringing my grin....

08-19-08, 04:27 PM
Member
Join Date: May 2008
Location: St George, Utah
Posts: 39
Bikes: Orbea Avant M20i Team-D
Mentioned: 0 Post(s)
Tagged: 0 Thread(s)
Quoted: 0 Post(s)
Likes: 0
Liked 0 Times in 0 Posts
Yea. A setup on a corner like that presents a picture with a little more action in it; a nice change from the typical ones of people motoring by straight and level. There were 3 cameras - one looking across the corner, one looking back up the street, and a third across the exit of the corner. I don't understand that one; it typically got flat side shots of cyclists looking off camera, or worse, hind-quarters shots (least flattering of all for most of us!)

08-19-08, 11:16 PM
Come on, it'll be fun
Join Date: Jun 2007
Location: Doing Hard Time in Stocktontucky
Posts: 709
Bikes: I have a few
Mentioned: 0 Post(s)
Tagged: 0 Thread(s)
Quoted: 0 Post(s)
Likes: 0
Liked 0 Times in 0 Posts
Originally Posted by
bigredgrad01
It was pretty good, made a long weekend out of it with my buddies.
Went to Napa yesterday morning and rode the metric century trail for warm up. It was real hot on the way back. The wind on Silverado trail changes direction at around noon, so we we rode with tailwind going west and headwind coming back, so I cut it a bit short to save energy for today, went to a nice Italian restaurant and reloaded on pasta and beer

Today, we started at 6:40. I took it semi-relaxed for the first 50 miles until start of Ink Grade, high cadence pedaling going into Mt Veder and the headwind on Silverado, stopped at all rest stops to fill op on that cytomax stuff. Then on Ink Grade, I sucked down an espresso Gu and opened the taps, and sprinted the rest of the way. Total ride time was 5:22. I noticed that at high cadence I can keep going for a very long time with very little fatigue, so I am going to start using my lower chain ring on the triple more on endurance climbs.
The story I heard about the airlift was some elderly guy was riding tandem with his wife and had a heart attack, fortunately close to the rest stop, so he got some EMT aid real quick, hope he's alright.
Also, whoever set up the crazy photo camera is an idiot, who in their right mind sets up a camera on high speed turn and then distracts a tired rider with a megaphone telling him to pose for the shot? I heard someone saying there was an accident there, and I would not be surprised.
In one of my emails this afternoon. Note to self: Go get a complete check up!
As some of you know Michael had a heart attack yesterday while we were
doing the 100K (65 miles) on the Napa ride. We were just rolling into
the lunch stop at 32 miles and suddenly he unceremoniously dumped both
of us off the bike. I realized immediately that he was in trouble
(hands and jaws clenched and not breathing). Michael owes his life to
the cardiologist and cardiac surgeon from Sacramento who were
fortuitously at the rest stop. As soon as we went down they came
running over, assessed the situation, and began CPR immediately. Also
assisting was a nurse who was in charge of the rest stop. Without the 3
of them, he would not be here. We all owe them his life.....

It took nearly 20 min for the ambulance to arrive with the
defibrillator on board. With the docs and the nurse working together
kept up CPR (he was not breathing on his own and his heart was not
pumping.) The docs were clearly in charge, taking the equipment and
shocking him 3 times (while continuing CPR). With the third shock he
finally came back around and was clearly confused. Once he was
stabilized they medivac'd him to Queen of the Valley Hospital in Napa
where he had heart catherization and ended up with 2 stints in his
major artery which provides blood to the heart. It was almost fully
blocked (the doc showed me the images and it was really bad.)

As of last night he still was not remembering what had happened. He
remembers having some tightness in his chest after Tuesday's ride
(which he NEVER told me about) as well as some tightness yesterday a.m.
during the ride (which again he never mentioned). He also said he has
been really tired and this is likely due to the blockage. I still can't
figure out why he never told us about any of this! I made him have a
physical a few months ago but did not insist on a stress test as I
didn't know about any of these symptoms!

I want to give a special thank you to Ken and Mary Hernandez. Mary
handed her bike off at the rest stop and went with me to the hospital
(via CHP cruiser), going back to Yountville and getting our truck. It
helped so much for me not to be alone through all of this. Ken spent a
good portion of the afternoon helping my boys retrieve our tandem (all
this after near record time in finishing his century)! Without their
help and friendship we would have been lost.

Thanks to all of you who have offered your help. I may yet take you up
on it. Right now I am getting ready to head back up to Napa (and hope
that the court doesn't come after me as I am bagging my jury duty in
Oakland this a.m. since I can't seem to get a human on the phone to
cancel and they won't let me postpone again). Adam and BJ will be going
to Hayward to get Michael's parents and bring them to the hospital to
see them. As you can imagine this is a big wakeup call for all of us.
BJ has already told Michael he is going back on the healthy heart diet
and does not get to cheat this time (after spending a week caring for
my mom following her heart attack a few weeks ago BJ is an accomplished
cardiac care giver!)

All I can say is if you are not feeling up to par, do tell someone!
Don't keep thinking you can "just ride through it." As I told Michael,
I can't read his mind.......
Eileen

08-19-08, 11:17 PM
Lurking since Aug 05
Join Date: Apr 2006
Location: Peninsula, Bay Area, CA
Posts: 138
Bikes: Salsa Primero<br>2000 Fuji Team Cross<br>Pedal Force RS<br>Peugeot PN-10 (Late 80s, Super Vitus 980)
Mentioned: 0 Post(s)
Tagged: 0 Thread(s)
Quoted: 0 Post(s)
Likes: 0
Liked 0 Times in 0 Posts
We skipped the lunch rest stop and the extra loop at the bottom of Ick Grade for a whopping 89 miles in a time 5:10. We had a couple of very strong riders in our group back down Silverado Trail and I was just barely hanging on. I'm glad I did, it was a great ride and that headwind was nasty!
Here is my pic.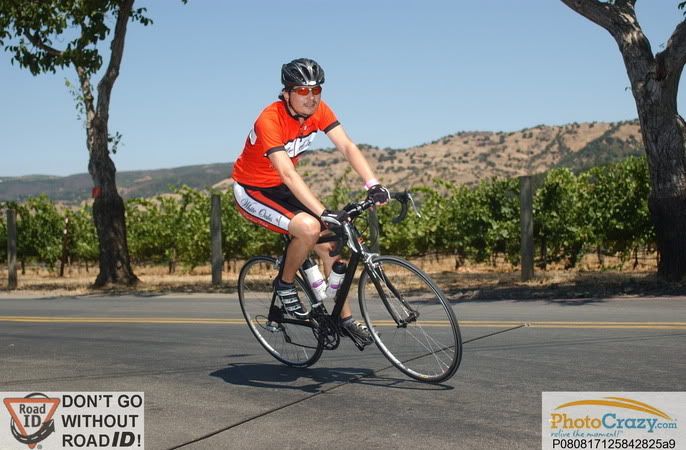 08-20-08, 12:47 AM
dirtbag roadie
Join Date: Mar 2005
Location: PDX
Posts: 894
Bikes: Della Santa Corsa Speciale -- Kish custom -- Santa Cruz Stigmata -- Niner Air 9 Carbon
Mentioned: 0 Post(s)
Tagged: 0 Thread(s)
Quoted: 0 Post(s)
Likes: 0
Liked 0 Times in 0 Posts
That is just an amazing story, what are the odds that a cardiac surgeon would be at the rest stop when the guy goes into arrest. Very, very lucky.
Thread
Thread Starter
Forum
Replies
Last Post
General Cycling Discussion

Posting Rules
You may not post new threads
You may not post replies
You may not post attachments
You may not edit your posts
---
HTML code is Off
---