Alta Alpina Challenge 2012 ride report: riding it in a recliner

07-02-12, 10:03 PM
Senior Member
Join Date: Dec 2009
Location: Northern California
Posts: 723
Mentioned: 1 Post(s)
Tagged: 0 Thread(s)
Quoted: 41 Post(s)
Likes: 0
Alta Alpina Challenge 2012 ride report: riding it in a recliner
---
Last year I signed up for the Alta Alpina, all 8 passes, but was absolutely unprepared for it. Rather than wake up in time for the 3:30am start, I got there in time for lunch and then pedaled up Ebbett's Pass to see the snow walls. I vowed though that I'd be back for 2012, and as I now had the regular ride jersey, I didn't need a duplicate and was gunning for the 8 Pass Finisher.

I prep'd for the ride as best I could living and riding at ~400ft (Roseville/Rocklin). I did a couple hill repeats on Mt. Diablo, though that was in cooler weather than I expected in Markleeville. I also went up to Markleeville on two separate occassions and rode the first and second halves of the ride so I could get an idea of the needed pacing. Thankfully I found that the altitude didn't bother me, at least at the efforts I was doing for the climbs (I cough up a lung when MTB'ing on the Tahoe Rim Trail, which isn't much higher though).

I got pretty neurotic about planning, and had a complete schedule taped to my bars, including what I thought my max time at each rest stop should be.

The first half of the ride went faster than expected, probably due to the cooler morning weather than when I was previously there, and not carrying all the water I needed to be self-supported.

Between Kingsbury and the Emigrant rest stop, a group of three passed, with the last wielding a GoPro camera (was that chidonchea?). At Luther Pass a rider rolled up and said "Hey, it's anotherbrian!", and assuming it was someone from here, I asked what his name was. He got a confused look on his face and said it was Brian while trying to show me his name/number. At the Blue Lakes rest stop, Metin introduced himself; I'd been watching name/number plates, but it was probably easier to find me in the crowd. I'd see the other Brian and Metin throughout the day.

I arrived at lunch an hour ahead of schedule, so decided to sit down and chat with folks and ended up not eating very much. My carefully planned rotation of Clif bars and drink powder didn't leave any room for solid food. I'd soon regret that.

The climb up Ebbett's, which I'd previously enjoyed as the first ride of the day in the cool morning (and couldn't understand why anyone would say was the worst), was now as bad as I'd heard, with a warm headwind all through the lower portions of the canyon. 2/3rds of the way up my feet started aching, though I'd brought an alternate pair of insoles (say what?) for the occassion, and balanced my bike on the side of the road, hoping to not get hit by any passing moto's, while I changed them. A few minutes later I was back on my way and my feet felt as good as new.

I stopped at the summit long enough to get a sticker then rested on the drop to Hermit Valley. Metin and the other Brian were both there, and just as I was leaving, pumpkincycle, who I briefly chatted with on the Davis Double about the Alta Alpina earlier this year rolled in. They were probably all back to the summit before I was half way up, as they looked well rested when I finally made it back. I bombed the descent with my superior mass and CdA, as it was the only way I could make up time for the climbs (my terminal velocity is > 60mph, though the fastest I saw on the ride was a bit over 53).

The ride up the front of Monitor wasn't too bad, but I realized I was still on my drink mix from after the lunch stop. It wasn't very appealing, and neither was the Clif bar I had. Up the climb I caught up to another other Brian, and we talked for a bit, and both reached the summit at the same time. I felt fine at the time and should have rolled through and got the sticker on the way back, but I decided to stop instead.

The instant I got off the bike I felt _bad_. Really really bad. I sat down and it only got worse. I can't recall ever really bonking, but I was started to spiral the drain. The rest stop workers were fantastic, offering/suggesting to get me anything I needed. After ~15min I was able to start sipping a Coke, and within a couple minutes I felt pretty good (and one of the rest stop workers who'd been watching me said I was walking much straighter). Up to that point I still had at least a 40min buffer of time on the schedule, and it was all wasted away while I sat there. I rolled out when last call was announced for the descent to Topaz. Rather than enjoy the descent, I ended up riding the brakes all the way down, eating cookies and drinking Gatorade that the same rest stop worker mixed up for me. I really appreciated their efforts.

I was back to normal at the bottom, got my sticker, and started the long trudge back up. It turned out I averaged a higher power all the way up the climb than I did on any of the earlier climbs, so I probably need to reassess my pacing. I didn't have any real experience beyond ~14 hours though, and especially on nothing with as much climbing.

Not sure when I rolled into the finish, but I know there was at least someone left behind me (cause their wobbly headlight was giving me fits up the last climb to the park).

So I'm super pleased I made it. I saw one other recumbent out on the course, but he wasn't doing the 8 passes, so I think I get to claim I'm the first ever to finish it. My only other doubles have been Davis, and I've wanted to do at least enough for the CTC for years, but there haven't been enough hours in the day. I think I've got the fitness now, so I've signed up for Mt. Tam. I'm also signed up for the Death Ride (it would be my first time), and while I swore off the idea of going back for it during Saturday's ride, it would probably be a good idea to do to experiment with a faster pace and zero stress about finishing.

07-03-12, 12:16 AM
Senior Member
Join Date: Apr 2005
Posts: 957
Mentioned: 0 Post(s)
Tagged: 0 Thread(s)
Quoted: 34 Post(s)
Likes: 0
Congratulations Brian! It was nice meeting you during the ride. Here is my report with some pictures:
It was bound to happen -- if every rider goes on and on about the great climbs, descents and wonderful support, you can't blame their friends for wanting to give it a try. This year's ride was nearly sold out (the limit is 500 riders), and over 120 signed up for the 8 pass challenge. It no longer has the feel of a small, exclusive event, yet the course still does not feel crowded with the staggered start times. The only place where you constantly see riders is the segment from Turtle Rock Park to Ebbetts summit, which is the second half of the double century and coincides with shorter rides with later start times.
I start at 4am, hoping to avoid the dark descent of Monitor I faced the last year. First about 25 flat to downhill miles to base of Kingsbury Grade in Nevada, then I start the climb as the sky lightens up. Two thirds of the way up, I get passed by a young guy on a Cervelo, sprinting out of the saddle, huffing and puffing. I say to myself: "This is odd, the ride has barely started. Perhaps he is trying to catch a buddy farther up". I meet him at the summit, he has a broken rear shift cable, trying to figure out his options. It's too early for a bike shop, so decides to go ahead and improvise.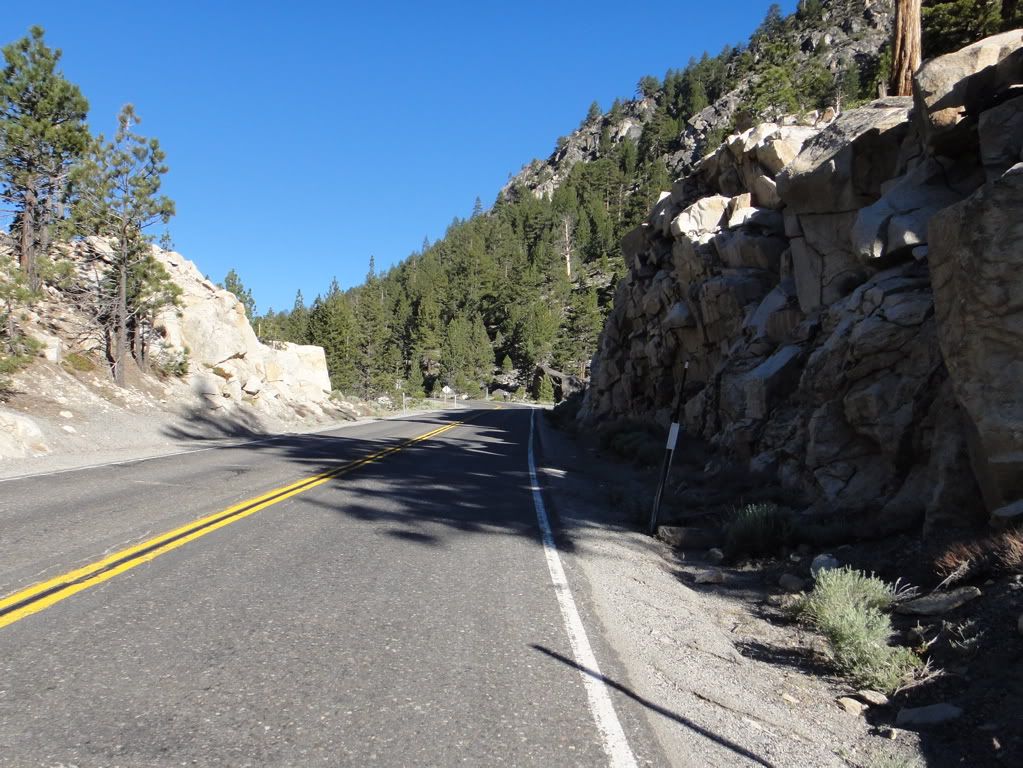 Next is a fast descent to the base where I drop my jacket and lights, then continue to Emigrant Trail and on to Luther Pass. The guy with the broken cable shows up, a volunteer suggests driving him to a bike shop and back. He is not sure, I tell him to take the offer -- it's a hard enough ride without being limited to two gears.
Carson Pass is next. First few miles are relatively flat, then the grade gets steeper. Here I touch my camera lens with dirty hands and not notice it, so the following pictures are all hazy.
Because each climb is an out and back, I can see the earlier riders on the way down as I am climbing. I recognize a few riders from San Francisco Randonneurs, and also see a recumbent rider who I figure must be Brian.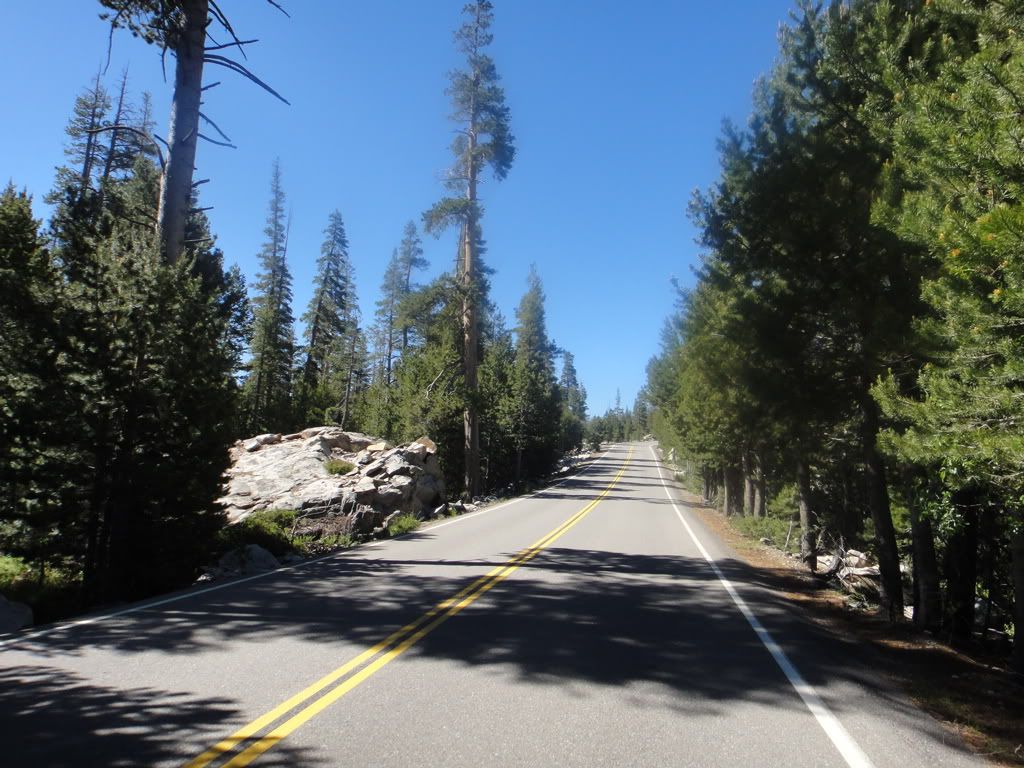 After Carson Pass, there is a fast descent, then a turn to Blue Lakes Road. This section was closed due to snow last year, so it's new for me. It's very scenic and relatively easy, maybe 2,000ft of climbing over 12 miles, but I am getting tired and looking forward to the lunch stop.
First a long and fast descent to Woodfords, then a climb back to Turtle Rock Park for lunch. I see Bostic at the stop, then my friend Peter shows up as I am getting ready to leave. As I descend toward Ebbets, Bostic catches up to me, then it occurs to me that I have forgot to turn off my rear blinker. I see that my batteries are nearly dead, so take a detour to buy some fresh ones. As I get back, this time Peter catches me and we bump into each other at every stop the rest of the way.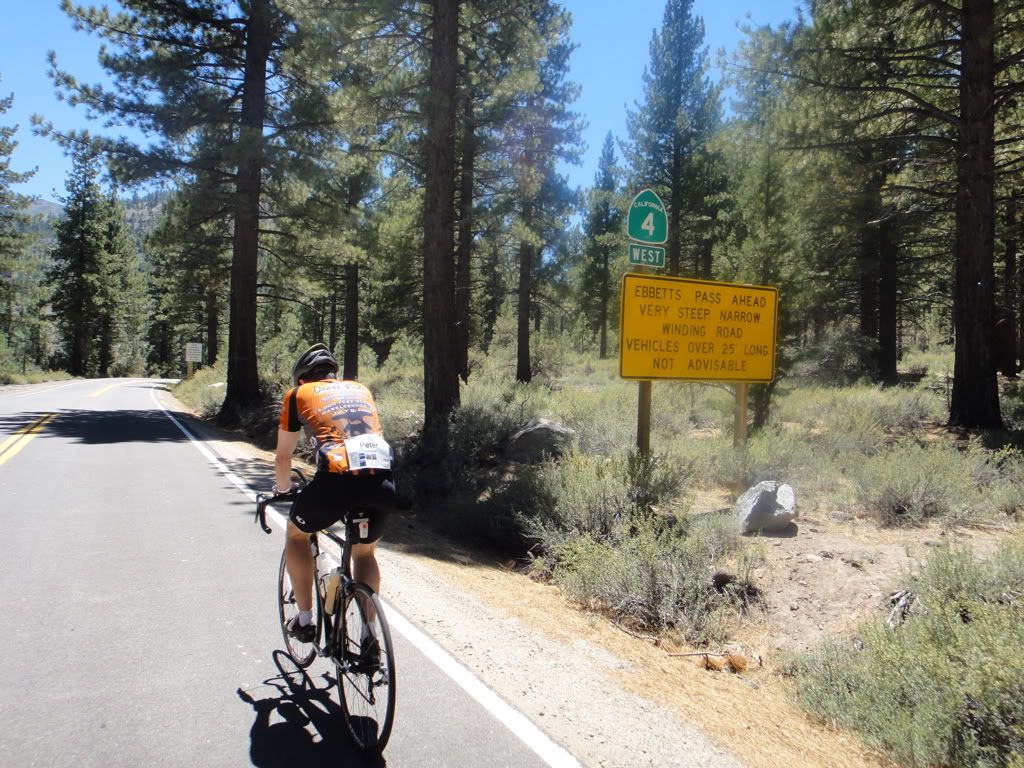 Ebbets gets pretty steep, and the summit takes forever. I feel demoralized when I pass by the lake, because I remember from last year that there is still a lot of climbing left.
After the descent to Hermit Valley, I see that I am almost an hour ahead of last year's schedule, but I feel a lot more tired than last year. It's the faster pace, but also a lack of motivation. This is my fourth double in the last two months, in addition to a 600K and a 200K. I feel burnt out, and keep looking forward to the next rest stop (and the end of the ride) instead of enjoying it. I think about the guy with the broken cable, I think I would have quit happily if it happened to me.
The climb back to Ebbetts is short, then there is a long downhill section to base of Monitor. I let Brian go first, then am able to keep up in the first few steep miles, but slow down in the shallower section. I see him refilling at the rest stop as I skip and start the climb. My mood is beginning to improve as I can visualize the finish, but my legs are still tired. I catch up to Jack toward the summit -- I had been seeing him descend as I approached earlier summits.
I skip the rest stop on top of Monitor, just stop briefly to get my sticker, then pose at the marker for an obligatory picture. The descent to Topaz is one of my favorite parts, but the gusty wind makes me anxious. The wind direction keeps changing every switchback, sometimes limiting me to 25mph instead of the typical 45. I have a long break, everyone at the stop leaves before me. As I go up, I still see many riders descending. I yell words of encouragement to Jack and Brian as they pass me on their way down. The climb is steep, with the gusty win in my face, I barely average 5 to 6 mph. I am still able to pass several riders, knowing everyone else is suffering almost makes it bearable.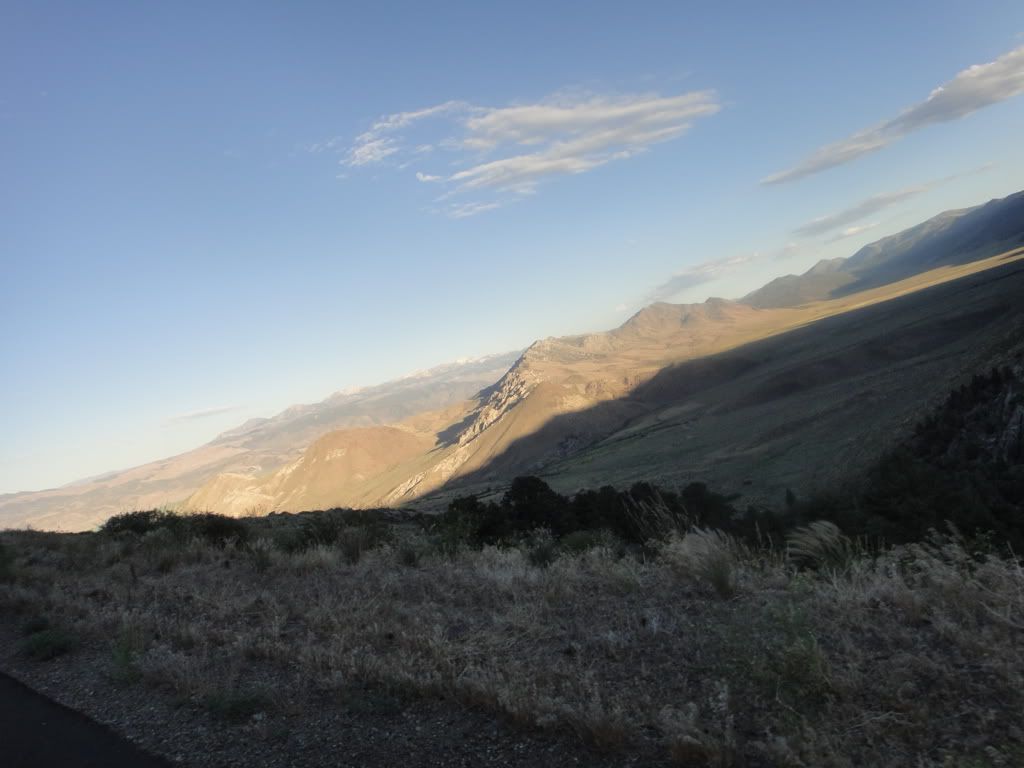 The grade eases at the half point, I am able to shift up and go a little faster.
Back on top of Monitor, I pick up my lights and jacket, then proceed to descend as I want to finish this part before dark. There is still about 500ft of climbing back to the park, and it feels like a 9th pass.
The dinner at the finish is great, with everyone exchanging war stories. As I am leaving, the guy with the broken cable shows up, happy to finish in face of adversity. I am guessing he won't forget this ride for a while...

07-03-12, 08:57 PM
moth -----> flame
Join Date: Dec 2007
Location: SF Bay Area
Posts: 5,916
Bikes: 11 CAAD 10-4, 07 Specialized Roubaix Comp, 98 Peugeot Horizon
Mentioned: 0 Post(s)
Tagged: 0 Thread(s)
Quoted: 1 Post(s)
Likes: 0
Damn! Great report, painful to watch. Congrats on the ride, makes me think I need to get back there next year for Death Ride or....

07-03-12, 11:35 PM
Senior Member
Join Date: Apr 2007
Posts: 1,744
Mentioned: 0 Post(s)
Tagged: 0 Thread(s)
Quoted: 9 Post(s)
Likes: 0
This was the hardest ride I have done. Not as steep as the climbs on the Terrible Two but the amount of climbing and altitude really add up. By the time I was on pass 6 which is climbing up the shorter west side of Ebbets, I was feeling like absolute garbage. I had to stop a few times and eat some more then felt sick but fortunately didn't get sick. At the top of Ebbets I have to thank Garth from Santa Rosa for the Advil. That really helped and by the time I got to Monitor, it was tough but those types of climbs I can really sink my teeth in as the grades are very consistent.
Rather than write up a super long ride report like my first DMD in 2009 here are my bullet points:
- Should have started at 3:30 and not 4:10. With the horrible wind on Monitor it slowed the climb back up from 395 to a crawl. I made it back to the Monitor rest stop with about 15 minutes to spare before sunset at 8:30. I didn't stop for lunch.
- All rest stops should have Advil/Tylenol and Tums. Food and liquids are important but doubles are really hard on the stomach and muscles.
- Blue Lakes rest stop takes FOREVER to get to. After the smoking descent of Carson you hang a right and then it's a l o n g 12 miles to get to the rest stop. A lot of 9% Italian rollers in there too you have to deal with in both directions.
- The water stop at the turn off for Monitor or Ebbets. It would really help to have water farther up the road on Ebbets like the Death Ride. From so far back it's asking a lot to get to the top on just two bottles and it wasn't all that hot this particular day.
- The knapsack worked out well. Provided at the Everest Challenge last year, I brought the knapsack to wear in the morning while climbing Kingsbury Grade. After the descent I swapped base layers, gloves, and packed up everything to have sent to the top of Monitor. At the end of the ride I had the right amount of warm clothing for the last descent and other items I had brought were on my back and not stuffed in jersey pockets.
- I could have benefitted from more hill repeats at Mt. Diablo as the climbing simulates better than the shorter climbs in Silicon Valley & the Santa Cruz Mountains.
- Staying at the Woodfords in and not in South Lake Tahoe allowed more sleep as it's just a few miles from the start at Turtle Rock Park. I still didn't get much sleep the night before but at least I didn't have to drive 20 miles after waking up and loading up the car.
- Friendly volunteers at the rest stop as well as riders not doing 8 passes. A lot of positive comments on signing up for such a difficult ride.
https://app.strava.com/rides/12158578

07-04-12, 08:32 AM
Don't mince words
Impressive efforts to the riders...way more ride and pain than I'm up for...thanks for the great reports. And congrats for finishing.

07-04-12, 10:31 AM
Family, Health, Cycling
To all of you valiant accomplished high altitude climbers: Congratulations, well done!

I was going to do the "easy" version of this ride" The Wild Sierra Century (only 3 passes, 100,000 feet climbing and 110 miles) on the same day(6/30) by the same Alta Alpina club. My accident on Mt. Diablo on 6/20 made me table my plans and I am now very happy to read of your successes. Way to represent Bike Forums Y'all. Good Job!!!

07-04-12, 04:45 PM
moth -----> flame
Join Date: Dec 2007
Location: SF Bay Area
Posts: 5,916
Bikes: 11 CAAD 10-4, 07 Specialized Roubaix Comp, 98 Peugeot Horizon
Mentioned: 0 Post(s)
Tagged: 0 Thread(s)
Quoted: 1 Post(s)
Likes: 0
whoa!

(edit: note the use of a winking smiley, the universal sign that a fallen colleague is well enough to enjoy being the recipient of some light ridicule at his own expense.)

07-04-12, 08:53 PM
Erect member since 1953
Join Date: Dec 2006
Location: Antioch, CA (SF Bay Area)
Posts: 7,002
Bikes: Trek 520 Grando, Roubaix Expert, Motobecane Ti Century Elite turned commuter, Some old French thing gone fixie
Mentioned: 8 Post(s)
Tagged: 0 Thread(s)
Quoted: 119 Post(s)
Likes: 0
Great write ups. I am very very impressed that you all lived through it. Congrats!
Thread
Thread Starter
Forum
Replies
Last Post
Clydesdales/Athenas (200+ lb / 91+ kg)

Posting Rules
You may not post new threads
You may not post replies
You may not post attachments
You may not edit your posts
---
HTML code is Off
---