Any recommendations for a tandem bicycle?

08-30-21, 03:24 PM
Newbie
Join Date: Aug 2021
Posts: 2
Mentioned: 0 Post(s)
Tagged: 0 Thread(s)
Quoted: 0 Post(s)
Likes: 0
Liked 0 Times in 0 Posts
Any recommendations for a tandem bicycle?
---
I had a friend who had a tandem. I've considered getting one so that I could ride with a my wife who doesn't ride. It seems like it might be bulky and heavy when hauling to the basement or mounting on a car carrier. I just now discovered a tandem thread.
---
Last edited by rt134789; 08-30-21 at

03:38 PM

. Reason: Found a tandem thread.

09-09-21, 08:22 PM
Junior Member
If you go to the tandem cycling section of this forum, you will find a bunch of great information. And the tandem folks seem to be very helpfuI.

11-23-21, 10:04 PM
Senior Member
Join Date: Dec 2019
Location: South Shore of Long Island
Posts: 2,148
Bikes: 2010 Carrera Volans, 2015 C-Dale Trail 2sl, 2017 Raleigh Rush Hour, 2017 Blue Proseccio, 1992 Giant Perigee, 80s Gitane Rallye Tandem
Mentioned: 9 Post(s)
Tagged: 0 Thread(s)
Quoted: 814 Post(s)
Polygon makes a more basic but reasonable build
https://www.polygonbikes.com/product...ssion-ax-disc/
Problem with tandems is they've become stupidly expensive, for something that just has an extra crankset and cockpit they're usually well over twice the price of a similarly equipped bike. With the wife not being a rider, unless you find a used bargain, I wouldn't go much above the polygon unless you know she'll like it. Too much cheaper, and there are cheaper, and you might find the experience is darkened by pushing around overweight, inefficient crap.

11-25-21, 06:30 AM
I would defiantly try out a tandem with your wife before buying one. Thier are lots of places where you could rent one. My local city's rec department has a cruiser style one that my wife and I rented for an afternoon. We discovered that she liked it but not enough for us to get one for her and I.
I joined a tandem facebook group; let them know I was in the market for a used tandem with a budget of $1,000 and I soon had a couple of options.
I bought a very nice tandem for myself and my boys ages 6, 3, and 6months for $700. Found a friend who had a child stoker kit and now I have a bike that will last us for a very long time; but.... I may need a triple in the future.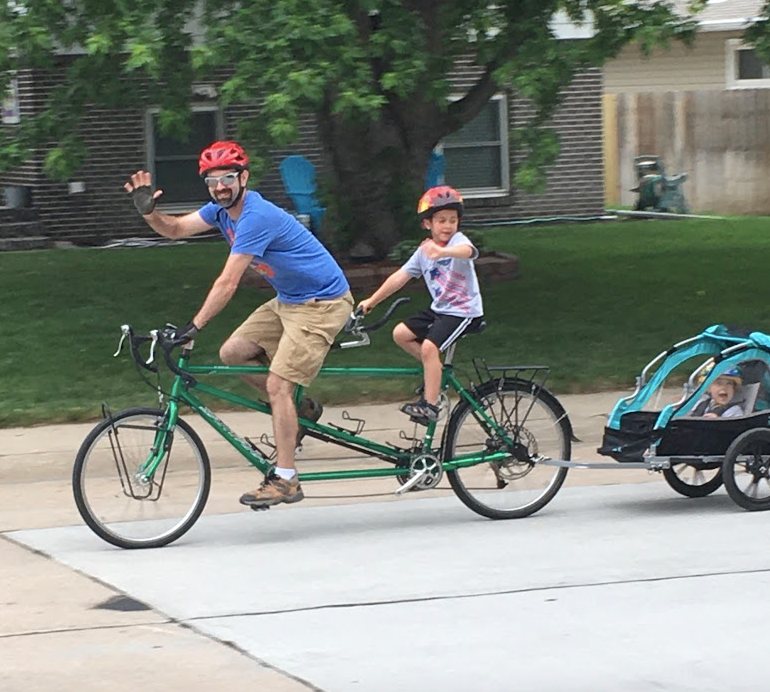 Introductory tandem ride.

11-25-21, 07:27 AM
Check out Peter Fluke's book - Coast to Coast on a Tandem.
A guy( and his spouse) who live the lifestyle.
Should provide a great deal of insight.

12-01-21, 11:29 AM
Lots of good advice from others. Try out a tandem if possible before buying one. They are expensive and can be bulky. As far as the bulk/weight, Bike Friday makes travel tandems with 20-inch wheels that are much lighter, but still expensive.

All that said, I did a coast-to-coast ride on a tandem with my then-10 year old daughter and it was great. The advantage for the tandem is that is enables a less experienced rider ride along with / keep up with a more experienced rider. And the "captain" (normally the more experienced rider) controls the steering, shifting and braking, making it possible for a less experienced rider (including children) to safely ride on roads/highways, etc.