Cycling with the kids

11-25-21, 07:32 AM
Cycling with the kids
---
After I got out of college I got back into cycling and enjoyed it for several years before we had our first child. I no longer had the time to ride like I did before children. So, I decided to include my son in my cycling. I bought a cheap used trailer and enjoyed taking him different places. I used my cheap errand running 26MTB because attaching it to my nice road bike or 29er made me shutter. When my second son was 18 months old we really began putting the miles on it. Alas; the frame on it broke because hauling a 18 month old and a four year old was more than the trailer could handle. I decided to get a wee-ride tandem and a single trailer and enjoyed this set up for 18 months.
Wee-ride
I discovered that my five year old was rather frustrated with this set up; If I peddled over 14 miles an hour he was basically free-wheeling as it was only a single speed. I had seen some post about a child stoker kit on a tandem and always wanted to try one out. So I decided on a budget of $1,000 joined a couple of tandem groups on Facebook and put out a plea for a tandem with the picture above. I soon had a couple of options and settled on a Santana Encore. Took me longer to get a child stoker kit that fit the larger tubes but now I have a bike that is going to last my family a long time.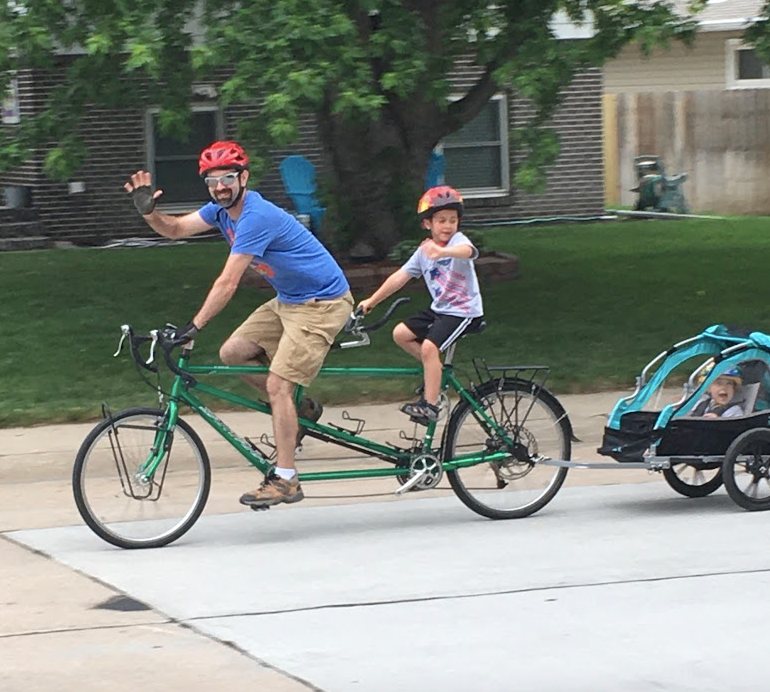 Introductory tandem ride.
This coming summer this will be my set up. I cannot wait for the weather to get nice again so we can get some miles in on the surrounding trails.
Maybe this summer my three year old will be big enough and my 7 month old will be about a year old so I can have them switch to the wee-ride to the tandem and the trailer behind the wee-ride again. Or I might have to wait until they are four and two the following summer. My three boys and I will get plenty of miles on our tandem and trailer.
I haven't ridden a century ride in 4 years. The two years before my oldest was born; I road over 12 of them. My $1,200 29er and $2,000 road bike get out once or twice a year for a pathetic number of miles. The next couple of years I won't get very many miles on them. I actually got more miles on the 29er this summer than the road bike. I did a 30 mile gravel event with friends; never actually trained for it. Riding the tandem while pulling the trailer was more than enough training!
Include your children in your hobbies. Now; I get over 100 smiles every time my boys and I go for a 10 mile ride.
---
Last edited by NRissy; 11-25-21 at

07:36 AM

. Reason: ``

01-06-22, 10:05 PM
Senior Member
Join Date: Dec 2019
Location: South Shore of Long Island
Posts: 2,155
Bikes: 2010 Carrera Volans, 2015 C-Dale Trail 2sl, 2017 Raleigh Rush Hour, 2017 Blue Proseccio, 1992 Giant Perigee, 80s Gitane Rallye Tandem
Mentioned: 9 Post(s)
Tagged: 0 Thread(s)
Quoted: 816 Post(s)
Get them into MTBing and leave the youngest at home from time to time?
I'm fortunate that here in Long Island there are plenty of easy trail systems that let the kids get their feet under them. As a result, when my youngest was 3 and a half, and the other two wanted to join me on the trails, I hooked the trail-a-bike to the mtb and hit the mountain bike trails. I could move at a decent pace, really just got a better workout, but it made it easier to go slower for the older kids to keep up. just pay good attention to handlebar clearance. It is fun when they share the sport with you.