Senior Member
Join Date: Mar 2003
Location: Beaufort, South Carolina, USA and surrounding islands.
Bikes: Cannondale R500, Motobecane Messenger
Posts: 8,522
Mentioned: 0 Post(s)
Tagged: 0 Thread(s)
Quoted: 1 Post(s)
Beach and Trail Ride with my Youngest
---
I've seen more then a few pictures of some posters with their children on rides. Today, I took my younger child to nearby Hunting Island State Park. (Remember Gullah Gullah Island?) I use my wife's Trek Sole Ride equipped with a Topeak BabySitter child carrier for rides with my little girl. Since the bike only has a limited ratio 3-speed, I thought I was in for a tough day with a steady 20mph wind. I started with a tailwind on the beach and rode the trails back to the car to lessen the headwind. We had a blast! The little one is a month shy of turning 2 and is trying to catch her 8 year old brother! After 12 miles, I treated her to
Fraggle Rock
on the DVD player on the way home.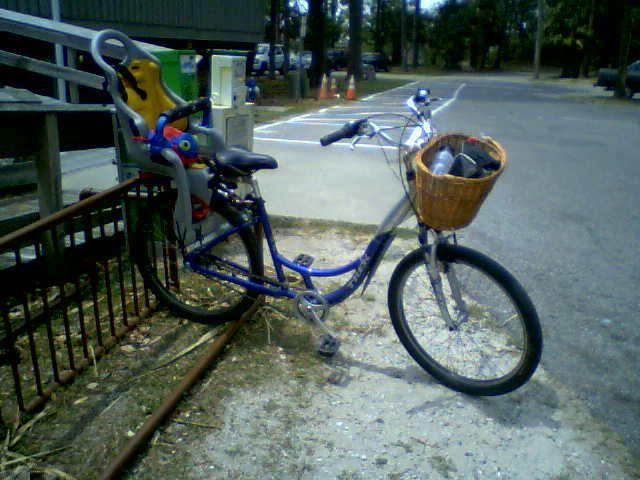 The bike somewhat loaded. The big red ladybug in the child carrier is the princess' helmet. Yes, I rode a girl's bike with a basket and still passed a Cannondale Scalpel on the trail!
Cheese puffs, energy food for toddlers! That white building behind her is the Lighthouse. She was not on the bike in this pic.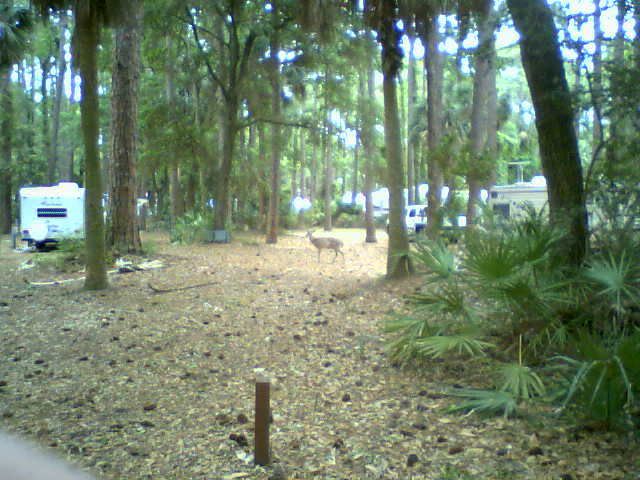 Had to snap a pic of this doe amongst the campers. The Eastern Whitetail deer on Hunting Island have been stunted in size due to several generations of isolation causing inbreeding. This sub-species, called Hunting Island, is protected.