3 kids in a trailer

02-27-12, 11:47 PM
Member
Join Date: Sep 2005
Location: Southwest Wisconsin
Posts: 41
Mentioned: 0 Post(s)
Tagged: 0 Thread(s)
Quoted: 0 Post(s)
Likes: 0
Liked 0 Times in 0 Posts
3 kids in a trailer
---
3 kids (4.5/2/7 months) need to fit in one trailer...the question is...how?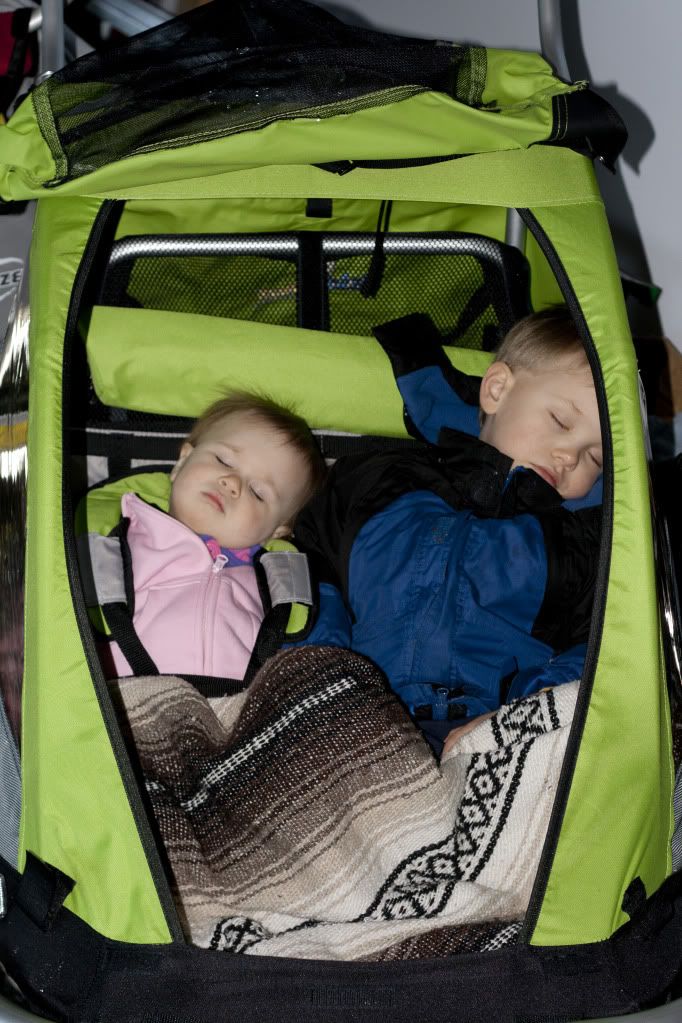 That is the trailer. Kids are a little bigger now and there is one more.
Anyone ever make this work? I did find someone on the net that used a sling type of thing to put the youngest in. I don't want to invest in a tagalong bike. I'll be going 10 miles round trip for our bike ride, including a couple of long stops. My 2 above have done just fine (we put on a couple 100 miles last spring/summer).
My other option is a babysitter for the youngest, but that adds up and its just more running. I can't stand being stuck in side and the warm weather is right around the corner. I'm itching to go.

02-28-12, 01:41 AM
Junior Member

02-28-12, 03:00 AM
Senior Member
Join Date: Feb 2011
Posts: 91
Mentioned: 0 Post(s)
Tagged: 0 Thread(s)
Quoted: 0 Post(s)
Likes: 0
Liked 0 Times in 0 Posts
This would be our 3 kid solution:
https://flickr.com/gp/fletzet/05Q560
But presumably you're not looking to buy a new bike, so yeah, rear kid seat sounds good, assuming it's compatible with the mount point for your trailer.
You might prefer something like this:
https://www.adelineadeline.com/bobike-junior.html
Since your big kid is likely about to outgrow a standard back rack kid seat.
Or maybe get some stoker bars for your seat post, and jury-rig some kind of cushion for a standard cargo rack, and try letting your big kid ride there.
https://www.xtracycle.com/cargo-bicyc...toker-bar.html
A blog post on some different big kid options:
https://humofthecity.com/2012/02/10/t...ide-to-school/
Or get a front-mounted seat for the baby. We've really enjoyed the ibert.
https://www.amazon.com/iBert-Safe-T-F...dp/B000H4E7EO/
It's fun to be able to talk to the baby while you ride. But it does feel a bit too sketchy to put a 7 month old in a seat without head and back support. The 2 year old should be fine there for 6 months though, until the baby is old enough. A front seat wouldn't have any conflict with the mount point of the trailer, but it might conflict with the top tube of the bike, depending on your frame.
So, actually you have a lot of options!
---
Last edited by ebartom; 02-28-12 at

03:36 AM

.

02-28-12, 05:28 PM
Member
Join Date: Sep 2005
Location: Southwest Wisconsin
Posts: 41
Mentioned: 0 Post(s)
Tagged: 0 Thread(s)
Quoted: 0 Post(s)
Likes: 0
Liked 0 Times in 0 Posts
I was hoping not to have to invest anymore money in my operation

I just bought a new 29'er, so not sure how any attachments will fit on that bike. I did think the middle kid could go in a bike seat attached to the bike, but other people said it screws up with your center of gravity??? I'm plenty capable (I have a dual suspension Trek and do downhill riding from time to time), but have never used one before....
I'll take a look at this links you guys have posted and get back to you some more. I just need to make this work. My kids love going for bike rides.

02-28-12, 05:57 PM
Senior Member
Join Date: Nov 2008
Location: Bay Area, Calif.
Posts: 7,239
Mentioned: 13 Post(s)
Tagged: 0 Thread(s)
Quoted: 659 Post(s)
Likes: 0
A regular childseat on the back of the bike should work fine in addition the trailer. When our daughter was little I preferred using the childseat for her, but we sometimes used a trailer. A friend had a larger trailer and I sometimes towed his two kids plus our daughter in it - but your trailer looks significantly smaller. I had no handling issues with the childseat, but was already used to carrying a touring load in panniers on the back. I'd recommend at least a short trial run with any child carrier using a big bag of potatoes or similar load just to check that everything is secure and works well.

Another option would be a Trail-A-Bike behind your bike for the oldest child and then the trailer behind that with the younger ones. I've seen that arrangement before and it appeared to work well. Even once saw a couple on a tandem with a tandem Trail-A-Bike for their two older kids and then a trailer behind that with the two younger ones - made for quite a long vehicle overall.

04-01-12, 07:09 AM
Senior Member
Join Date: Apr 2011
Location: Plano, TX
Posts: 56
Bikes: Cannondale CAAD8 (hot roddin') and a Scott SUB40 (commuter/tow-truck)
Mentioned: 0 Post(s)
Tagged: 0 Thread(s)
Quoted: 1 Post(s)
Likes: 0
Liked 0 Times in 0 Posts
I have a 3rd daughter on the way this May, which will make for three kids under 5 yrs old. Just yesterday, I attached a Weehoo iGo to the back of my bike and the double-wide Croozer trailer behind the Weehoo. The train is 15' long, the kids love it, and it's not terribly hard to pull on flat ground. I know now I can go riding when left alone with all my babies! There's only one real downside, and that's that I lose a parking spot in the garage for my Suburban.

I can't imagine pulling that much weight without cycling pedals and cleats, but to each his own.

04-04-12, 11:50 AM
Senior Member
Join Date: Apr 2007
Location: Minneapolis, MN
Posts: 176
Mentioned: 0 Post(s)
Tagged: 0 Thread(s)
Quoted: 0 Post(s)
Likes: 0
Just chiming in that 7 months old seems kinda young to have in a trailer without an infant adapter, and definitely too young to sit in a child seat--even though a 7 month old may be starting to sit up on their own, can they support their head/neck/back when you are pedaling/torquing or going over bumps?
In general, though, I believe that child seats on the front of the bike are WAY safer than people realize.


04-27-12, 11:52 PM
Senior Member
Join Date: Sep 2006
Posts: 898
Mentioned: 0 Post(s)
Tagged: 0 Thread(s)
Quoted: 0 Post(s)
Likes: 0
I have had four kids in my old Bell kid trailer. I took the roof off, put an extra strap around the back, and had two in the seat and two standing behind the seat. It was heavy, but it worked. Just keep in mind that it raises the center of gravity...

Agreed... 7 months old is too young. You should wait until s/he is at least 1 year old, unless you use an infant adapter.

A trail-a-bike is a good option from ~4 years old until 6 or 7 years old, depending on weight/size/strength. I have one that me and my boys have put a couple thousand miles on. Often, I've attached a trailer to the trail-a-bike to haul all 3 kids.

BTW, trail-a-bike sells a child seat adapter. If you plan on consistently riding with your children, it would be something to look into...

In your case: get a trail-a-bike for the 4.5 year old and you'll have the perfect set-up. If you want to use the trail-a-bike off road, stick with Adams, not the other brands.
---
Last edited by hopperja; 04-27-12 at

11:58 PM

.

05-01-12, 09:47 AM
Senior Member
Join Date: Feb 2012
Location: Yuba City, CA
Posts: 152
Bikes: Cannondale M300 mountain, '72 German Kurfalz touring
Mentioned: 0 Post(s)
Tagged: 0 Thread(s)
Quoted: 0 Post(s)
Likes: 0
Liked 0 Times in 0 Posts
I have twin daughters, and a son (18 months younger than them), all older now, but at the time I would put one in the bike seat mounted to the back of my bike, and then one of the twins and younger son in the trailer. No problems like this, and we went everywhere!

05-01-12, 10:10 AM
You gonna eat that?
A guy I regularly ride with uses
this
with no problems.
Yeah, a little investment there, but... it works.
Thread
Thread Starter
Forum
Replies
Last Post
General Cycling Discussion

Posting Rules
You may not post new threads
You may not post replies
You may not post attachments
You may not edit your posts
---
HTML code is Off
---