Transporting Help

02-20-18, 12:03 AM
Newbie
Join Date: Feb 2018
Posts: 2
Mentioned: 0 Post(s)
Tagged: 0 Thread(s)
Quoted: 0 Post(s)
Likes: 0
Liked 0 Times in 0 Posts
Transporting Help
---
Hey folks,

Sorry if this is posted in the wrong area. I own a Worksman PAV3 semi recumbent. Unfortunately my town stinks for riding, so I want to be able to travel around to better areas to ride. I do not have a truck. In fact, I drive a PriusC (the smaller one).
What do you all do for racks? It's a heavy trike, so I'm assuming a roof rack isn't wise. I'm sure I could install a hitch if there were an appropriate rack to use. My local bike shop was no help.
Thanks in advance for any tips!

02-20-18, 05:07 AM
Senior Member
How did you get your trike home?

I've carried a trike on a small 4x8 flatbed trailer. It took a few minutes to lash it down.

I could almost imagine lashing down either the trike's fork or front wheel to a special hitch rack, and towing the trike on its two rear wheels like a small trailer. Of course, you'd get some tire wear.

There are platform mini scooter racks for the backs of cars, but I'm not sure the size is right, and it would have your trike hanging back quite a bit.

02-20-18, 03:33 PM
Senior Member
Join Date: Mar 2014
Posts: 208
Mentioned: 1 Post(s)
Tagged: 0 Thread(s)
Quoted: 29 Post(s)
Likes: 0
Liked 0 Times in 0 Posts
Personally, I'd never carry a trike atop a Prius. The roof isn't structured for it IMHO.

I have seen Internet pictures of trikes mounted and carried vertically on Prius's but can't find links right now (my GoogleFu is lacking today - yours is probably better than mine anyway). The wheels were the contact points on the hatch and bumper and rachet straps were used to hold it in place. I think, but don't actually remember, that this method included the use of a "conventional" bike rack as an additional point of attachment.

As for me, I own a 2006 Prius 4 and can carry a TerraTrike Cruiser inside the compartment without disassembly if the Prius' back seat is down and the trike is all the way forward (the cranks tend to extend forward of and between the front seats. I generally put a towel over the cranks and spiky parts just in case. If I take the trike's seat off, I can do the same with a Rover/Rambler but it is a much tighter fit and requires some juggling to get it inside the rear door/hatch.

Of course, taking the seat and all 3 wheels off makes things much easier but then you have to reassemble the trike before riding.

02-20-18, 04:27 PM
Senior Member
I thought I'd see what Utah Trikes had:
Utah Trikes Catalog - Trikes, Upgrades & Accessories; Trike Storage and Transportation
The "Sea Sucker" is interesting, but I'm not sure I'd do it unless I had help.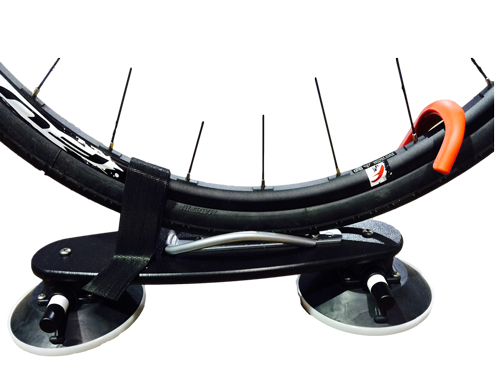 The Sunlight Recumbent Hitch Rack may well be what you're looking for though, if it fits your trike.
I can't make heads or tails out of some of the other racks they show.

02-23-18, 07:00 PM
On Holiday
Join Date: Apr 2017
Posts: 1,028
Bikes: A bunch of old steel bikes
Mentioned: 14 Post(s)
Tagged: 0 Thread(s)
Quoted: 389 Post(s)
Likes: 0
Liked 0 Times in 0 Posts
There are a couple of stores that sell small utility trailers for $100-200 and you could probably get a used one pretty cheap. Seems easier than trying to heft a trike onto a rack. A rack that fits and is stable enough for your trike may be more expensive than a trailer.

02-23-18, 11:44 PM
Newbie
Join Date: Feb 2018
Posts: 2
Mentioned: 0 Post(s)
Tagged: 0 Thread(s)
Quoted: 0 Post(s)
Likes: 0
Liked 0 Times in 0 Posts
Thanks for the replies.

I had to borrow my dad's truck to get the trike home. He drives an avalanche and the front tire still had to hang over the side.

I wouldn't even try a roof rack. This thing weighs around 70lbs and is very bulky, it would be a terrible pain loading that up.

I'm not sure how I feel about towing a trailer. I'd be quite uncomfortable doing that since I've never towed anything before. I know it's also not at all recommended with my car.

I keep thinking about hitch racks. Worksman doesn't make one that suits my trike, but does it have to fit perfectly? If I found a rack lock my frame into place, could i somehow secure the trike so it doesn't slide? Or does that sound like an accident waiting to happen?

02-24-18, 08:19 AM
On Holiday
Join Date: Apr 2017
Posts: 1,028
Bikes: A bunch of old steel bikes
Mentioned: 14 Post(s)
Tagged: 0 Thread(s)
Quoted: 389 Post(s)
Likes: 0
Liked 0 Times in 0 Posts
Yes, trailers are a hassle. When I lost my small pickup to a big pine during an ice storm many years ago, I tried to get by with my Camry and a utility trailer. The whole mess of hitching, parking, etc. led me back to another pickup. As with everything in life, there are many trade-offs.
I do see that Toyota do not recommend towing with your car. Typically this is related to the braking capacity being insufficient for whatever loads they assume customers will attempt and also the ability of the transmission to handle the load without overheating. In your case, the weights will be small so essentially there should be no real issue. Nevertheless, you give very strong consideration to Toyota's recommendation.
I have seen motorcycles transported with a bumper mounted rack as shown in the pic below. @
CliffordK
had alluded to this in a previous post. This could be adapted to your trike, maybe, though I would be worried about tire and wheel issues. Bike wheels and tires are not made for the types of speeds of modern driving. I reckon if you only stayed below 35 mph and then for short distances it would be ok. Perhaps you could use wheel dollies on the rears, but then you are pretty much towing a trailer.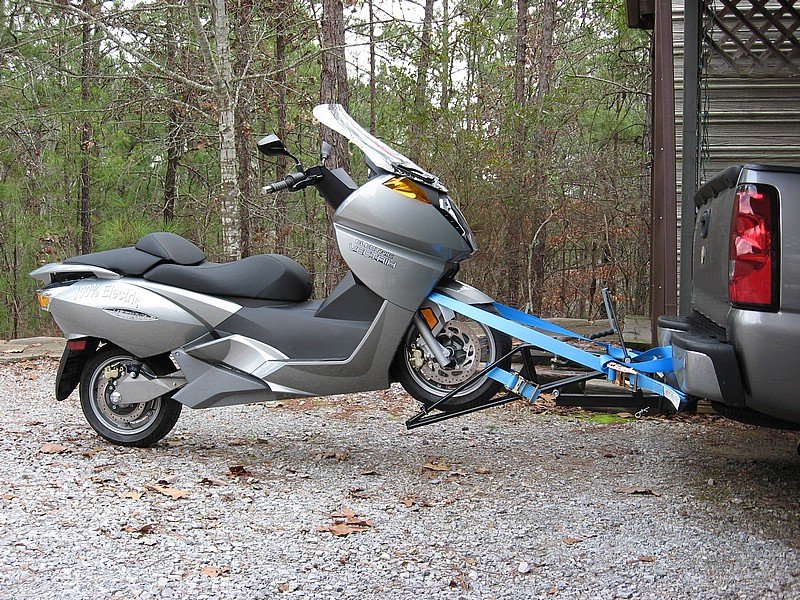 Have you checked out the
Draftmaster hitches.
A bit steep, but they seem to have a lot of configurations. Also check out the
Lightfoot trike solutions
.
Good luck.

02-26-18, 02:06 AM
Senior Member
Join Date: Oct 2004
Location: On the outskirts of Mordor
Posts: 102
Bikes: Santa Cruz Heckler (mtb), EZ Sport AX (recumbent), Electra Townie 24 speed w/beach cruiser bars "The Holy Grail of Beach Cruisers"
Mentioned: 0 Post(s)
Tagged: 0 Thread(s)
Quoted: 0 Post(s)
Likes: 0
Liked 0 Times in 0 Posts
I had a Thule roof rack system on my 2001 Honda Civic. The rack was pricey but solid. However the real downside to roof racks and recumbents is not just dealing with the roof loading aspect, but also the fact that recumbent/trike seats are wide mesh things that are wind sails. So realistically, if you are doing any long distance freeway driving, you have to remove the seat which is a time consuming PITA.
Nowadays I have an '87 Toyota pickup and an '87 Toyota van, both of which make transporting LWB recumbents a breeze. The non-breezy part is trying to find parts for the van!

---
Last edited by trestlehed; 03-06-18 at

04:28 PM

. Reason: .

02-26-18, 09:58 AM
Senior Member
I looked up that trike. Do you have the short 6' long or the extended 7' long version? I don't think the weight was listed but I'm pretty sure it's going to fall into the 50 to 70 pound class. I'd suggest checking with somebody who sells those mobility scooters to ask what they suggest.

Good luck!
__________________
My greatest fear is all of my kids standing around my coffin and talking about "how sensible" dad was.

02-26-18, 12:51 PM
Senior Member
Join Date: Feb 2006
Location: Sin City, Nevada
Posts: 2,120
Bikes: Catrike 700, Greenspeed GTO trike, , Linear LWB recumbent, Haluzak Horizon SWB recumbent, Balance 450 MTB, Cannondale SM800 Beast of the East
Mentioned: 17 Post(s)
Tagged: 0 Thread(s)
Quoted: 305 Post(s)
Likes: 0
Lightfoot ceased operation as a company in August 2015 so they will not be a solution to your problem. You would also not want to use anything that had contact with the ground the way the scooter does. The real problem is the weight of your trike. I have transported my much lighter Catrike 700 on the roof, hanging off a bike rack, and inside my Scion XB. I doubt I could even lift a bulky 70 pound trike into the back of the car even if it fit. I rarely remove the seat fabric on the trike and have had it up to over 80 mph on the interstate with it securely tied down to the top of the car.
Thread
Thread Starter
Forum
Replies
Last Post

Posting Rules
You may not post new threads
You may not post replies
You may not post attachments
You may not edit your posts
---
HTML code is Off
---