Pensacola beachCAT Jan 4th-6th!
---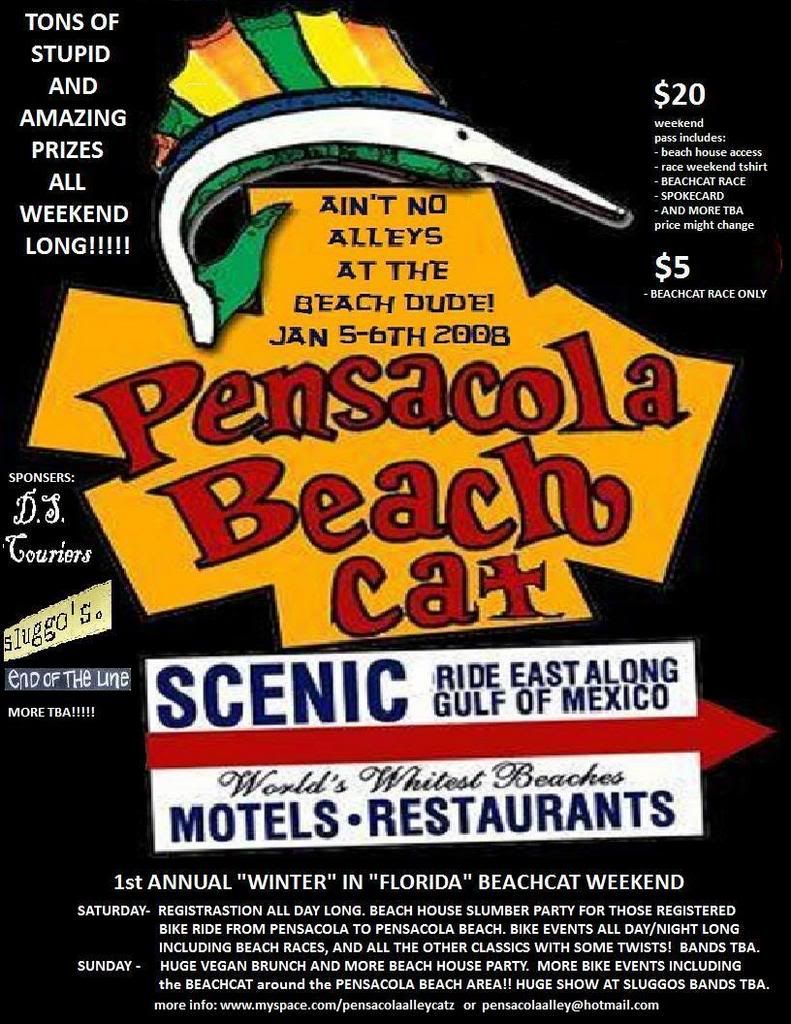 PENSACOLA ALLEYBEACHCAT!
JANUARY 4th-6th 2008 are the dates as of right now.
FRIDAY- CHILL HARD. CAUSE TROUBLE IN PCOLA. SHOW at SLUGGOS. RIDE THRU DOWNTOWN PENSACOLA AFTER SHOW!!
SATURDAY- HUGE RIDE TO PENSACOLA BEACH. BEACH HOUSE PARTY w/ REGISTRATION. TONS OF STOOPID BIKE EVENTS all day all night: BEACH RACE. CRUISER RACE. MINI BIKE RACE. MIDNIGHT RACE. BIKE POLO?. BIKE TUG OF WAR. BIKE TOSS. THE CLASSICS.
SUNDAY- BEACHCAT RACE around PENSACOLA BEACH AREA 2PM
HUGE BEACH HOUSE RENTAL being looked into for those registered to race. Others encouraged to look into renting other beach houses!!
TSHIRTS and lots of awesome PRIZES!
GET INTOuCH
[email protected]
myspace.com/pensacolaalleycatz