Bangkok Draft May 17

04-24-08, 07:36 AM
Senior Member
Join Date: Jun 2003
Location: Atlanta
Posts: 1,155
Bikes: Zeus (Razesa) tarck, Giant TCR road, Eddy Merckx road, Fuji Touring Series IV for everything else
Mentioned: 0 Post(s)
Tagged: 0 Thread(s)
Quoted: 0 Post(s)
Likes: 0
Liked 0 Times in 0 Posts
Bangkok Draft May 17
---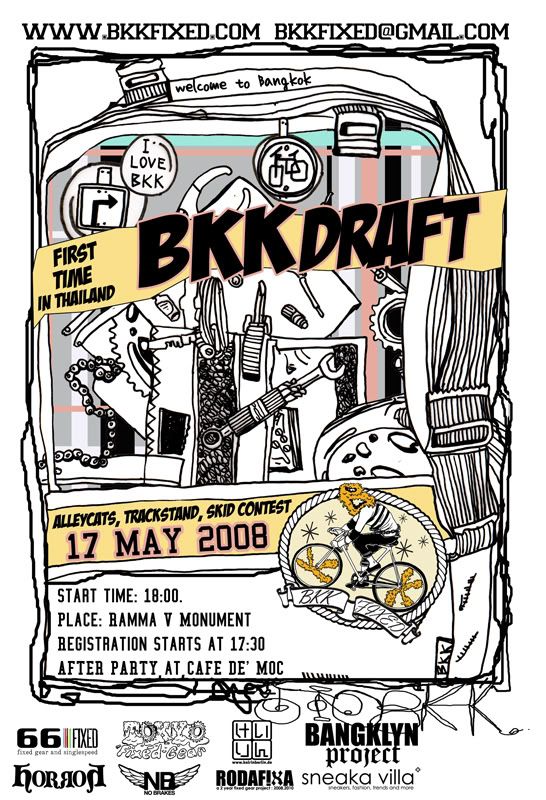 Bangkok Draft is Thailand's first ever alleycat race. Alleycat races were originally planned by bicycle messengers to find out who was the fastest in the city. The races are open to all riders on all types of bikes. We race on open streets with all the other traffic in the city. Bangkok is known around the world as a crazy place to drive. Come test yourself by riding in some of the toughest traffic in the world. We hope that riders will come from many different countries to race with us. For the riders who have not been to Bangkok before, we have created a map with the checkpoints labled on it so you will have a good idea of how to get around the city before the race starts.
For the winners, we have gathered prizes from all over the world. We have sponsors from Tokyo, Hong Kong, Korea, Thailand and U.S., just to name a few. There will be prizes for the overall winners, the sprint winner and for skids, trackstands, and tricks.
Everyone is invited to Bangkok on 17 May to help BKK Fixed celebrate the growing bike scene in Thailand. If you can ride Bangkok, you can ride anywhere (except maybe Vietnam. Traffic is really crazy over there).
For more information please email us at
bkkfixed@gmail.com