Ladies Only Alleycat, Sept 13, Charleston SC

08-27-08, 07:26 PM
blithering idiot
Join Date: Feb 2004
Location: beautiful coastal South Carolina
Posts: 1,263
Bikes: 1991 Trek 930, 2005 Bianchi Eros, 2006 Nashbar "X," IRO Rob Roy
Mentioned: 0 Post(s)
Tagged: 0 Thread(s)
Quoted: 3 Post(s)
Likes: 0
Liked 0 Times in 0 Posts
Ladies Only Alleycat, Sept 13, Charleston SC
---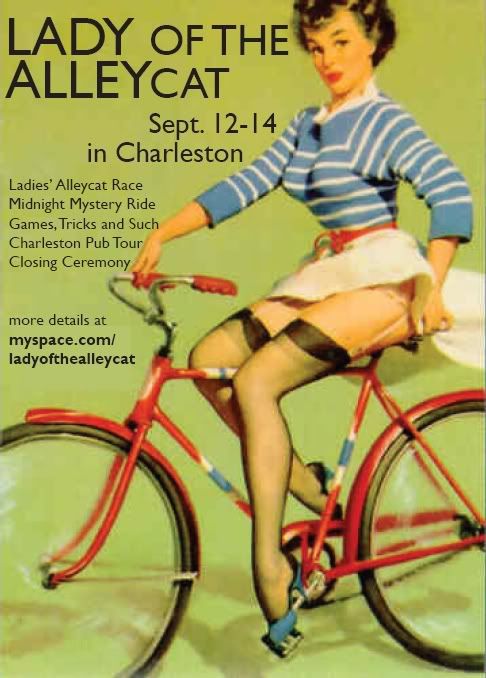 Lady Of The AlleyCat
Sept 12-14, Charleston, SC.
Friday night is the Midnight Mystery Ride (open to guys and gals), Saturday afternoon is the ladies-only alleycat.
more details soon at:
https://www.myspace.com/ladyofthealleycat

09-04-08, 12:36 PM
blithering idiot
Join Date: Feb 2004
Location: beautiful coastal South Carolina
Posts: 1,263
Bikes: 1991 Trek 930, 2005 Bianchi Eros, 2006 Nashbar "X," IRO Rob Roy
Mentioned: 0 Post(s)
Tagged: 0 Thread(s)
Quoted: 3 Post(s)
Likes: 0
Liked 0 Times in 0 Posts
bump, because there's actually info at the MySpace site now.

09-12-08, 09:38 AM
blithering idiot
Join Date: Feb 2004
Location: beautiful coastal South Carolina
Posts: 1,263
Bikes: 1991 Trek 930, 2005 Bianchi Eros, 2006 Nashbar "X," IRO Rob Roy
Mentioned: 0 Post(s)
Tagged: 0 Thread(s)
Quoted: 3 Post(s)
Likes: 0
Liked 0 Times in 0 Posts