Help on daughters road bike choice

05-30-16, 07:08 PM
Senior Member
Join Date: Mar 2011
Posts: 124
Mentioned: 0 Post(s)
Tagged: 0 Thread(s)
Quoted: 12 Post(s)
Likes: 0
Liked 0 Times in 0 Posts
Help on daughters road bike choice
---
My daughter is 10, she is 4' 5". She has been riding her fat tire specialized MTB on 12 mile rides and still asks to ride farther. I want to get her a road bike, because i know she can ride easily 20 miles plus now. I was looking at a 44cm womens bike, if they cut the seat post, so they can lower it an inch it puts her legs perfect, but she is slightly reaching forward. The specialized kids bike based on the specs puts her 1/2" lower stand over and the Micro shift shifters what ever that is. But it has smaller tires 650b versus 700. I want something that will last not just for her for a few years, but my yougest son can eventually ride. Was looking at the Specialized dolce with tiagra shifters, but concerned on that tiny amount of reach. Trouble is i can't see any of these bikes because no one around here stocks anything in those sizes or the kids bike, so i am stuck ordering it and living with it.

05-30-16, 09:20 PM
Senior Member
Join Date: Jun 2008
Location: SF Bay Area
Posts: 784
Mentioned: 0 Post(s)
Tagged: 0 Thread(s)
Quoted: 66 Post(s)
Likes: 0
I bought a Felt for my daughter. She was 10 when I got it. I know its a 650 but they sell well used and I was worried about the reach for her and toe overlap with a small 700. I was surprised at the selection. I bought this because it fit, was on sale, and was local retailer.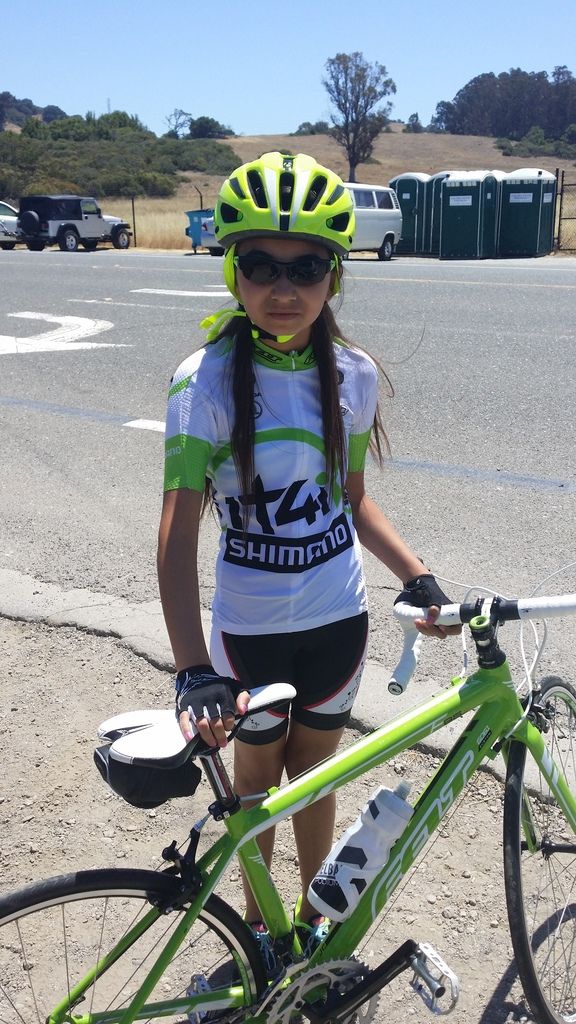 ---
Last edited by Hapsmo911; 05-30-16 at

09:25 PM

.

05-30-16, 09:40 PM
Decrepit Member
Join Date: Aug 2005
Location: Santa Rosa, California
Posts: 10,490
Bikes: Waterford 953 RS-22, several Paramounts
Mentioned: 65 Post(s)
Tagged: 0 Thread(s)
Quoted: 616 Post(s)
Likes: 0

06-01-16, 04:49 AM
Senior Member
Join Date: Mar 2011
Posts: 124
Mentioned: 0 Post(s)
Tagged: 0 Thread(s)
Quoted: 12 Post(s)
Likes: 0
Liked 0 Times in 0 Posts
Thanks, the good folks at Livermore Cyclery helped me out. They took the time to fit her on a 44cm specialized they had in the store, changing the stems, seats and everything to make sure it would really work and she was comfortable. I then ordered the bike we wanted. I feel confident now that she can ride and be content. Now i have to deal with her anticipation of waiting for a week and the anger of the wife for who knows how long.

06-01-16, 07:09 AM
Senior Member
Join Date: Apr 2015
Posts: 1,825
Mentioned: 11 Post(s)
Tagged: 0 Thread(s)
Quoted: 398 Post(s)
Likes: 0
Liked 0 Times in 0 Posts
There is an easy answer diamondback sell a podium 24/version road bike which is the ide fit for your kid.

Best of all its a proper road bike but shrunk to kids size: 155mm cranks, complete claris drive train, 24 x1 tires etc.

Amazon sime times have last years model for under $300

06-01-16, 07:24 AM
Senior Member
Join Date: Dec 2011
Posts: 510
Mentioned: 0 Post(s)
Tagged: 0 Thread(s)
Quoted: 13 Post(s)
Likes: 0
Liked 0 Times in 0 Posts
Thread
Thread Starter
Forum
Replies
Last Post
General Cycling Discussion

Posting Rules
You may not post new threads
You may not post replies
You may not post attachments
You may not edit your posts
---
HTML code is Off
---