Ham/quad soreness

04-07-09, 10:52 PM
Senior Member
Ham/quad soreness
---
Sunday I spent part of the afternoon putting a pegboard up on the wall of my shed. I did a fair about of drilling and cutting, much of which entailed either bending my knees or squatting on my haunches for many minutes at a time.
The result? Sore hamstrings and quads. Oh my, they are sore. And what's interesting is that while Monday they were sore enough to preclude a ride, today (Tuesday) they were even a bit worse! I'm expecting them to feel better tomorrow, though.
My problem is that outside of riding, I just sit at a desk. A lot. Seems like I'm only exercising cycling-specific muscles when I ride. So, once I'm all healed up, what kind of exercises should I do to keep my hams and quads in some semblance of shape so that I can do, you know, other activities like building and stuff without suffering for a few days afterwards?
By the way, here's the finished product on the day I completed it. Pace Red Green, the ladies might not find me handsome, but they sure do find me handy.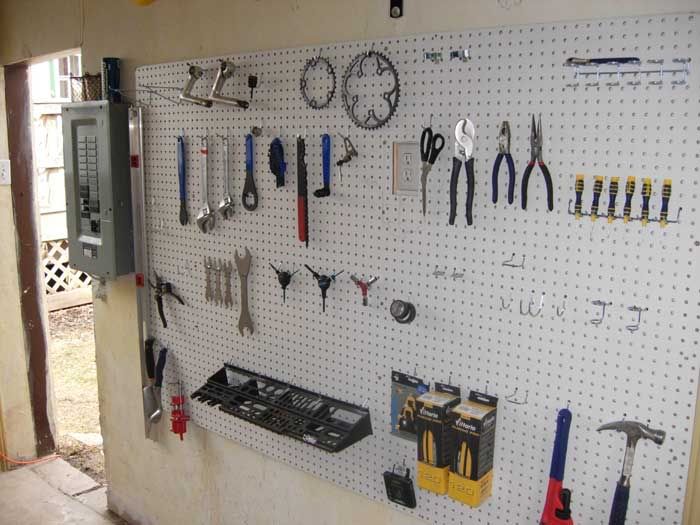 Well, okay, there is only one particular lady who might feel that way. Sheesh, alright, I'll be honest, she doesn't actually give a rat's patooey that I managed to install some pegboard in the shed without breaking any bones or electrocuting myself. So, no, Red Green's ladies don't find me handsome or handy. In fact, they're not even looking for me.
I'll shut up now.
---
Last edited by rousseau; 04-07-09 at

11:18 PM

.

04-07-09, 11:29 PM
Senior Member
Join Date: Jul 2007
Location: San Jose, Ca
Posts: 1,213
Bikes: 09 Specialized Tricross Sport
Mentioned: 0 Post(s)
Tagged: 0 Thread(s)
Quoted: 0 Post(s)
Likes: 0
Liked 0 Times in 0 Posts
IMO just you usual leg strengthening routine. Squats, lunges, step ups and step downs, all with your body weight as resistance. These are all "functional" exercises, they mimic how your body functions when you're doing a task, like installing pegboard.

You can go to the gym and use the machines that work individual muscles but they aren't considered as functionally beneficial as they don't require multiple muscles or joints to work in unision and you don't have to practice balance and agility when doing them.

You can do functional exercises like lunging and squatting with additional weight like dumbells or a barbell but the more weight you add, the more sore you'll be the next day if not two days afterward.

That's why many cyclists don't do heavy strength training, if any, as it may force them into downtime, i.e. non-riding time.

I recommend you see a functional exercise book like David Musnick's Conditioning for Outdoor Fitness though you still could use a general weight training book but those usually concentrate on body buiding.

There are exercise guides for road cyclists but I don't think they will necessarily have the functional exercises which will condition your muscles for your tasks.

You'll still be sore the day after you do your projects but probably less sore and probably for only one day rather than potentially longer.
---
Last edited by thirdin77; 04-07-09 at

11:37 PM

.

04-07-09, 11:35 PM
well hello there
I tore my hamstring a year ago. Squatting with dumbbells is one of three exercises my P.T. recommended.
__________________
.
.
Two wheels good. Four wheels bad.

04-08-09, 09:03 AM
Senior Member
Thread
Thread Starter
Forum
Replies
Last Post
Clydesdales/Athenas (200+ lb / 91+ kg)

Posting Rules
You may not post new threads
You may not post replies
You may not post attachments
You may not edit your posts
---
HTML code is Off
---