Sierra Fall Century - Ride Report

09-15-09, 05:11 PM
Dolce far niente
Join Date: Dec 2004
Location: Northern CA
Posts: 10,834
Mentioned: 15 Post(s)
Tagged: 0 Thread(s)
Quoted: 20 Post(s)
Likes: 0
Sierra Fall Century - Ride Report
---
I posted this report in the C&V/NorCal forums, but I figured you folks might enjoy it, too.
The High Sierra Fall Century - this ride is my personal Gold Standard - it is the organized ride by which I judge all others.
I wasn't intending to do the ride this year, as I had done it three times in the past and I also spend a week or so riding around the area in the summertime on most of the roads the century covers. This year, Markopolo and Mhendricks were going to take a run at it, and convinced me to tag along. I in turn, convinced my best friend to allow us the use of his condo, and he graciously opened it up to our use for the ride.
Because it is about a 6 hour ride form the SF Bay Area to Mammoth Lakes, we took Friday off and left early. Arriving at Mammoth in early afternoon, we registered for the ride, had a nice lunch, and ensconced ourselves into the condo. We soon became bleary-eyed and lethargic. I'm not sure who instigated it, but push came to shove and we needled each other out the door for a short ride in order to get better acclimated to the altitude. As the condo sits at 8,000', we needed all the help we could get. 12 miles and about 1,200' of climbing later, we had climbed up to 9,000' and made the return to the condo, dinner, and bed.
I must confess up front that I really did not expect to finish this ride. My riding habits of late have been sporadic, and I assumed that this, along with the high altitude, would conspire to wear me out before I reached the finish line. I was ok with that, and decided to ride as many miles as I could while still enjoying the effort. Because of this, I decided to optimize the ride experience to take fullest advantage of the scenic splendor of the area. To this end, I elected to part company with the main group of riders, go off the reservation, and transit through the June Lake Loop.
Surprisingly enough I felt very good after finishing the first major climb (Deadman Summit) and looping through and re-emerging onto Hwy 395, and in a bit of fortuitous serendipity I met up with MarkoPolo at the Hwy 395/120 junction. We headed off east, and it was here that I was beginning to set my mind on completing the ride. It turns out that this was Mark's first shot at a century, and I didn't want him to finish alone. In addition, I was feeling great, the weather was nice, the scenery fantastic....... and besides, what else did I have to do all day?
Mhendricks and the other fellows were up ahead of us, and we caught Mike at the next rest stop. After fooling around for a bit, we finished off the remainder of the second major climb (Sagehen Summit). Just before summiting at over 8,300' we crossed a large plateau called Big Sand Flat, and at this time we noticed building weather in the distance. Dark clouds were swirling over the peaks, and we could see gray-black horizontal streaks in the rapidly approaching clouds. As the wind began to switch and eddy, we rocketed down the 10 mile descent to Adobe Valley and lunch.
Lunch was unremarkable, and neither one of us had much of an appetite. While we were tentatively nibbling at the offered fare, my friend and our host Vic overhauled us. Vic had left the condo early and had started his ride in Bishop, just for fun. While I was now at mile 60 and hoping to make 100, Vic was at over 100 and hoping to make 250. Yikes.
We took off under leaden skies, and could see weather building all around us. We were now traveling north to south, and the storm was coming in from the west. I was sure it was just a matter of time before we were caught out in the open under a high desert squall, so we hustled along thinking to outrun the southern edge of the storm. We hit the base of the third and last major climb of the day, Wildrose Summit, a fun little 6 mile slog with a steadily increasing incline with a scintillating double-digit finish. By the time I hit the top and coasted into the rest stop, I was feeling pretty spent. Even so, there was now no question about pressing on - we were still dry, the weather was holding, and only a couple miles of 9% rollers and the obligatory brutal headwind was between us and the finish line. Yay.
Mark and I suffered the rollers, made the final climb to the top of Waterman Pass, and enjoyed the sporadic raindrops as we began our descent to the back of Crowley Lake and what has always been a punishing 20 mph headwind. As luck would have it, the wind was absent - it never materialized. I'm guessing the stormy weather was the reason, but I wasn't asking questions nor was I dawdling around to find out if nature would change its' mind. We had gotten very lucky, and I wasn't about to or press my luck. By this time I was all-in, and the expected wind would have surely killed me off mere miles from the finish.
We rolled across the finish line to burgers and beer with a 7:48 saddle time, 6,220' of climbing, and just over 100 miles and three 8,000'+ passes on the day. All in all, a pretty good run for me, and we even topped it off with a 23 mile spin around the June Lake Loop on Sunday before headng out. I ended up with 130 miles for the weekend, all told.
More random photos......
Headed east on Hwy 120, just south of Mono Lake: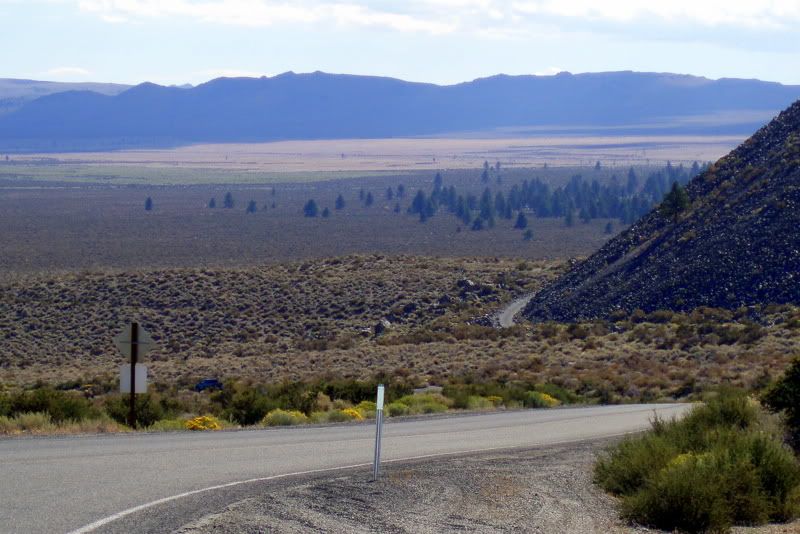 Crossing Big Sand Flat: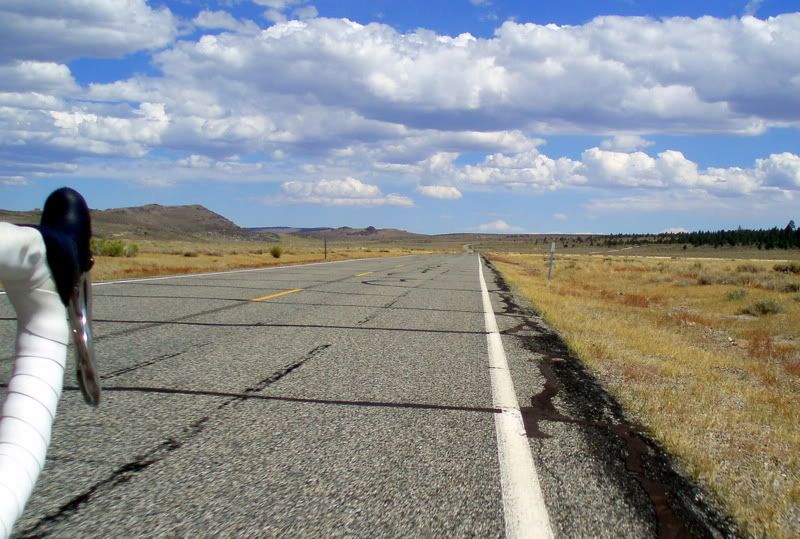 Looking back across Big sand Flat - the clouds are building:
Lunch is up ahead somewhere:
Crossing Adobe Valley on fresh blacktop:
Cloud shadows:
Scooting across an endless landscape, coming up to Black Lake and Benton Crossing:
Looking back at the base of the Wildrose climb:
Chasing Mark on the backside of Wildrose:
Final descent into the back of Lake Crowley - the storm is there, but we dodge the bullet: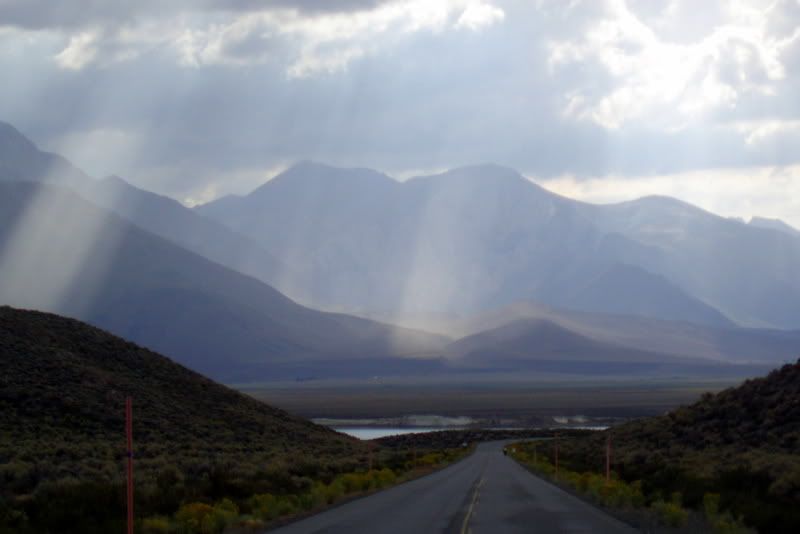 __________________
"Love is not the dying moan of a distant violin, it's the triumphant twang of a bedspring."

S. J. Perelman

09-15-09, 07:18 PM
Banned
Join Date: Sep 2005
Location: Santa Barbara, CA
Posts: 28,387
Bikes: Specialized Tarmac SL2, Specialized Tarmac SL, Giant TCR Composite, Specialized StumpJumper Expert HT
Mentioned: 0 Post(s)
Tagged: 0 Thread(s)
Quoted: 0 Post(s)
Likes: 0

09-15-09, 07:22 PM
Over the hill
Join Date: Mar 2006
Location: Los Angeles, CA
Posts: 24,187
Bikes: Giant Defy, Giant Revolt
Mentioned: 1 Post(s)
Tagged: 0 Thread(s)
Quoted: 923 Post(s)
Biker396 stopped to take a similar pic on the same stretch. That's the only way I could keep up with him, and he had about 60 more miles than me at that time.
__________________
It's like riding a bicycle

09-15-09, 09:32 PM
Senior Member
Join Date: Sep 2005
Location: In the foothills of Los Angeles County
Posts: 23,615
Mentioned: 8 Post(s)
Tagged: 0 Thread(s)
Quoted: 7192 Post(s)
I was thinking about this ride when Biker395 described it on the other forum. I now wish I had done it. Thanks for the pics, boss.

09-15-09, 10:13 PM
Dolce far niente
Join Date: Dec 2004
Location: Northern CA
Posts: 10,834
Mentioned: 15 Post(s)
Tagged: 0 Thread(s)
Quoted: 20 Post(s)
Likes: 0
Including going into and out of the parking lot, 4 right turns and one stop sign in 100 miles.

__________________
"Love is not the dying moan of a distant violin, it's the triumphant twang of a bedspring."

S. J. Perelman

09-15-09, 10:21 PM
**** that
Join Date: Dec 2006
Location: CALI
Posts: 15,402
Mentioned: 151 Post(s)
Tagged: 0 Thread(s)
Quoted: 1098 Post(s)


So your friend's first century covered three passes?! Awesome.