2008 Six13...possible crack?

06-17-10, 07:50 PM
Senior Member
Join Date: Feb 2009
Location: NW Ohio
Posts: 2,168
Bikes: Cannondale Six13
Mentioned: 12 Post(s)
Tagged: 0 Thread(s)
Quoted: 130 Post(s)
Likes: 0
2008 Six13...possible crack?
---
While I was waiting for the group ride to start tonight, I looked down at my top tube and saw this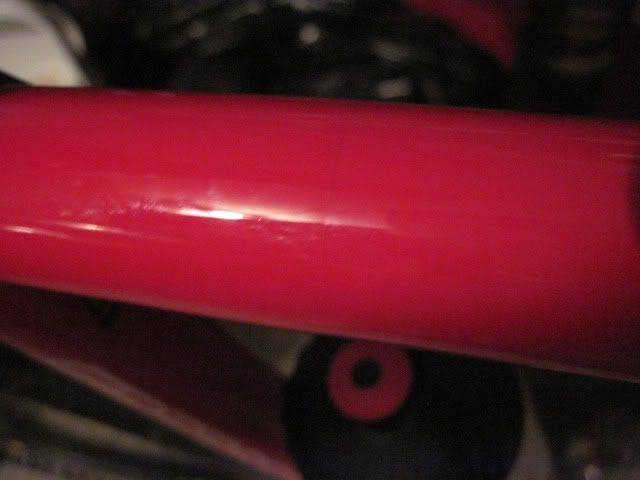 I just noticed this today, and I look over my bike often. It appears to be right at the carbon aluminum joint...Its not under the paint, I can feel it. Im probably going to take it to get looked at, but what do you guys think is up here?

06-17-10, 08:36 PM
Senior Member
Join Date: Sep 2008
Location: Michigan
Posts: 193
Bikes: Raleigh Sports, Giant Cadex, Waterford X-11, Specialized Rockhopper Comp FS, Viscount Aerospace Pro, Scwinn Passage
Mentioned: 0 Post(s)
Tagged: 0 Thread(s)
Quoted: 0 Post(s)
Likes: 0
Liked 0 Times in 0 Posts
My System six has a crack similar to that at the carbon/aluminum bond. A rep looked at it and said it is more than likely cosmetic. The overlap of material is about 2 inches so I wouldn't worry about it. I put a bit of touch-up paint over it to see if it is moving. It is fine after multiple races, 38 mph sprints, and long climbs. Not sure how it would hold up in a crash though.

Still get it checked out, I'd like to hear a second opinion.

Blake
Thread
Thread Starter
Forum
Replies
Last Post

Posting Rules
You may not post new threads
You may not post replies
You may not post attachments
You may not edit your posts
---
HTML code is Off
---