New member, new Carbon frame

08-28-16, 11:10 AM
Junior Member
Join Date: Aug 2016
Posts: 8
Mentioned: 0 Post(s)
Tagged: 0 Thread(s)
Quoted: 4 Post(s)
Likes: 0
Liked 0 Times in 0 Posts
New member, new Carbon frame
---
Hi, I'm a new member here. I got serious about riding in spring of 2015. Since then all my riding has been fixed gear; I tried freewheeling for a week but it just didn't feel as good and I couldn't get back into it. I try to ride every day or whenever I get a chance- mostly on paved bike trails. I ride for fun and fitness and I like to ride at a pretty fast pace for the entire ride (12-24mi) and try to beat my previous times. My cardio and health has improved greatly and I've dropped 30lbs (now 200lbs). I am now very much addicted to cycling.
Anyway, I just got a new Carbon single speed frame and fork from a company in China called Miracle bikes and finished building it a couple weeks ago and wanted to share my experience. I bought it from their store on aliexpress https://m.aliexpress.com/item-desc/32666895905.html . I had been eyeing it for a while and researched it was a decent reputable company when it comes to Chinese Carbon frame company standards. It has a 2 year warranty against manufacturer defects. I found an instance where they actually honored the warranty (https://singletrackworld.com/forum/topic/chinese-carbon-warranty-experience).
I wish I would have went with the custom paint option which seems a pretty good deal and you can design your own paint scheme but I didn't want to wait the extra 20 days it takes to get done. Check out this guy's paint https://forums.mtbr.com/cyclocross/miracle-bikes-thru-axle-fm286-frame-fork-chinese-sourced-cross-frame-963342.html . My finish is in UD matte. Once shipped it only took 6 days to arrive via ems- pretty quick. Communication through aliexpress chat was good though the language barrier was as expected.
My wabi lightning scandium build (which was my primary ride) that I got a great deal on on a trade with my brother was too small (size 52 and I'm 6'). The new frame is a 56 with a 57cm top tube, so a better fit overall. I wanted a frame just as light as the Wabi scandium which is another reason I went with this frame. I went ahead and tried to switch all the parts from the wabi- though neither the Enve fork (steerer cut too short) or Omniums (dreaded chainring spider contacting chainstay) would fit. I had to use the Sugino Messengers from my IRO angus which I'm pretty sad about since it's not as hip and is 3/32 so it doesn't match the cog and chain. Maybe I'll get sugino 75s later on. I also needed a larger 31.6 seatpoast so I'm using a FSA sb32 k-force light. The integrated cane creek 110 headset fit fine.
I've ridden it 154 miles so far and it rides great. I don't have much experience but I can say that the fit feels perfect which is most important. That extra 3cm in top tube length made a world of difference when it comes to comfort. I feel it is definitely smoother over bumps and soaks up more road vibration compared to the wabi on my usual routes. I'm just as fast on this frame and it feels pretty stiff and strong when climbing hills. Here's some post ride sunset photos (it's dirty).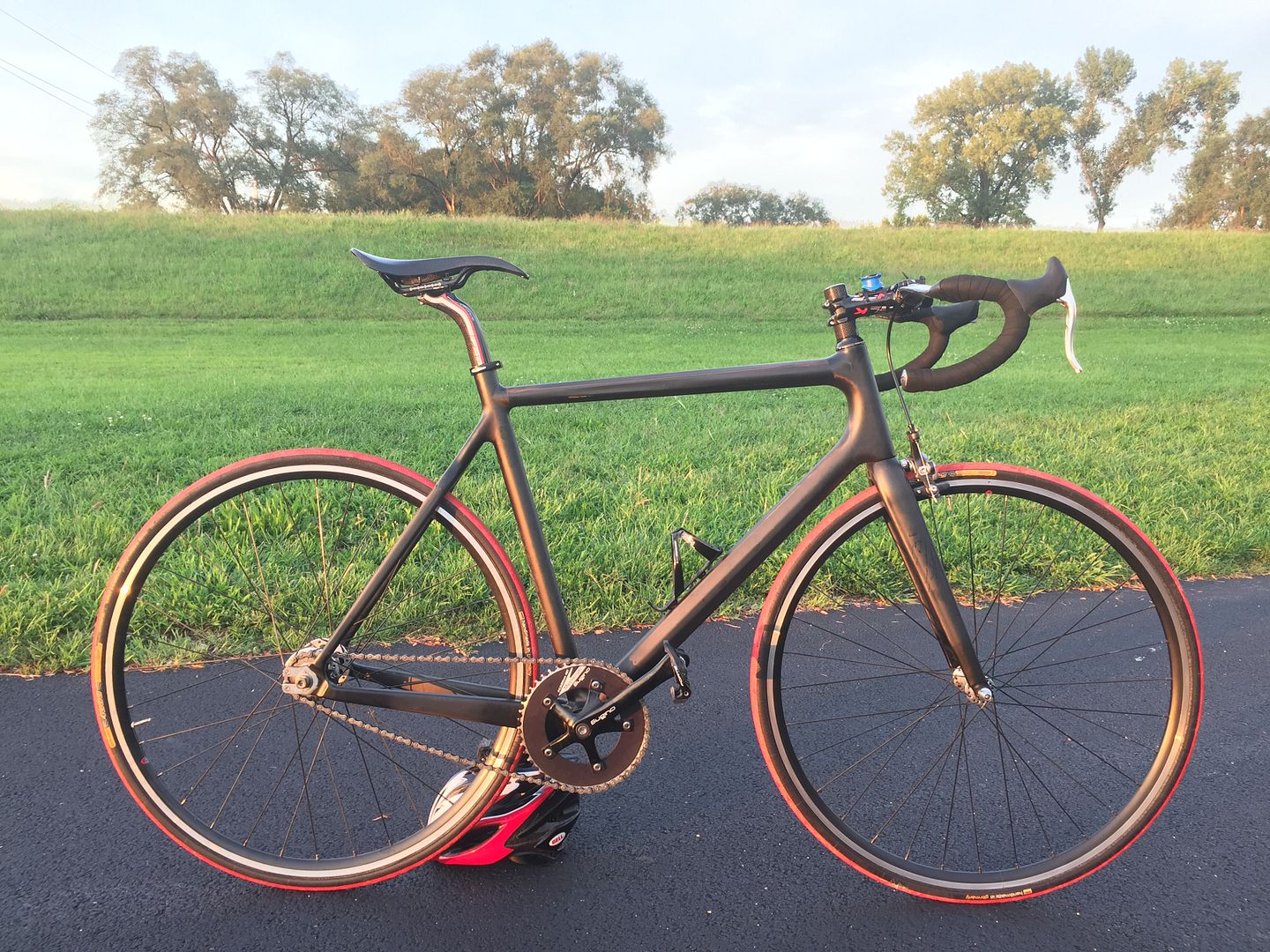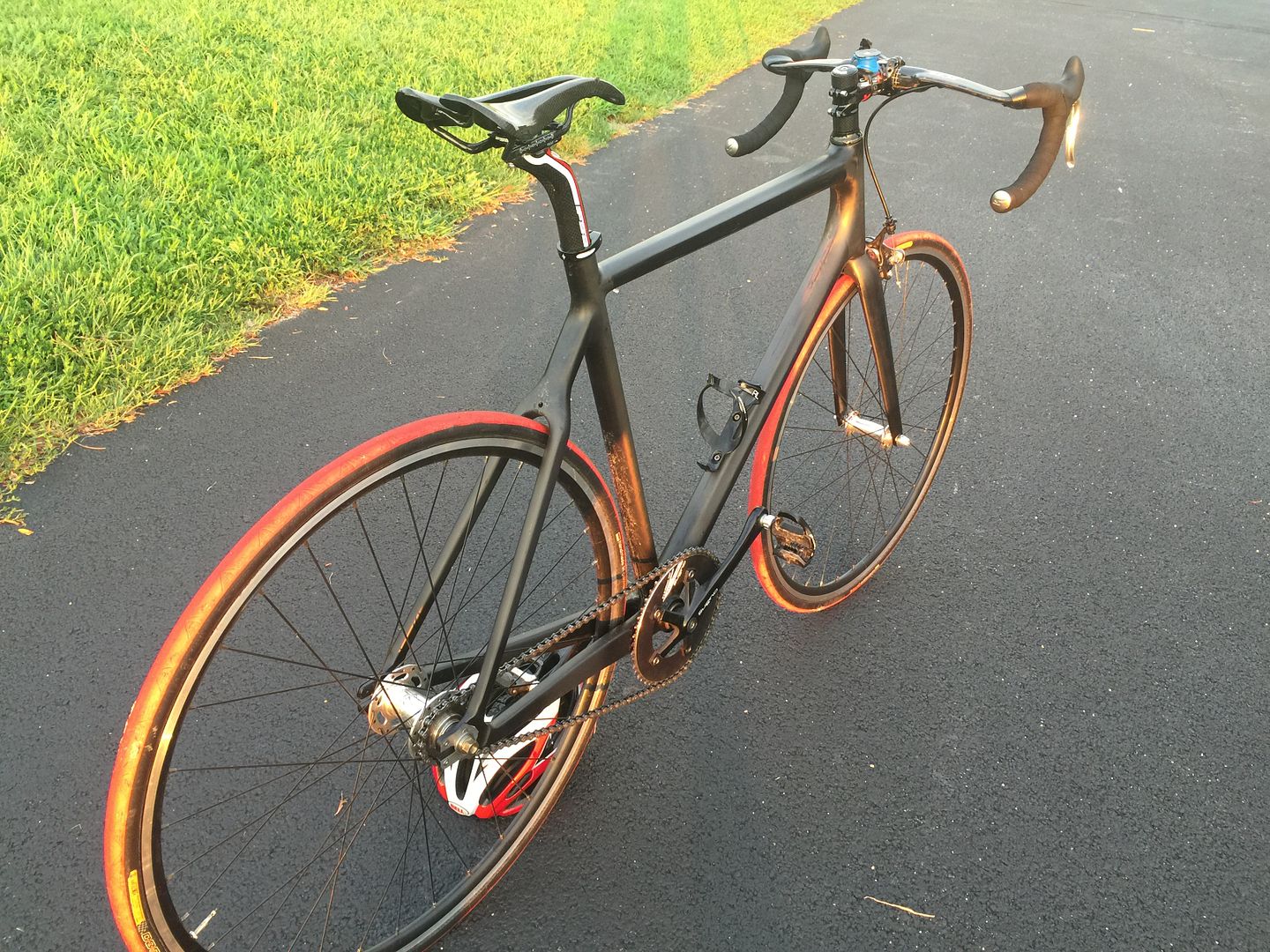 ---
Last edited by Dao88; 08-28-16 at

11:24 AM

.

08-28-16, 01:11 PM
Senior Member
Join Date: Sep 2009
Location: PHL
Posts: 9,918
Bikes: Litespeed Catalyst, IRO Rob Roy, All City Big Block
Mentioned: 19 Post(s)
Tagged: 0 Thread(s)
Quoted: 1322 Post(s)
Looks pretty sweet. What handlebars are those?

08-28-16, 02:13 PM
Junior Member
Join Date: Aug 2016
Posts: 8
Mentioned: 0 Post(s)
Tagged: 0 Thread(s)
Quoted: 4 Post(s)
Likes: 0
Liked 0 Times in 0 Posts

08-28-16, 03:03 PM
Veteran Racer
I just looked up the geometry on that frame, and the bottom bracket drop is 68mm, which is a lot for a fixed gear bike. What length cranks are you using, and have you had any problems with pedal strike when cornering ?

08-28-16, 04:35 PM
Junior Member
Join Date: Aug 2016
Posts: 8
Mentioned: 0 Post(s)
Tagged: 0 Thread(s)
Quoted: 4 Post(s)
Likes: 0
Liked 0 Times in 0 Posts

08-28-16, 05:47 PM
Senior Member
Join Date: Nov 2011
Posts: 72
Mentioned: 0 Post(s)
Tagged: 0 Thread(s)
Quoted: 5 Post(s)
Likes: 0
Liked 0 Times in 0 Posts

08-28-16, 06:30 PM
Junior Member
Join Date: Aug 2016
Posts: 8
Mentioned: 0 Post(s)
Tagged: 0 Thread(s)
Quoted: 4 Post(s)
Likes: 0
Liked 0 Times in 0 Posts
Thread
Thread Starter
Forum
Replies
Last Post
Clydesdales/Athenas (200+ lb / 91+ kg)
Clydesdales/Athenas (200+ lb / 91+ kg)

Posting Rules
You may not post new threads
You may not post replies
You may not post attachments
You may not edit your posts
---
HTML code is Off
---