Louis Garneau road bike to fixie

10-02-19, 02:10 PM
Senior Member
Louis Garneau road bike to fixie
---
Below is a 49.5 cm Louis Garneau (made in Canada). The bike seems to be built with quality parts and has no rust on any original parts. It was originally a geared road bike and has the dreaded vertical dropout.
Through some help, the use of an old stretched chain, and some luck, I was able to find a chain link that had decent tension.
The back sprocket is an 18 pin and front is 39. I would eventually like to bring the ratio closer to 1:1.25.
​​​​​​

10-03-19, 04:40 PM
I'm the anecdote.
Join Date: Apr 2019
Location: S.E. Texas
Posts: 795
Bikes: Norco CityGlide, Schwinn Willy
Mentioned: 7 Post(s)
Tagged: 0 Thread(s)
Quoted: 389 Post(s)
Has bars that emulate the artistic cycling you appreciate. Looks good, much better than that spooky avatar.


10-03-19, 06:51 PM
Senior Member
You don't like my mint condition, 1986, talking Cricket doll?

...
I just need to replace the stem with something that has a shorter reach (e.g., 40 mm) and length (> 160 mm). Also needs a smaller chainring for more torque to do the tricks such as wheelies and peddling backwards up ramps and small quarter pipes. Going to bike coop tomorrow to take care of that and will update with pictures.

10-03-19, 06:57 PM
Senior Member
Join Date: Sep 2009
Location: PHL
Posts: 9,723
Bikes: Litespeed, IRO
Mentioned: 19 Post(s)
Tagged: 0 Thread(s)
Quoted: 1226 Post(s)
It's unique. Have fun with it! I've never even been able to hold a wheelie.

10-04-19, 06:13 AM
I'm the anecdote.
Join Date: Apr 2019
Location: S.E. Texas
Posts: 795
Bikes: Norco CityGlide, Schwinn Willy
Mentioned: 7 Post(s)
Tagged: 0 Thread(s)
Quoted: 389 Post(s)

10-04-19, 09:17 AM
Senior Member
riser in artistic cycling) trick with this bike.



10-05-19, 05:09 PM
Senior Member
Here is an updated pic of the bike. I put a 22 pin chainring on it bringing the ratio to 18:22 (1:1.22). This combination allows for 9 possible skid areas on the tire if stopped with only one foot.
In order to get proper tension on the chain I had to file down the back of the dropout about 1/4". The chain is now tight and very responsive. There is no play when switching peddling direction.
The peddles are also an addition. Flat peddles seem best for the artistic cycling type tricks. Those peddles actually fold in to save room and as a result wiggle a little, but I cleaned them and applied Gorilla glue to make them firm.
The bike is horrible for getting A to B, as the gears are so low that even a moderate speed would require superhuman effort to achieve. It is, however, a godsend for tricks, especially those involving going up slops, peddling backwards, and balancing on the spot. Skids are much, much easier to do.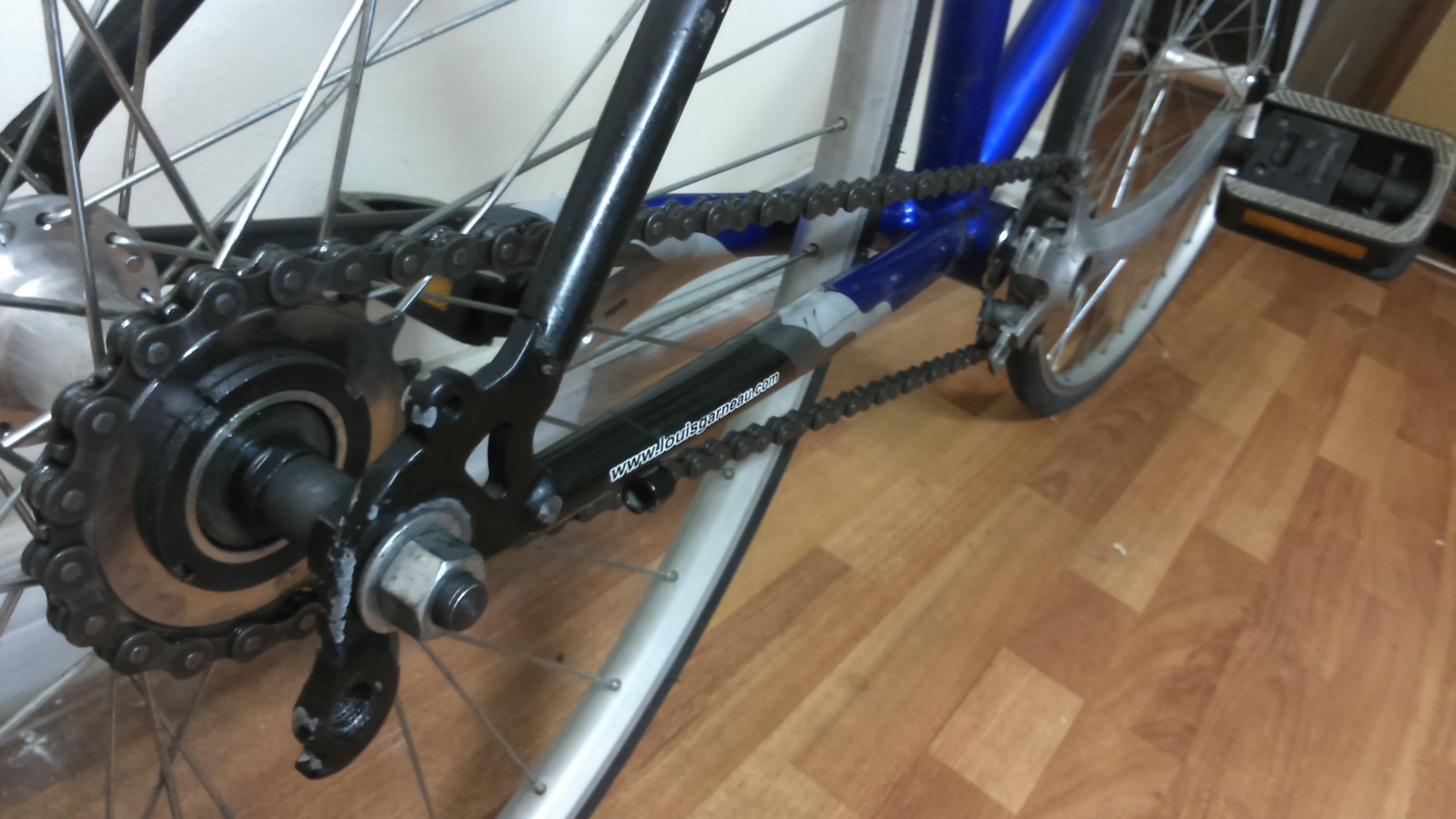 10-11-19, 09:59 AM
Senior Member
Important update.
The rear sprocket and threaded sprocket locknut ended up coming off when I attempted to quickly stop the bike backwards several times. It appears that no matter how tight it is, it will come loose as both have the same threading direction. It's easy enough to put back on though. So, as is I can peddle backwards, but I cannot quickly stop backwards or it'll come undone.
Since (I believe) the drive screw is aluminum, it cannot be easily welded to the metal sprocket, so that's not an option. Compounding the issue, the locknut ended up stripping when I tightened it after, so it cannot come off either way. Perhaps issue solved? lol
I ordered a short reach stem from Amazon, which I will have to hacksaw down in length to be an adequate height.
I ended up having to put large washers between the dropout bars to get enough contact, after having filed them down a little to tension the chain.
Feels like it never ends.

10-12-19, 09:54 AM
Senior Member
i admire your dedication to a terrible idea for a fixie build.

10-13-19, 07:48 AM
Senior Member


The Louis Garneau has nice rubber ball-bearing guards; decent, true rims that stay true; no rust whatsoever (except underneath the seat), a very nice paint job; and is overall a solid bike that was Made in Canada with name brand parts. The fact that it has vertical dropouts is not a huge deal to me, as I know I can get around that very cheaply.

I actually bought a fixie bike just before I had this bike. It was as I described the other fixies. I traded it for the Louis Garneau, and though the seller was asking a third the price, I believe I got the better deal by far; but that will only be apparent after a few months. I rest with a good conscious knowing that the seller could easily sell that fixie and make his money back.