An Old Guy Had Fun With His Son and Wife

02-22-14, 06:19 PM
Senior Member
Join Date: Sep 2002
Posts: 193
Mentioned: 0 Post(s)
Tagged: 0 Thread(s)
Quoted: 0 Post(s)
Likes: 0
An Old Guy Had Fun With His Son and Wife
---
I've been on these forums for a while. I have had a love for anything 2-wheeled for a while. I would like to think I passed it on to my Son. Today my Wife and I hooked up with my Son and rode in downtown Atlanta, We had a blast!!! My son is an avid cyclist and he called and said lets do an ATL ride on Saturday. My wife and I said sure. We did about 12 miles in downtown ATL and he had a route planned out that was perfect for old bones! My son is a much more accomplished rider then my wife and I, but he laid out a great course. We had a nice lunch and said goodbye.. for now... A critical mass is coming up, and we are gonna' try it!
Riding with family is the best of the best....
Posted by an old slow guy!
Here is what we rode.

Here we are in Piedmont Park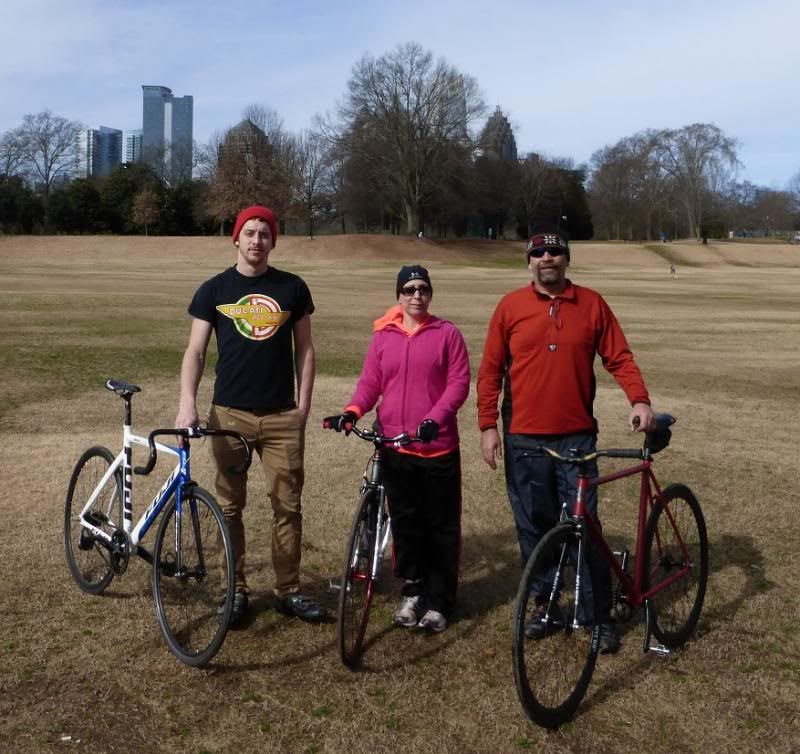 I normally don't post a lot, but we had such a great time, I wanted to share this. If you have the opportunity to ride with your parents, do it. They will love it! Just go slow!!! lol;
My wife and I sure did!
Thank you for reading,
Ti-Carbo
---
Last edited by Ti-Carbo; 02-22-14 at

06:25 PM

.

02-22-14, 07:57 PM
Hogosha Sekai
Join Date: Jun 2011
Location: STS
Posts: 6,671
Bikes: Leader 725, Centurion Turbo, Scwhinn Peloton, Schwinn Premis, GT Tequesta, Bridgestone CB-2,72' Centurion Lemans, 72 Raleigh Competition
Mentioned: 19 Post(s)
Tagged: 0 Thread(s)
Quoted: 70 Post(s)
Likes: 0
That is so great! And all on fixed gears no less?

02-22-14, 10:48 PM
Senior Member
Join Date: Sep 2009
Location: PHL
Posts: 9,948
Bikes: Litespeed Catalyst, IRO Rob Roy, All City Big Block
Mentioned: 19 Post(s)
Tagged: 0 Thread(s)
Quoted: 1332 Post(s)
The family that fixies together sticksies together.

02-23-14, 03:11 AM
Grumpy Old Bugga
Join Date: Oct 2006
Location: Adelaide, AUSTRALIA
Posts: 4,229
Bikes: Hillbrick, Malvern Star Oppy S2, Europa (R.I.P.)
Mentioned: 2 Post(s)
Tagged: 0 Thread(s)
Quoted: 370 Post(s)
Likes: 0
Took me five years, but I finally talked my lad into riding fg regularly. Unfortunately, the price was his pinching my track bike to do so, at least it keeps him off the horrid thing with all them cogs on the back.

02-23-14, 06:57 AM
Warehouse Monkey
Join Date: Jul 2008
Location: Lebanon Co., Pennsylvania
Posts: 1,600
Mentioned: 5 Post(s)
Tagged: 0 Thread(s)
Quoted: 302 Post(s)
Likes: 0
Liked 0 Times in 0 Posts
That is cool! I am slowly getting my boys to appreciate SS/FG riding. So far, so good.
__________________
'10 Specialized Hardrock


02-23-14, 03:20 PM
Senior Member
Join Date: Sep 2002
Posts: 193
Mentioned: 0 Post(s)
Tagged: 0 Thread(s)
Quoted: 0 Post(s)
Likes: 0
I know EXACTLY what you mean. I have or should I say, had, a "nice selection" of bicycle parts at my house due to the years I have been riding. My son helps to ensure that these parts do not deteriorate due to lack of use!
In the end, it was what a parent does... Buys stuff so the "childrens" can continue to ride. I can't wait for him to have kids... I'll make sure this legacy continues!
Thanks for the reply!

02-23-14, 03:26 PM
Senior Member
Join Date: Sep 2002
Posts: 193
Mentioned: 0 Post(s)
Tagged: 0 Thread(s)
Quoted: 0 Post(s)
Likes: 0

02-23-14, 03:38 PM
Senior Member
Join Date: Sep 2002
Posts: 193
Mentioned: 0 Post(s)
Tagged: 0 Thread(s)
Quoted: 0 Post(s)
Likes: 0
Thread
Thread Starter
Forum
Replies
Last Post
Clydesdales/Athenas (200+ lb / 91+ kg)

Posting Rules
You may not post new threads
You may not post replies
You may not post attachments
You may not edit your posts
---
HTML code is Off
---