Tour de Springs - 07
---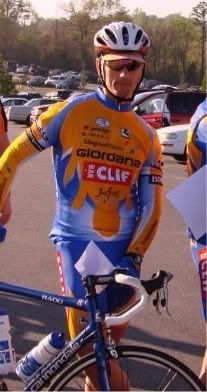 Ready to ride
Wow! What a great ride. There were around 150 people of all skills that showed up for this ride.
Around 8:40 we all rolled out. A dozen of us flew out of the starting gate like bullets. We didn't slow for a long time. We flew down hills, blasted up hills, hammered the flats, pinned the corners, and basically didn't let up until close to the end. I can't even tell you what the scenery was like

By the end there were 6-7 of us leading the 60 mile course. My legs were screaming. This ride put me over 160 miles in 3 days (One day of hard training through Crowders Mountain and one easy day). So I should have expected it. I just didn't want to give up or give in to the pain with each hill we jumped out of the saddle to keep up the pace.
What made this ride even better was that two of my great friends were with me during this. Two guys I ride with frequently and enjoy their company and "speed." An older gent that I really look up to for his skill and power lead a lot of the ride with such a great pace.
Once we hit downtown Boiling Springs the traffic got real heavy. But no one wanted to let up. We slowed only when we had to. I could tell that 3 of the guys wanted to sprint to the starting point (me included

). We weaved in and out of traffic and headed for the turn into the college football parking lot. We blasted down the road where tons of people were watching soccer and softball games, walking their dogs and riding their bikes. Then all of a sudden we stopped; 3 kids walked right in front of us and stood there. We yelled to get out of the way, but uh-uh, they stood their all smug looking. So we let up and rolled in together. Then we ate like lions at the finish line.
60.5 miles @ 21.6mph
The ride was well organized. I can't wait intil we do it again.
Glad it's over