Senior Member
Join Date: Aug 2006
Location: Central Louisiana
Bikes:
Posts: 3,051
Mentioned: 0 Post(s)
Tagged: 0 Thread(s)
Quoted: 37 Post(s)
Northwest Arkansas Roadies - July 3 Ride
---
We had a good group Saturday morning, 21, I believe.
Our route was from the Greater Savoy, Arkansas Metroplex to the Prairie Grove Battlefield with a side trip to Farmington, AR.
Here is a shot of the group just before we left Savoy. That is the old school in the background. It's now a community center.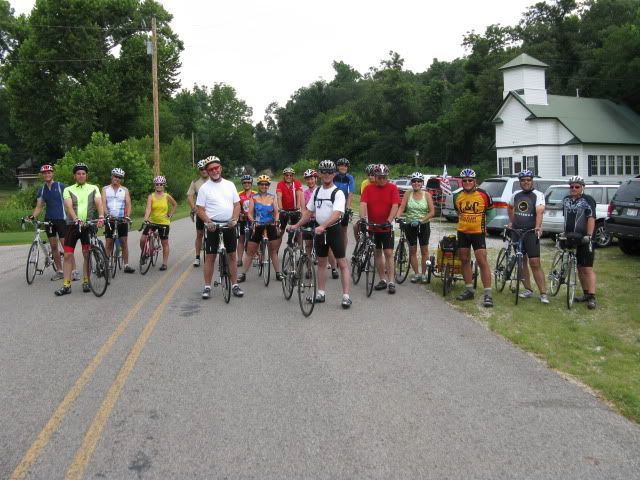 A little while later, we stopped to take a break at the Prairie Grove Battlefield Park.
Here's a shot of the group at the park. Our esteemed and fearless leader, Arkansasgal, in the blue jersey is seated on the axle on the right hand side of the cannon. That's yours truly hunkered down in red jersey and helmet left center of the muzzle.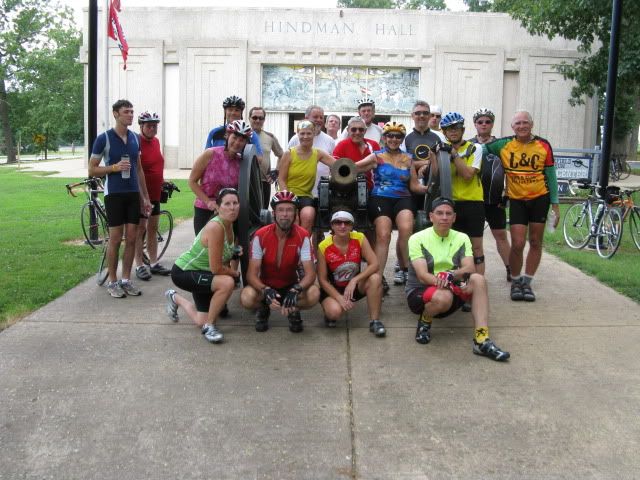 Our ride was about 42 miles for the day, the first 30 miles of which were dry. Thereafter, we had a gentle rain and a tailwind back to the vehicles. This meant no hammering down Weaver Hill to try to establish a new land speed record.

.
We are a diverse group of cyclists, and you are invited to join us if you're in the area. Send a PM to Arkansasgal to get on the e-mail list.