I was rummaging around online and found this page:
http://www.oklahomabicyclesociety.com/maps/murray.htm
That sounded like a neat loop, especially the "few hills" part. I was just figuring to do the 25 mile loop.
I was off for a vacation day, so I headed up there this morning. It's about 110 miles from Garland, Texas. I drove to the Tucker Tower parking lot and left the car there. That worked fine today, but on a busy day, it'd probably be better to leave the car in a larger parking lot elsewhere. Anyway, first thing I noticed was a bike rack in the parking lot, which is a positive sign for cyclists. Although I suspect most of their bike visitors are families riding in from campgrounds on mountain bikes.
The Tucker Tower parking lot is actually about 3/4 mile off of the highway. So I pedaled on back to the highway and started out on the loop going clockwise (IE, west from Tucker Tower). I figured out very quickly that the line about "few hills" must have been written by somebody from Eureka Springs. From Tucker Tower up to Hwy 70, about 90% of the time, I was either coasting down one hill or cranking up the next. While the hills weren't especially long or steep, it still wasn't quite what I had in mind. But I was able to pedal on through, and made one or two stops for photos. You folks that ride hills a lot, or even seek out hills, probably wouldn't hardly notice these.
Here's Murray Lake from one turnoff: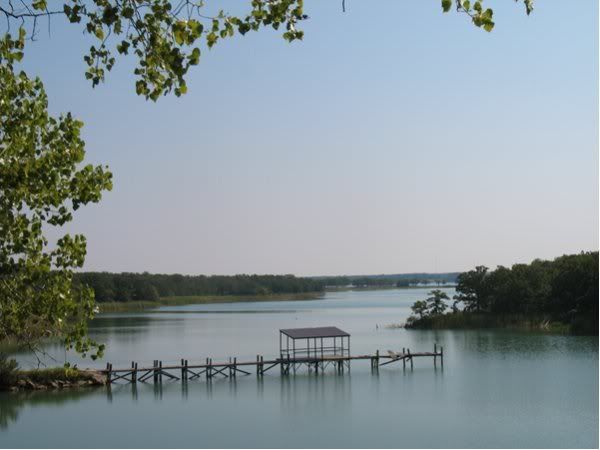 While the route goes around the lake, on most of the route, you can't see the lake, so it's more of a cruise through the countryside than around a lake.
It's not exactly Autumn yet, but I could see possibilities of some color in those trees in another month or so.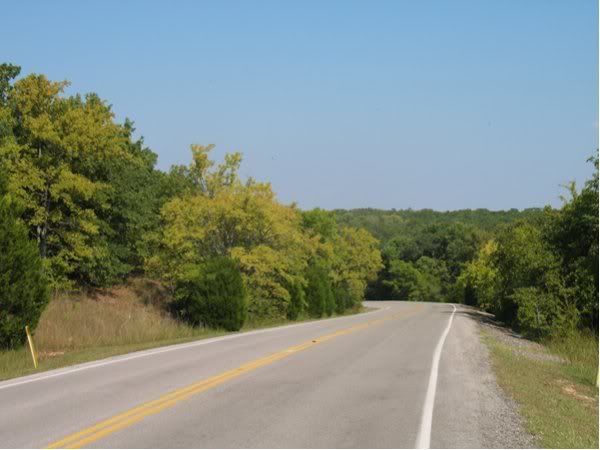 I got up to Hwy 70 and got a surprise. They were doing repaving work.
They had traffic held up, so I stood there for a while. Then I figured out that I could just walk down the grass on the side of 70 a ways and get past the construction equipment, and then ride on the shoulder.
Looking back, it was like this:
The right lane was shut off, left lane (on the 4-lane divided highway) was open, and right shoulder was unaffected. So I just kept riding down the shoulder and didn't have any great problem. Hwy 70 had hills too, but the slope was much more gradual on them, so I was able to maintain 12 mph or so even uphill. I came to 77S again and continued my loop, heading back south now.
A lot of the beaches and campgrounds and stuff at Lake Murray are a good ways back off the highway, and are a pretty good detour on a bike. But Martins Landing was right by the highway, and I stopped off there and ate my pop tarts and crackers at a picnic table. They had water there, too, so I refilled one of my Gatorade bottles just in case.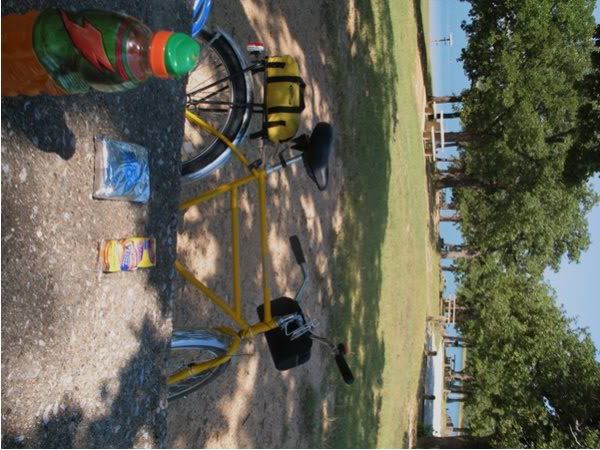 Marietta Landing was right by the highway as well. The park headquarters are on the northwest side at 77S and 70. That makes at least three good restroom places near the road. There's also a couple of convenience stores on 70.
I continued back south on 77S. There were a few hills on the east side of the lake, but there were some long flat areas, too, so I made better time, and started feeling a little better about the "few hills" line. But I still hit a couple that got me down to 6 or 8 mph.
I spotted some mushrooms beside the road. One of them was about 6" across, although these were a bit smaller.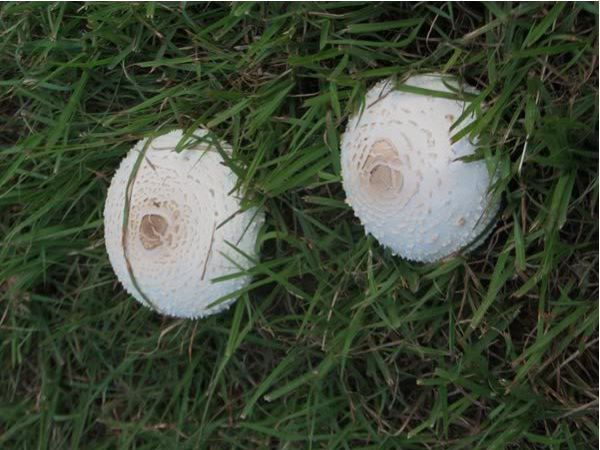 The most scenic part of the trip was actually on the last three or four miles before I got back to Tucker Tower. You could see the lake itself and rock outcroppings.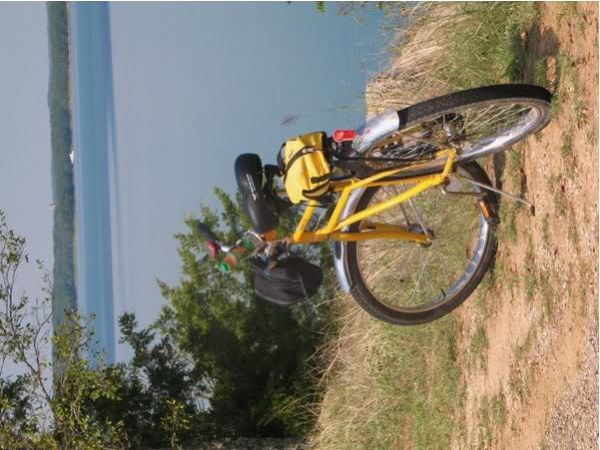 At last, Tucker Tower hove into view.
Tucker Tower is a neat place worthy of a visit by itself. I did take time to go in again, and went up to the top of it. If you haven't been there, make it a point to visit when you're in the area.
Weather was great on this trip, about 80 degrees and sunshiny. I got sweaty going up hills, then it felt real nice standing in the shade later.
Roads were so-so. 77S going north had a few longitudinal cracks that weren't quite big enough for a bicycle wheel, but were getting close, so do pay attention when riding there. 77S is narrow, but with little traffic. Going on a weekday while school is in session is the perfect time to go, due to there being no traffic. I think in the first three miles, I saw 2 cars. Hwy 70 is much busier, but had a good shoulder. 77S on the east side of the lake seemed in a little better condition.
My total mileage for the trip was 25.55, but that includes about 1.5 miles to and from Tucker Tower, leaving the actual loop at about 24 miles. My odometer showed my average speed at 12.5 mph.
If you wanted to make a longer trip, Fort Wa****a is out to the east of this area. I'm not sure what all the roads are like on the way there, but the fort itself is worth a look and makes a good destination.
(Edit: It seems the site filters have seen fit to block out the middle of that fort name which is the "S word".)