Whisky Parts Co - No.9 Road Plus fork (2018)

01-19-18, 12:40 PM
Clipless in Coeur d'Alene
Join Date: Mar 2012
Location: Coeur d'Alene, Idaho
Posts: 1,910
Bikes: Tandems: Calfee Dragonfly S&S, Ventana ECDM mtb; Singles: Specialized Tarmac SL4 S-Works, Specialized Stumpjumper Pro, etal.
Mentioned: 0 Post(s)
Tagged: 0 Thread(s)
Quoted: 131 Post(s)
Whisky Parts Co - No.9 Road Plus fork (2018)
---
Whisky has a new fork this year that looks interesting. I am wondering if anyone has tested this, or will be soon?
I currently have a No.9 TA fork from a few years ago, but the tire clearance is a bit tight even for a Conti 4K 28mm tire (measures more like 32mm). This new 2018 RD+ fork has a lot more clearance.
My No.9 is a 49mm rake, 367mm A-C. This new RD+ fork is 51mm rake, 383mm A-C. Running this diff through a
trail calculator
while estimating a slightly slacker headtube angle due to the 1.6cm increased A-C length, the RD+ would be slightly more trail than my 49mm rake fork, but still very much in the amount I prefer.
For max rotor size, the RD+ is rated at 160mm. The photos show the fork leg inside is fairly straight so physically it might clear a lot bigger. However Whisky says (I called their Support #) they are more concerned about torque limits and so only certify it for 160mm. In comparison, our older No.9 can accept a 203mm rotor, though I don't recall what the rated max size was.
The RD+ is rated for "Condition 2" (gravel), so it should be stronger than a plain road (Condition 1) fork. Whisky doesn't post max weight ratings, so their Support only suggests a "typical" max in the order of 300-350lbs.
No.9 RD+ | Whisky Parts Co
Steerer Type 1 1/2" Tapered
Steerer Length 350 mm
Fork Length 383 mm
Material Carbon
Rake 51 mm
Crown Race 40 mm
Axle 12 mm x 100 mm
ASTM Rating Condition 2
Brake Type 140mm Flat Mount
Max Rotor 160 mm
Fender Mounts Yes
Max Tire 700c x 38 mm or 650b x 47 mm
Weight 440 g
Part Number FK9922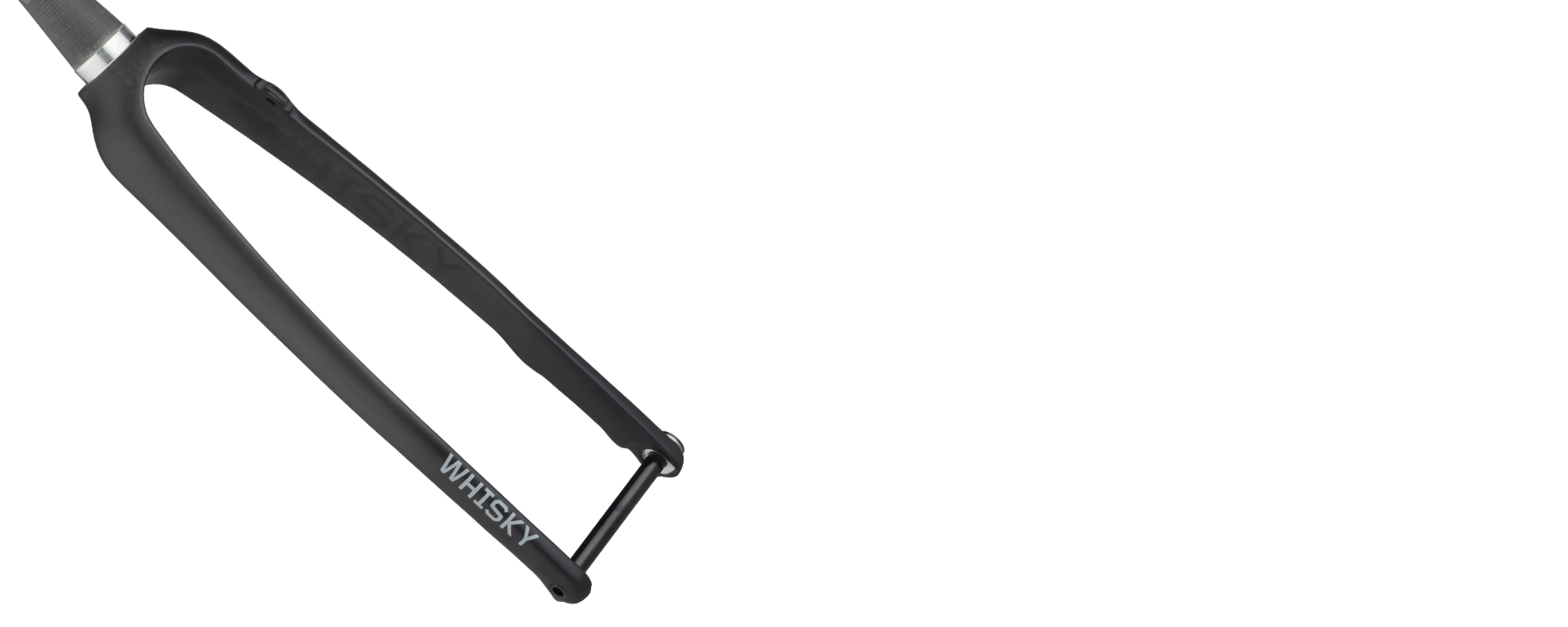 ---
Last edited by twocicle; 01-19-18 at

12:48 PM

.

01-11-19, 01:57 PM
Senior Member
Join Date: May 2008
Location: Ottawa, Canada
Posts: 83
Bikes: Ibis Cousin It converted to a drop bar road cruiser, Comotion Speedster, garage full of half bikes
Mentioned: 0 Post(s)
Tagged: 0 Thread(s)
Quoted: 4 Post(s)
I'm trying to pick a fork and I was wondering if anyone had an update on this fork to share?

Posting Rules
You may not post new threads
You may not post replies
You may not post attachments
You may not edit your posts
---
HTML code is Off
---