Trek T200, 1996

09-02-21, 09:36 PM
Trek T200, 1996
---
You'll normally find me in the C&V forums figuring out how to revive an old bike of some sort, but today's purchase feels like it belongs here, instead. I have a lot to learn about tandems, so I trust this is the right place. Tonight, I agreed to purchase this bike:
https://www.facebook.com/marketplace...6662163845442/
at less than the asking price, so its hard to see how I could go too wrong on it. I know it's a 1996 from the Sachs brifters. It'll be delivered tomorrow afternoon, and I am super excited about this new project in a year when project bikes usually come at a premium.
I'm not even married, so a tandem feels particularly ridiculous, but I do have a stoker lined up for an event that concides with my HS reunion on September 18 near Tulsa. So, really, my goal here is to enjoy the somewhat rushed project of getting this bike ready to go 64 miles with inexperienced tandem riders in two weeks. After that, it's worth more than I paid, so I'll see what happens.
I have reviewed the 1996 brochure and technical guide, and there are a couple of things I'm concerned about. I suspect y'all will find more:
​​​​​​
https://www.vintage-trek.com/Trek-Fis...d/1996trek.pdf
​​​​​​
https://www.vintage-trek.com/Trek-Fis...manualTrek.pdf
The hubs are Hope, which seems to have been a replacement? They do not say "tandem" on them, but look beefy enough. The rear hub has a threaded area outside the non-drive side - what is that? And the left Sachs brifter seemed pretty wonky. Chains look good and shifter cables felt fine on cursory solo trip around the block. The seller put Conti Super Sport 28mm tires on there, but I'll probably use something else - I have some extra 28mm Gatorskins that might be a good match, and it looks like wider tires would fit fine.
Otherwise, it looks like a winner of a bike to me, especially at this price, and I know it will be beautiful when I've got it ready to roll.
I'll have it tomorrow afternoon, so more pics are coming this weekend.
Finally, how does one transport a beast like this to the starting line? I have a Prius, and I'm not sure how on earth that's going to work!

09-02-21, 09:47 PM
In addition to the transport problem, how do you set up to work on a tandem? Here's my bike space tonight. It's pretty great, right?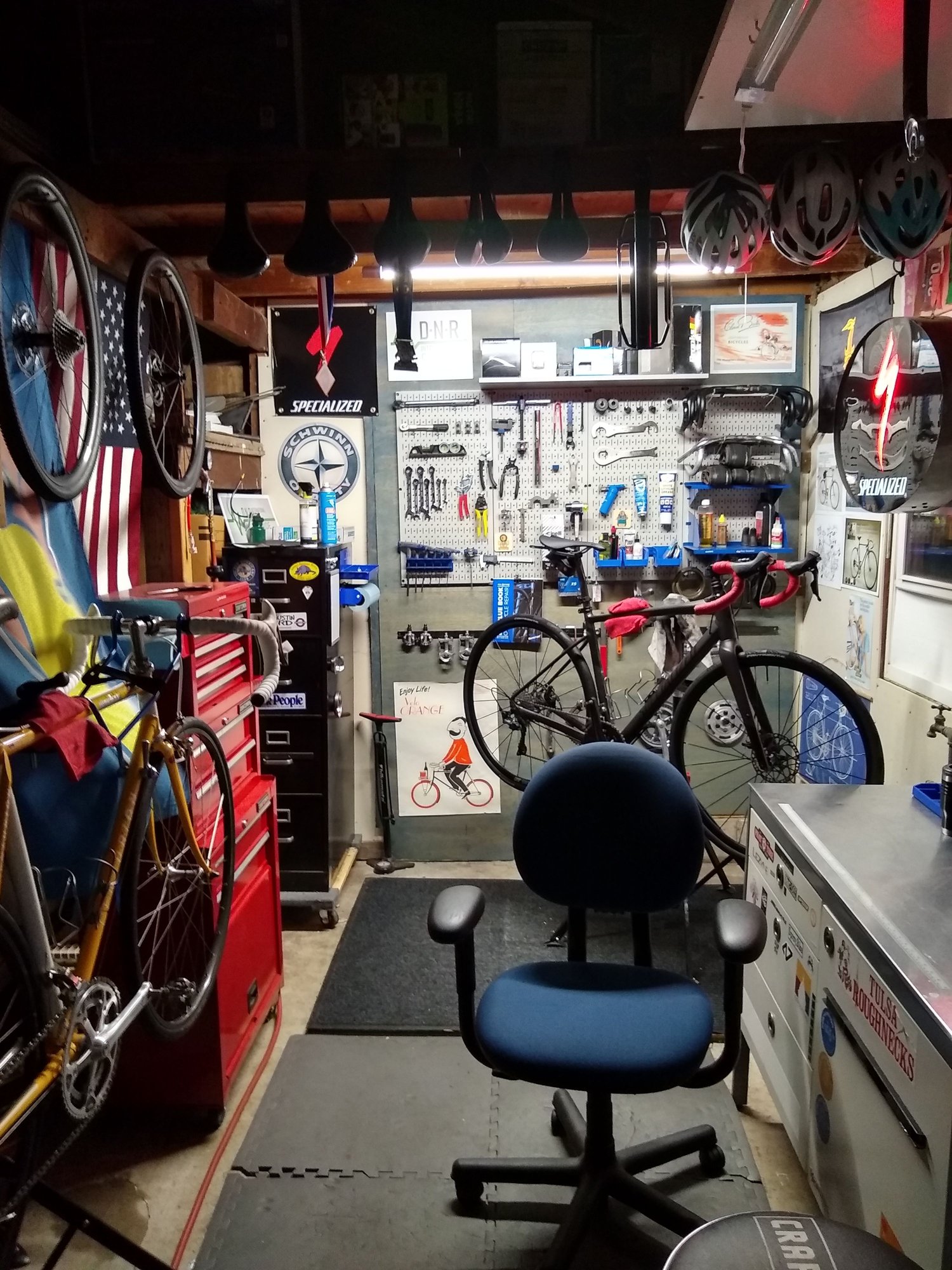 My thought is to use the two cheap Aldi workstands to somehow hold the new Silver Beast off the ground for servicing. But I'd love some advice or pictures of how tandem maintenance is done by those who know what they're doing.

09-03-21, 12:42 AM
Senior Member
Join Date: May 2005
Location: SFBay
Posts: 2,292
Bikes: n, I would like n+1
Mentioned: 0 Post(s)
Tagged: 0 Thread(s)
Quoted: 113 Post(s)
Likes: 0
Tandem Work Stand
After you ride it around solo for a bit (they handle like a bus the first time or two) get someone nearby to ride it with you so you get a feel for balancing.
Also, spend 30 minutes and read this:
https://www.gtgtandems.com/tech/propmethod.html
Once you're through that, and once you learn not to tilt the bike at a stop, you'll realize that so long as you don't put a brake lever on the stoker's bar there really isn't much the stoker can do to make things go wrong if you ride conservatively. Of course, even if they do something that influences a disaster, it's still not their fault in any way. I've taken several non-tandeming and even non-cyclists as stokers on hour or two rides and I've yet to have a calamity.
I've found some stokers just can't help but unclip and put their feet down at a stop. This really isn't a big deal. It just means you need to wait for them to get back in the pedals before you resume.
---
Last edited by jccaclimber; 09-03-21 at

12:48 AM

.

09-03-21, 10:41 PM
Fun evening with the Silver Beast. It got a badly needed cleaning and partial teardown.
I also took what seems to be the most common approach to setting up a workstand, and just let the front wheel stay on the floor. Works very well.
I gave the whole frame a gentle-ish workover with Meguiar's Ultimate Compound, then applied two coats of a carnauba wax. The finish looks good and should be well protected.
I've had the four cranks, two seatposts, and stem off, cleaned, lubed, and returned. Headset needs a bit of an adjustment, but I couldn't find the right wrench.
I swapped in the saddles that will live on there, and ordered bar tape to match. Swapped in Gatorskins in 28mm just because I had them (and generally hate them) and figured a beast like this might benefit from something durable like that. Wheels will get a little time in the truing stand, but they're not bad at all.
I mean to weigh the beast in its currrent form, but forgot.
Finally, a few questions for the forum:
Chain Change: The synchronizing chain is in great shape, but the regular one at the rear (not sure what it's called in this context, the drive chain?) is a hair stretched and just a big old thing. Often in working on older bikes, I substitute a later generation chain with excellent results. In this case, I had a good clean Dura-Ace 9 speed chain hanging around that I have subbed in for now. Is there any reason that might now be a good idea? It doesn't seem to me that chain faces much more strain than normal, but if I'm wrong, I'll got back to a beefier 8-speeed one.
Cassette Change: For some reason, the bike arrived with a 7-speed cassette, 12-28. I replaced it with an 8-speed 12-27 I had around and all seems well. I wonder if there is some reason a previous owner would have made that change when the drivetrain is plainly built as a 3x8. Maybe I'll find
when the new cables arrive and I try to set it up again.
Shifters: The bike has Sachs brifters, which are oddly original equipment. The levers feel all kinds of wrong, even after a pretty aggressive flushing with WD-40. I'll do some more digging to find out about these things, but it seems to me there are plenty of better shifters around and I may need to be shopping.
Bottle Cages: The bike comes with these color-coordinated purple plastic cages, and they look great all along the frame as intended. But (a) it's old plastic, which isnt necessarily the most reliable and (b) there's only room for some smallish bottles with all the cages on there. I'm tempted to sacrifice the aesthetics here for some practicality and find an alternative way to carry water on a long ride.
Hubs: The bike was specced with different hubs than the Hopes that are on there now. They feel great. The rear hub has a threaded area on the non-drive side which I gather is designed for a supplemental brake, and which works with mounts on the frame. That means these hubs are meant for a tandem, right?
Thanks in advance for any feedback!

09-04-21, 02:08 AM
Senior Member
Join Date: May 2005
Location: SFBay
Posts: 2,292
Bikes: n, I would like n+1
Mentioned: 0 Post(s)
Tagged: 0 Thread(s)
Quoted: 113 Post(s)
Likes: 0
The rear hub is likely threaded for an Arai drum so yes, intended for tandems. They have not been made new in quite a while, but are still available used and they donít tend to wear out. I have one that I think hails from the 1970ís and was used lightly as well as one that spent a decade on a loaded touring bike that crossed the major US and EU mountain ranges many times with the previous owner. The only difference is that the older one has red and blue paint and the newer one has black paint and just a bit of rust.

If you spend a lot of time dragging the brakes and going slowly down long descents (emphasis on long, not on steep), particularly on a loaded bike, they are an invaluable alternative to either going faster or regularly stopping to cool the brakes/rims. If you donít do that, they are a useless extra couple pounds that make getting the rear wheel off a bit more work.
---
Last edited by jccaclimber; 09-04-21 at

02:12 AM

.

09-04-21, 05:58 AM
Senior Member
Join Date: Jan 2014
Location: The banks of the River Charles
Posts: 1,907
Bikes: 2022 Salsa Beargrease, 2020 Seven Evergreen, 2019 Honey Allroads Ti, 2018 Seven Redsky XX, 2017 Trek Boon 7, 2014 Trek 520
Mentioned: 18 Post(s)
Tagged: 0 Thread(s)
Quoted: 640 Post(s)
Looks really nice. I like the shop set up too.

09-05-21, 09:12 AM
Senior Member
Join Date: May 2009
Location: WI
Posts: 261
Bikes: 2010 Bob Brown Cycles tandem, 2019 Co-Mo Carrera tandem, 1980 Richardson tandem, 2014 Cervelo R3, 2018 Specialized Roubaix, 1985 Bianchi Campione, 1983 Trek 720, 2020 Trek Fuel EX8, 2021 Salsa Mukluk
Mentioned: 3 Post(s)
Tagged: 0 Thread(s)
Quoted: 72 Post(s)
Nice score on the bike! That's a great bike for any team that's first starting out on a tandem! Great shop, too! It seems that you're tackling this project in pretty much the same manner as any of us would. Other than the obvious tandem issues that typically need to be addressed, I generally modify our bikes like I do with any of my solo bikes, for often times it really does become a preferential thing. We've always found that the most important concerns are fit and comfort, for if the stoker isn't happy, you could potentially end up being quite miserable, too.

Regarding the chain swap, you can always try it to see if it works for you. Of course, newer chains tend to be narrower than the older ones, but it's not like you're putting on a 12-speed chain, either. I would think that you'll be fine. The trial and error process isn't necessarily a bad thing with tandems, either. Have fun!

09-05-21, 09:33 PM
Senior Member
Join Date: Jul 2012
Location: Perth, Western Australia
Posts: 249
Bikes: 2015 Apollo Syncro tandem, 2006 Scott CR1 SL (still a beastie race bike), 1993 Trek T200, 2006 Fuji Absolute Le, 2000 Thorn Club Tour
Mentioned: 0 Post(s)
Tagged: 0 Thread(s)
Quoted: 16 Post(s)
We Have One
---
Hi, we have a 1993 Trek T200. A very good friend has a T100 (same frame, but with flat bars) converted into a T200.

These are great bikes, but heavy and a bit flexy compared to the later alloy and carbon equipment. Some of these came with Matrix (Trek home brand) rims, which have not stood the test of time. Velocity Dyads have worked very well for us.

Was not aware SACHS (essentially old rebranded Campagnolo) levers were standard in 1996...

Anyway on our bike we changed the rear cassette to 10sp, and went with Shimano bar-end shifters. Next we changed out the cantilever brakes for XT v-brakes, and Tektro V-brake levers. So now the thing stops and changes properly. We have also updated handlebars and seats. These are inexpensive upgrades which can really improve the machine.

Good luck and keep us all posted!

W

09-08-21, 08:39 PM
Sachs shifters
---
These shifters are an oddity to me. The catalog says 105 shifters but the tech manual lists these Sachs. They are apparently identical to a Campy of the same years but with Shimano-specific cable pull, which made them briefly popular. Finding that helped me understand how they work and what to expect. I'm finding this mix of parts a little finicky on the rear, but sometimes I do but 7 shifts in a row, so it's user error, I suspect.
I'm now the proud owner of a crapton of lilac bar tape, which I never expected. Seems like taping the bars took twice as long as usual ... who knew?
Hope to finish setting things up in time for a daylight road test tomorrow.
---
Last edited by dbhouston; 09-08-21 at

08:44 PM

.