Is there a list of vehicles that can be used to haul a tandem inside?

10-23-18, 10:31 PM
Senior Member
Join Date: May 2008
Posts: 380
Mentioned: 0 Post(s)
Tagged: 0 Thread(s)
Quoted: 0 Post(s)
Ultimate Tandem Hauler
---
Ultimate Tandem Hauler, Winnebago ERA 170 C, Tandem fits in the cabin through side sliding door and you can take a shower and make lunch after your ride. Winnebago has discontinued the ERA 170C in favor of the 170M you can still fit a tandem in the 170M but you have to extend the slide before loading the bike. Overall we prefer the 170C regardless of tandem hauling abilities. Picked this one up used with only 7000 miles on it.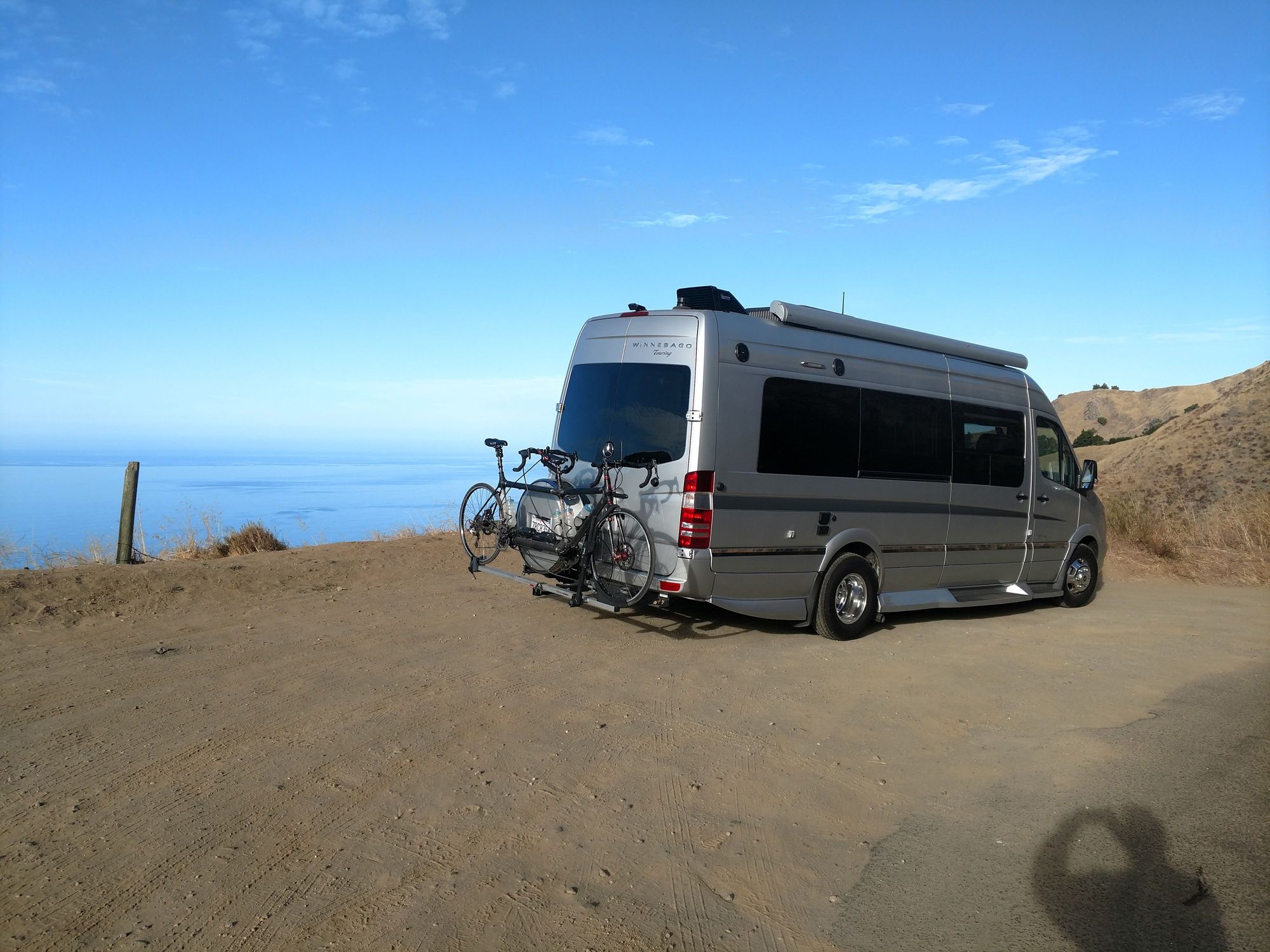 ---
Last edited by chichi; 10-23-18 at

10:37 PM

. Reason: spelling, information

01-10-19, 09:54 PM
Clipless in Coeur d'Alene
Join Date: Mar 2012
Location: Coeur d'Alene, Idaho
Posts: 1,910
Bikes: Tandems: Calfee Dragonfly S&S, Ventana ECDM mtb; Singles: Specialized Tarmac SL4 S-Works, Specialized Stumpjumper Pro, etal.
Mentioned: 0 Post(s)
Tagged: 0 Thread(s)
Quoted: 131 Post(s)
2018 Pacifica
Swallows tandems and asked for 2nds, 3rds, +. Even the Ventana ECDM (10" longer than the Calfee) has room to spare. Pacifica interior is longer but narrower than the Grand Caravan we previously had. In that, the Calfee just barely sat behind the driver seat, but in the Pacifica the Calfee leaves a lot more room between the tire and seat.
Prefer bikes inside vehicle for winter travel, but also have a 1UP hitch rack for tossing on dirty bikes in the summer. I hacked a 1UP tandem roof rack to work as a fork mount/rear tire holder rack on the 1UP hitch rack (mtb tandem measures vehicle width + 6" on passenger side). Will post pics of this next time we use it.
---
Last edited by twocicle; 01-10-19 at

09:57 PM

.

01-14-19, 08:01 PM
Junior Member
Join Date: Aug 2017
Posts: 6
Mentioned: 0 Post(s)
Tagged: 0 Thread(s)
Quoted: 1 Post(s)
We have put our Trek T900 in our 2018 Subaru outback a couple times. the first time we did it we also had a weekends worth of camping gear and I dont think most people would say we travel light.

Naturally the wheels had to come off. I'm not a big fan of that. We have since picked up a sidewinder rack.

Don

Posting Rules
You may not post new threads
You may not post replies
You may not post attachments
You may not edit your posts
---
HTML code is Off
---