Katy Trail and Lower White Rock Creek Trail

12-28-07, 08:37 PM
Uber Goober
Join Date: Sep 2007
Location: Dallas area, Texas
Posts: 11,650
Mentioned: 2 Post(s)
Tagged: 0 Thread(s)
Quoted: 154 Post(s)
Likes: 0
Katy Trail and Lower White Rock Creek Trail
---
I decided to visit a couple of trails I hadn't been on before.
The Dallas online Hike & Bike Trailmap is here:
http://www.dallasparks.org/Parks/bikemap.html
The page that reaches this one includes contact information and also offers a route map which I don't have- and didn't realize was available until just now:
http://www.dallasparks.org/Parks/trails.aspx
I've heard a fair bit about the Katy trail, so I went there first.
This page had the information on it:
http://www.dallasparks.org/Downloads.../KatyTrail.pdf
From this page, "The parking lot is on the left and the start of the trail is straight across the park, up
the beautifully landscaped stairs." In fact, there are beautifically landscaped stone stairs to the right of the driveway, which are not the ones you want- I felt pretty stupid toting my bicycle up there and not finding a trail on top! Anyway, across the driveway from those stone stairs is a sidewalk that goes up onto the trail. It is ramped up, you don't go up stairs. The trail is up above the park. There are also sidewalks that follow Turtle Creek down lower, but those are not the trail. For some reason, the pdf page lists an address on Harry Hines; ignore that, as it crosses Harry Hines but isn't accessed there.
Total trail length is 4 miles, and from the parking lot, you come in at the 0.5 mile mark or so. The trail is reasonably wide and concrete. Parts of it are paralleled by an asphalt trail that is marked for pedestrians only. There are a couple of at-grade road crossings, although you cross several roads on bridges. The route is scenic enough for an urban trail, mostly straight with a big curve on the west end. It feels like you are going up a slight slope when going east. On the west end, the trail merges into a sidewalk at Houston and Lyte Streets, near AA center. On the east end, it ends at Airline Road, right before you get to 75, and there are some bike lockers there for reasons I don't quite know (seems like they should be on the other end of the trail!).
Typical trail section, headed east: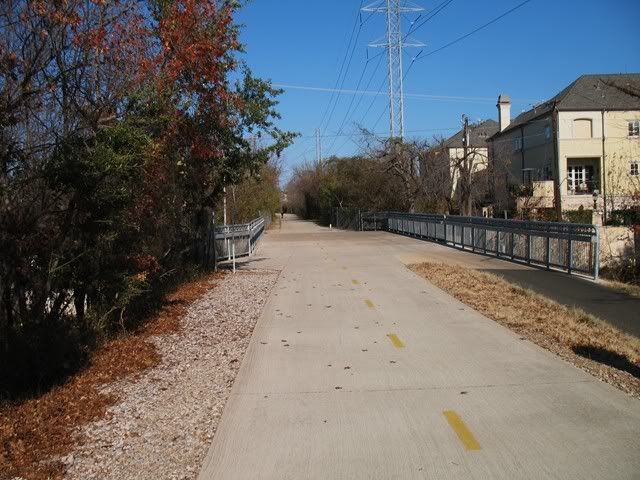 Limestone bluffs on the half-mile between the park and the west end of the trail: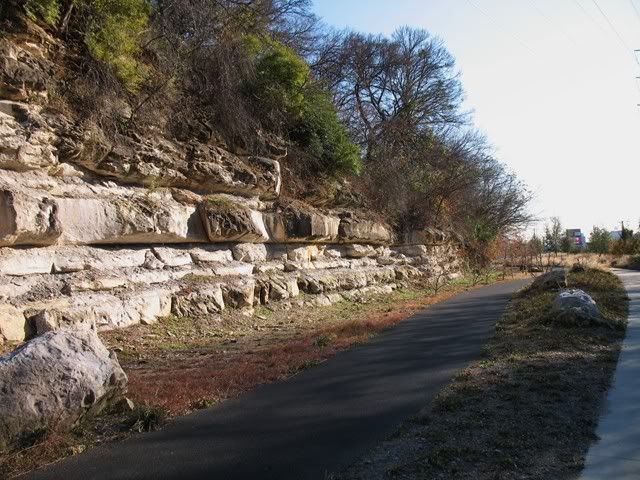 AA Center from the end of the trail: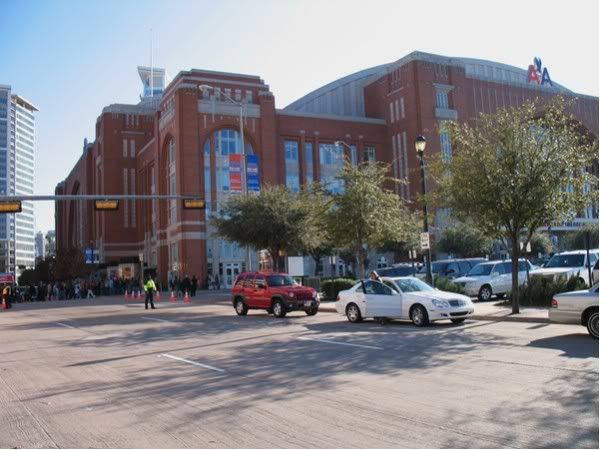 The second trail I decided to check out is the Lower White Rock Creek Trail, listed here:
http://www.dallasparks.org/Downloads...rWhiteRock.pdf
.
Not much luck there. The sheet lists directions to the 6600 block of Scyene. When you get there, there's a little "park", "Glover Park". But, there's no real driveway to turn in at, no parking lot, no signs of any kind to indicate a trail or trailhead. The data sheets says it's a "natural" trail, by which I assume they mean dirt. The data sheet doesn't say it's a bike trail, but nothing prohibits biking, either. There are in fact two different dirt trails going back north from there. But then again, it's possible I just missed the trail altogether. On the south side of Scyene, they are constructing a new Dart line and things are all torn up there, so maybe there used to be another bigger better trailhead on that side, and the trails went south. Anyway, it's not an area where I'd really feel too comfortable leaving my car beside the road and riding back in the woods on unmarked trails. Maybe great for folks that live nearby. Maybe somebody else can fill in some details on what I'm missing here.
Glover Park. This is pretty much the entire park, there just isn't anything there but a sign, on the far side of the car. Scyene Road is just to the left, I'm just parked right off the road on grass: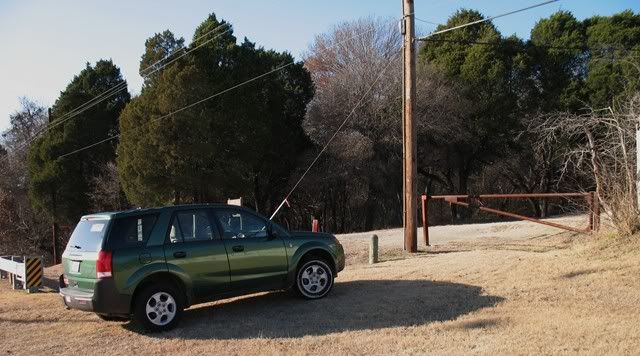 Two trails head out from Glover Park. Is one of them Lower White Rock Creek Trail? Heck if I know. The one to the left looks like a regular hiking trail, although no signs mark it. The one to the right looks like an old 4-wheeler or jeep trail.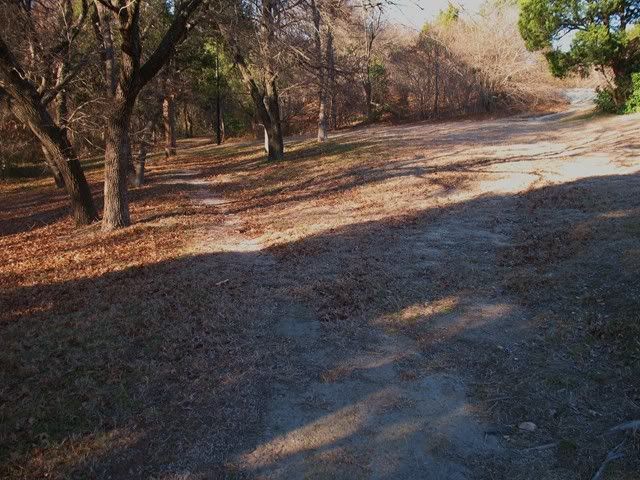 Note that the data sheets don't mention anything about Glover Park, which seems odd, and the signs at the site don't mention anything about a hiking trail.
A peeve here- the "interactive map" linked above shows you generally where the trails are at, but doesn't show any type of map of the trail when you click on them.

01-07-08, 07:47 PM
Uber Goober
Join Date: Sep 2007
Location: Dallas area, Texas
Posts: 11,650
Mentioned: 2 Post(s)
Tagged: 0 Thread(s)
Quoted: 154 Post(s)
Likes: 0
I just discovered that the other trail I found while trying to get on the Katy Trail was the Turtle Creek Walk:
http://www.dallasparks.org/Downloads...urtleCreek.pdf
Nothing says "no bikes" on it that I saw, just that it has stairs in places so not a place you want to ride really.

05-28-11, 12:36 PM
Borracho For Life
Join Date: Sep 2007
Location: Taos, NM
Posts: 128
Mentioned: 0 Post(s)
Tagged: 0 Thread(s)
Quoted: 0 Post(s)
Likes: 0
Liked 0 Times in 0 Posts
Thread
Thread Starter
Forum
Replies
Last Post

Posting Rules
You may not post new threads
You may not post replies
You may not post attachments
You may not edit your posts
---
HTML code is Off
---