Nice Looking Rig In A DFW CL Ad

12-28-08, 10:38 PM
insert witty comment here
Join Date: Aug 2008
Location: Dallas Texas
Posts: 848
Bikes: 2016 Specialized AWOL, 2011 Electra Bike Ticino, '09 Trek 7.2 FX, Peugeot UE 18
Mentioned: 1 Post(s)
Tagged: 0 Thread(s)
Quoted: 10 Post(s)
Likes: 0
Liked 0 Times in 0 Posts
Nice Looking Rig In A DFW CL Ad
---
I'm not associated with this
ad
but I like the bike. I'd run narrow tires though. It's an interesting take on doing something with an ordinary mountain bike. But where's the front brake?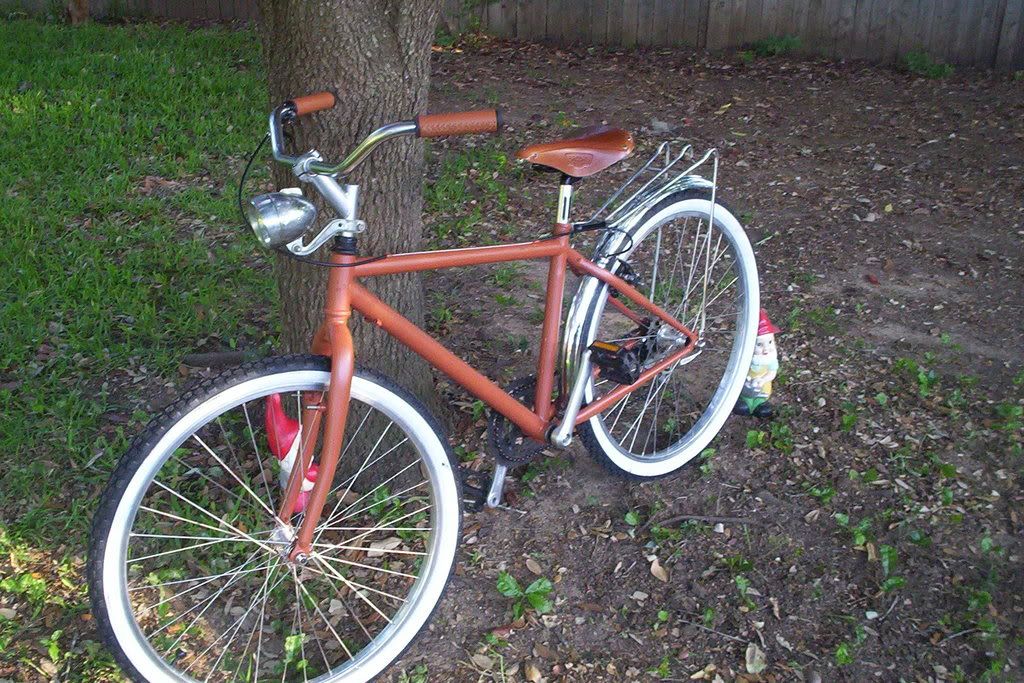 ---
Last edited by Mr_Christopher; 12-28-08 at

10:49 PM

.

12-28-08, 10:53 PM
Senior Member
Join Date: Nov 2008
Location: Dallas, Texas
Posts: 76
Mentioned: 0 Post(s)
Tagged: 0 Thread(s)
Quoted: 0 Post(s)
Likes: 0
Liked 0 Times in 0 Posts
Chris,

Good Eye! What an interesting and unusual bike. And the grips look like the ones on my Electrabike Amsterdam Classic 3.

12-28-08, 11:03 PM
insert witty comment here
Join Date: Aug 2008
Location: Dallas Texas
Posts: 848
Bikes: 2016 Specialized AWOL, 2011 Electra Bike Ticino, '09 Trek 7.2 FX, Peugeot UE 18
Mentioned: 1 Post(s)
Tagged: 0 Thread(s)
Quoted: 10 Post(s)
Likes: 0
Liked 0 Times in 0 Posts
Hubbard, I have this old Trek mountain bike that I've been trying to imagine with a Brooks and leather grips. Now i know it could be a worthwhile cause.

I saw the red Speedster you got. Is this the attic one? It looks like a show bike and I really like the chrome.

Chris

12-28-08, 11:20 PM
Senior Member
Join Date: Nov 2008
Location: Dallas, Texas
Posts: 76
Mentioned: 0 Post(s)
Tagged: 0 Thread(s)
Quoted: 0 Post(s)
Likes: 0
Liked 0 Times in 0 Posts
C-

Go for it! I'm still trying to figure out how to get my Brooks B66 on that Schwinn Speedster, and yes, it was the attic find. That chrome cleaned up well, no scratches or dings. Hello, Richardson Bike Mart for a new post for the Schwinn.

Hub