Winter arrives

01-08-11, 10:37 PM
Senior Member
Join Date: Jan 2008
Location: Richardson TX
Posts: 1,308
Mentioned: 0 Post(s)
Tagged: 0 Thread(s)
Quoted: 2 Post(s)
Winter arrives
---
Yikes! Winter precip and winter temps through my workdays this week (sun - thurs)
The lungs are still trashed from pneumonia.

I'll have to commandeer one of the family vehicles.
The Daughter will NOT be happy.

__________________
Hey, I'm just this GUY...you know?
>>>Team Critical Mess<<< (You mean it's not SUPPOSE to hurt?)

My nice new Nashbar Touring Build AKA "The Flying Avocadooooooooo!"
1998(?) Trek 700 Multitrack
1995 Trek 1220 AKA "Jimi"
Older Non-suspension Specialized Hardrock

01-09-11, 07:49 PM
Tilting with windmills
Join Date: May 2008
Location: North Texas 'Burbs
Posts: 4,828
Bikes: Many
Mentioned: 0 Post(s)
Tagged: 0 Thread(s)
Quoted: 1 Post(s)
I'm so looking forward to the drive in tonight.

01-09-11, 08:41 PM
Uber Goober
Join Date: Sep 2007
Location: Dallas area, Texas
Posts: 11,618
Mentioned: 2 Post(s)
Tagged: 0 Thread(s)
Quoted: 145 Post(s)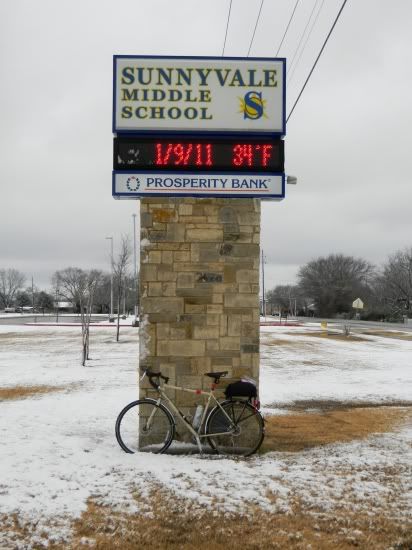 __________________
"be careful this rando stuff is addictive and dan's the 'pusher'."

Posting Rules
You may not post new threads
You may not post replies
You may not post attachments
You may not edit your posts
---
HTML code is Off
---