In praise of winter commuting, bonus for touring/bikepacking

03-07-20, 07:38 AM
In praise of winter commuting, bonus for touring/bikepacking
---
What does this have to do with touring?
Good question--A few years ago I was planning a trip where I'd be leaving in January, full on winter here in the northern hemisphere, and was concerned from past experience that my legs would be pretty darn unprepared for fully loaded riding. Heck, this can be the case in the summer, so even worse in winter.
I had always looked at winter riders as a bit nuts, hats off to them I thought, but never did it. This oncoming winter in question though I figured it was in my bests interests to keep riding to keep the legs moving and sort of ready for the Jan trip departure.

For years I've biked on an indoor stationary trainer during the winter, which certainly did keep the legs muscles going a bit and better prepared for skiing, but these last winters I've really come to enjoy riding on all kinds of snow conditions and temperatures.
I also really get off on the technical challenge of sliding and balance and judging changing surfaces for traction.
Way back in the day I had motorcycles and always enjoyed sliding a motorcycle a bit under control, so riding on snow is a bit of a game to me, how long can I go without putting a foot down etc.
Oh, this winter also I finally ditched my spd pedals and went with some old metal platforms and my regular winter boots. Warmer feet than my spd mtb shoes and layers of insulation I had to put under my rain booties, and just faster to get ready with the boots. I've been riding spd pretty much non stop since about '92, so it was weird at first, but I have to say, for winter riding, it's certainly a bonus cuz its just so much easier to jump off if some plowing understeer goes south--and anyway, you are never going fast so coming off is never an issue at all, you just put your feet down.

Compared to indoor trainer riding, the body language thing going on with loose snowy surfaces is really, really great practice for riding on any loose surfaces, so keeping the reactions and skills up are great for any bicycle riding on any loose dirt surfaces, so if you ever think of doing off road ride riding, and specifically doing any bikepacking stuff, it's a total win win to goof around on snow and improve or keep up your bike handling skills.
I certainly know that it's helped with the times on my touring trips that I've had to ride on sandy backroads and trails, it's nice to know what a bike does and how to control it properly.

In winter I ride my old mountain bike, with mtb knobby tires, 2.15 to 2.5's, no studs, and at lower pressures they work pretty darn well on snow and ice, although I am not riding very long (30 mins maybe) and on quiet side roads and or on sidewalks if needed.
Being knobbys, and pushing in varying deepness of snow, its a lot harder to pedal than normal, but this is great for the legs, cuz its similar to riding a loaded touring bike for effort. As said, bonus for me is when I go skiing my legs work pretty good right away, so thats fun too.

I'm pretty lucky in that I have a garage, so I have the routine of doing a super fast (5min) bike washdown using a big bucket of soapy water and a large soft bristle brush thing. Being in the garage, I can be sloppy and fast, doesnt matter about water, but getting the salty stuff off is important, if not it's really rough on a bike, and I like keeping it clean and rust free.
I do a fast and easy rag wipe on the cables afterwards, and then the chain, and just spray WD40 (the horror!) on the chain, every day, and its enough lube for the next days ride, and I figure the whole WD thing, water dispersion, is good for it anyway. So far, chain stretch is fine and its not gritty gross so its working.

The other bonus is that I didnt use my car much for daily commutes, and anyway, the distance is so short it would have been dumb clearing off the snow from car, starting it and it barely even warming up for such a short drive, not great for a car anyway, so this gave me a good incentive to biking more too.

so here we are in March, winter is coming to an end, hopefully with some summer tours coming this year, although the coronavirus stuff is concerning for traveling aint it?
cheers

03-07-20, 10:09 AM
Toques off for those winter commuting in colder places like Montreal.

It doesn't count as much in places like Austin where we have shorter daylight but freezing temperatures are more the exception than the rule.

I haven't owned a car since 2001 and that includes seven winters in northern Colorado where we had cold snowy weather with a few mixed warmer days thrown in. I started out with normal tires and occasionally watching where I might slide. However, I did go down hard twice on ice when my front tire slid. Fortunately it was also cold, so I was well bundled. A rear slip I can recover from, but front tire slide seemed to happen much quicker. After that I outfitted one of my bikes with studded tires. The main arterial streets were typically fine, but we would sometimes get a packed/rutted layer of ice on smaller side roads. That is where I particularly appreciated my studded tire bike. On days without this ice, I would ride a bike without studded tires.

03-07-20, 10:48 AM
Senior Member
Join Date: Sep 2015
Location: Left Coast, Canada
Posts: 5,126
Mentioned: 24 Post(s)
Tagged: 0 Thread(s)
Quoted: 2235 Post(s)
I have always ridden in winter, which around here on the left coast of Canada is more like rainy season than full on snow weather. We still get the occasional storm, and lots of cold temps.
Usually have a winter beater commuter and mtb. Last year I bought a fat bike and that really opened up winter riding, not because of snow, though I do that, but because it just makes riding so much more fun and you want to go out to challenge the conditions and get a good workout in a shorter time doing trails with it.
In the winter I can get hit a bit with SAD (seasonal affective disorder) because so much of my life has to do with outdoor pursuits. Getting out is really important for me. A Scandinavian saying is:
There is no bad weather; just bad clothing
and I take that to heart. With the right clothing and protective gear you can ride in some pretty craptastic weather.
I mainly hose my bikes down with water in winter and relube as needed. Nothing fancy.

03-07-20, 12:38 PM
Senior Member
Join Date: Aug 2010
Location: Madison, WI
Posts: 9,879
Bikes: 1961 Ideor, 1966 Perfekt 3 Speed AB Hub, 1994 Bridgestone MB-6, 2006 Airnimal Joey, 2009 Thorn Sherpa, 2013 Thorn Nomad MkII, 2015 VO Pass Hunter, 2017 Lynskey Backroad, 2017 Raleigh Gran Prix, 1980s Bianchi Mixte on a trainer. Others are now gone.
Mentioned: 43 Post(s)
Tagged: 0 Thread(s)
Quoted: 2897 Post(s)
This has been an unusual winter in Wisconsin, I have had a bike outside maybe half a dozen times so far this calendar year and never needed studded tires. Usually there are some ice patches that I need to worry about, thus the studs. Do not get me wrong, we had plenty of snow, but most days when I had an interest in going out on a bike it had not snowed for over a week and there was minimal ice.
Below freezing, I use hiking shoes or hiking boots. For pedals on most bikes I have A530 or M324 pedals that have SPD on one side, platform on the other. And I agree with you, the platform side of the pedals makes a lot of sense when riding on difficult terrain where you might want to get your feet off the pedals really fast.
Maybe my photo below with a bit of snow on the side of the road this past mid-June on Cape Breton Island will suffice for winter? After all, it is snow, right?

03-08-20, 10:00 AM
Full Member
I bought myself a Haro 29er a few years back to use as a winter beater, but of course over the years I've upgraded and overhauled it a few times so it's not really a beater anymore.First of all, abundant lighting and Hi-Vis clothing is even more important in the winter because of the darkness & reduced visibility. I've found that winter clothing is almost as important as the bike itself. I use "Lake" winter biking boots that keep my feet very warm, snowmobile wind guards to keep the wind off my hands, and heated ski gloves for the colder days. Though I don't go quite as far in the winter as I do in the summer, I get out almost as frequently, especially this year. We've had hardly any snow and so many warm days. I also remember that it used to take a while in the spring to get back in shape, but now that I bike all winter, it's not really an issue anymore.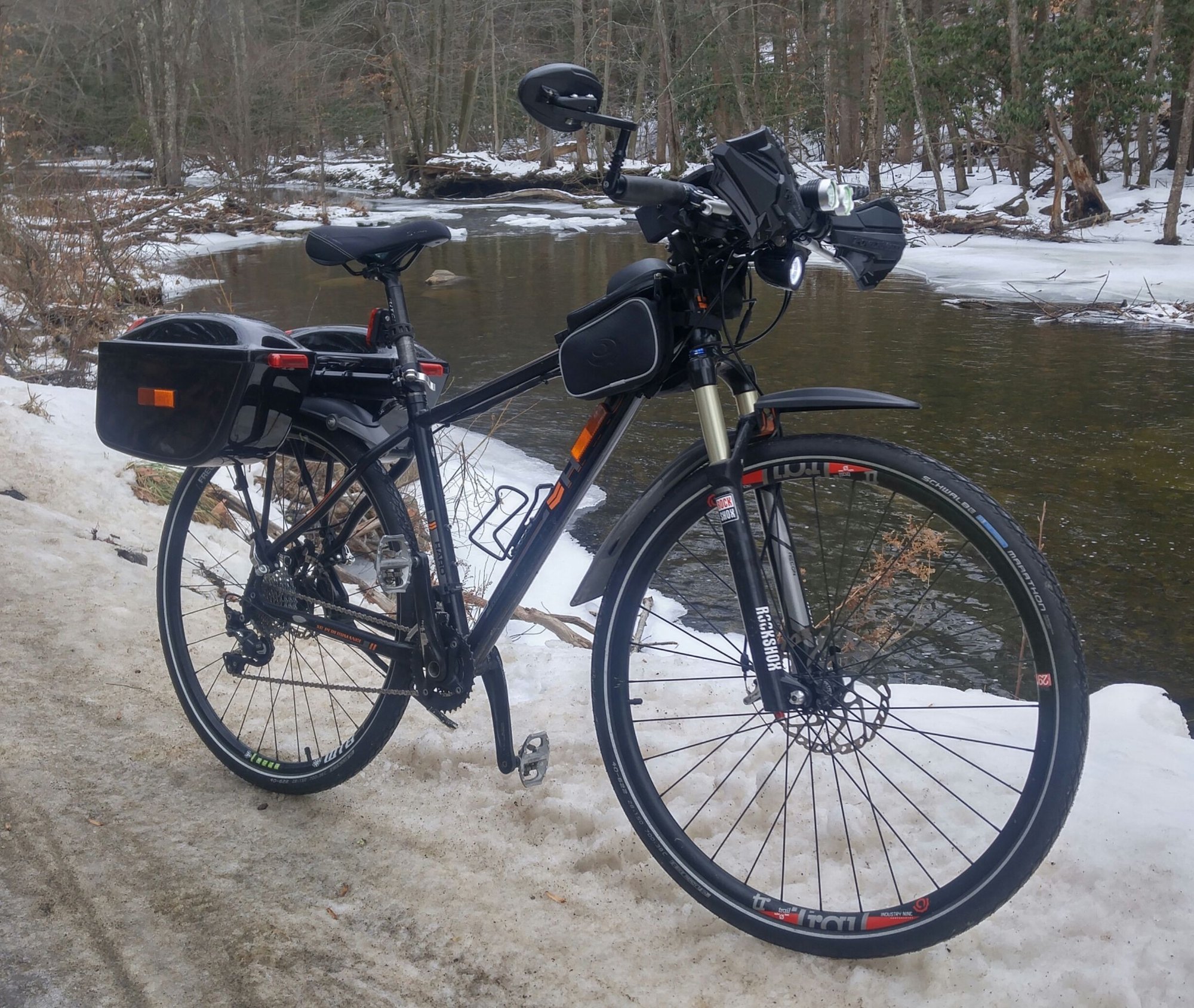 ---
Last edited by hfbill; 03-08-20 at

10:07 AM

.

03-08-20, 10:35 AM
Senior Member
Join Date: Sep 2015
Location: Left Coast, Canada
Posts: 5,126
Mentioned: 24 Post(s)
Tagged: 0 Thread(s)
Quoted: 2235 Post(s)
This Christmas my daughter gave me these pogies. Not for heavy duty cold but they take the edge off around here and allow me to wear normal sized gloves instead of ski gloves.
https://www.mec.ca/en/product/5019-3...Cycling-Pogies

03-10-20, 12:36 AM
Senior Member
Join Date: Apr 2013
Posts: 1,097
Bikes: Surly Disk Trucker, 2014 w/Brooks Flyer Special saddle, Tubus racks - Duo front/Logo Evo rear, 2019 Dahon Mariner D8, Both bikes share Ortlieb Packer Plus series panniers, Garmin Edge 1000
Mentioned: 2 Post(s)
Tagged: 0 Thread(s)
Quoted: 377 Post(s)
I have kept up my riding more this winter also. I'm in Ohio. I rode in to October with my regular SPD shoes. When temps were even in the 60's I started thinking about the "keeping feet warm" predicament. I ended up coming up with a way to put SPD cleats on aluminum plates strapped to a pair of winter boots. The boots I am using are Vasque Snowburban's. I originally got them for winter backpacking and snowshoeing. The SPD adapter plates are quite goofy looking, but truth be told - I have not wore any other shoes/boots riding since I made the adapters. They work absolutely fantastic for me. The best part - toasty roasty feet!

I have a pretty good system for layering clothes, face protection, and hand protection. However, keeping my feet comfortable has been the biggest challenge. The reason being - I can't ride much distance at all without being clipped in. I've overcome some pretty goofed up muscle/tendon issues that lead to knee problems - and the root of the problem was platform pedals. The muscles and tendons on the tops of my legs built up to where my kneecaps were stressed sideways and ground in to my leg bones. So by being able to pull my feet through the whole crank cycle I can work the opposite muscles/tendons at the same time as taking off a lot of the work on the tops.

In any event, I can keep warmer than I've ever been able to this year and that's kept me on the bike a lot more. I know I am not riding the mileage a lot of you do but any riding through the winter for me at all is a good thing.