Rack and Panniers for Trek Madone

06-16-09, 11:13 AM
Newbie
Join Date: Jun 2009
Posts: 2
Mentioned: 0 Post(s)
Tagged: 0 Thread(s)
Quoted: 0 Post(s)
Rack and Panniers for Trek Madone
---
I am hopping on a cross country ride that a friend is doing for just a few states: Kansas, Colorado, Wyoming. My only choices for bikes are my Gary Fisher Cobia (29er) and my Trek Madone 4.5 (all carbon). Neither one has eyelits for a full pannier rack and I don't want to spend the money on a trailer or a new bike.

I plan to get a cheap aluminium post so I can crank a post down real tight without damage.

Has anyone successufully done this before? If so, who made the rack and what kind of Panniers did you use? I won't be carrying too much and all my gear is pretty light.

06-16-09, 11:18 AM
Galveston County Texas
Join Date: Nov 2007
Location: In The Wind
Posts: 30,995
Bikes: 2010 Expedition, 03 GTO
Mentioned: 15 Post(s)
Tagged: 0 Thread(s)
Quoted: 709 Post(s)
http://www.ebikestop.com/topeak_beam...mes-RK2541.php
Got panniers from Nashbar on sale.
You will like the quick release on the Topeak rack.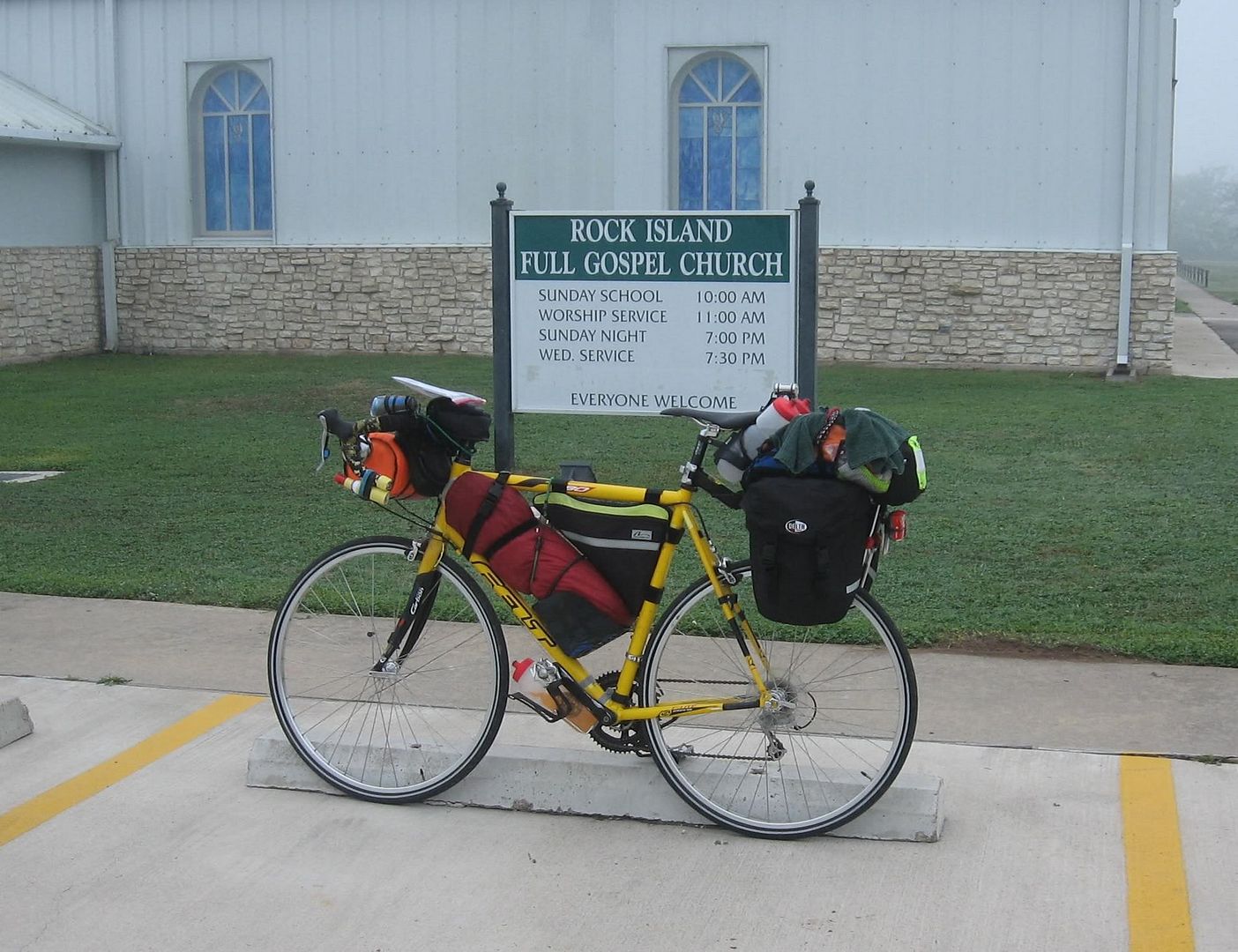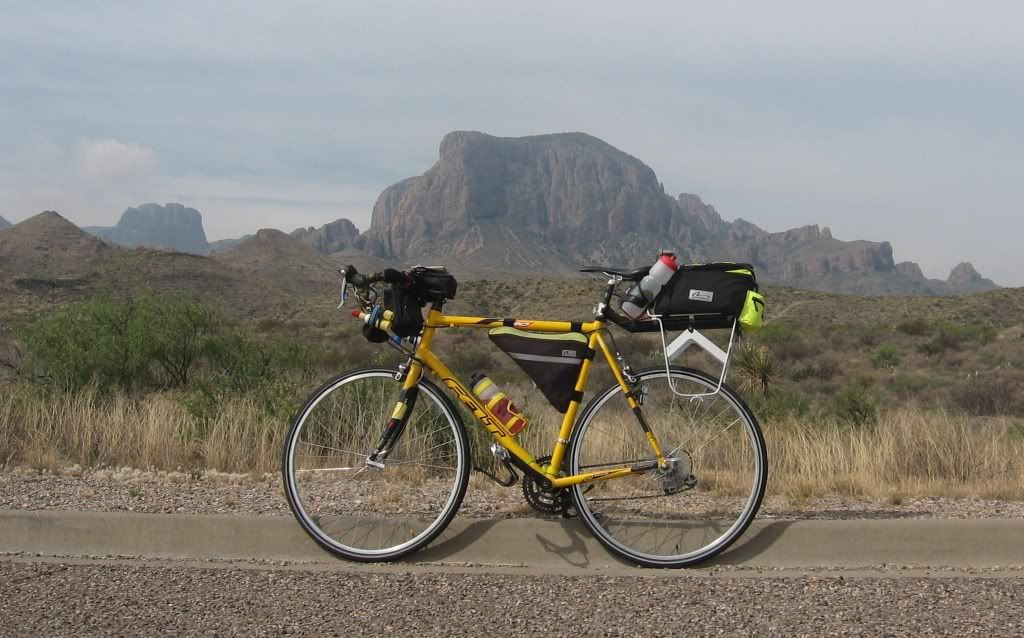 __________________
Fred "The Real Fred"

06-16-09, 12:55 PM
Senior Member
Join Date: Apr 2008
Posts: 152
Mentioned: 0 Post(s)
Tagged: 0 Thread(s)
Quoted: 0 Post(s)
I toured 2,500 miles on a road bike last year, however the frame was titanium rather than carbon. For a rear rack I used a Headlands (similar to Old Man Mountain, I believe) rack meant for a front suspension fork. It is designed to mount with the the QR skewer and some brackets that bolt on to the brake bosses over the brakes themselves. The rack had some cylindrical spacers down at the QR mounting hole so that the vertical members could stand out past and clear the fork blades/shocks. I simply cut the spacers off and used a skewer from a 135mm wide MTB hub to mount the rack to the rear drop out (130mm spacing) of the road bike. I substituted P-clamps bolted to the seat stays for the brackets that mount to the brake bosses. The rack was plenty solid and rigid for the 20-25 lbs that I carried on it.

With a carbon frame, you may need to leave some of the spacer on the rack if the dropout isn't a flush surface. You will also want to pad the carbon seatstays at the P-clamp attachment point with something like automotive radiator hose.

With any road bike, you need to keep the load to a minimum, which means employing ultralight camping tactics. The shorter chainstays of a road bike mean the load needs to be further back relative to the rear axle inorder to provide enough heal clearance. This creates a wag-the-dog effect that will manifest in a front-end shimmy. Even with my relatively light load, I couldn't ride no handed. I think a heavier load would have made the bike quite unstable. The only weight I had on the front end was two waterbottle cages clamped to the fork. Perhaps more weight on up front would have dampened the shimmy, I don't know.

I like 10 Wheels' method of keeping as much of the load as possible centered between the front and rear axles. A frame bag is definitely a good option. But the sleeping bag looks like it would preclude pedalling out of the saddle, which might not be good with road bike gearing in Colorado (notice 10 Wheels has a triple). Also, the rear load looks pretty high. I would probably opt instead for the system I described above. The rack sits only about an inch above the rear tire.

You can definitely tour comfortably with a road bike. It isn't optimal, but for one tour and to see how you like touring, it is certainly adequate as long as you pack light. If you can afford to invest in new tires, get the largest size that the frame can accomodate -- probably 25c or 28c. That's probably the single most important upgrade you can make for increased comfort (not to mention pinch-flat avoidance). Also, flip the stem, push the saddle as far back as it will go, and make sure you like the saddle for all day rides where you are putting more weight on your butt than on a normal road ride.

06-16-09, 01:05 PM
Senior Member
Join Date: Oct 2005
Posts: 3,451
Bikes: Rivendell Quickbeam, Rivendell Rambouillet, Rivendell Atlantis, Circle A town bike, De Rosa Neo Primato, Cervelo RS
Mentioned: 4 Post(s)
Tagged: 0 Thread(s)
Quoted: 85 Post(s)

06-17-09, 01:39 PM
Senior Member
Join Date: Sep 2008
Location: Tulsa, Oklahoma
Posts: 611
Bikes: raleigh carbon competition, trek 6500 hardtail
Mentioned: 0 Post(s)
Tagged: 0 Thread(s)
Quoted: 0 Post(s)

06-17-09, 02:51 PM
Senior Member
Join Date: Feb 2001
Location: England
Posts: 12,952
Mentioned: 0 Post(s)
Tagged: 0 Thread(s)
Quoted: 17 Post(s)

Large Carradice bags carry enough load for non-camping or very ultralight hammock style.
The volume/weight ratio is very good since no large rack is required.
The load is close to the centre of gravity and it is quite aerodynamically efficient.
This should be your no 1 choice.
If you need to carry more, look at OMM racks which are supported on the skewer. You can get a seatpost clamp with built-in rack eyelets.
If you need still more room, then it has to be a trailer.

06-17-09, 08:03 PM
totally louche
Join Date: Oct 2004
Location: A land that time forgot
Posts: 18,025
Bikes: the ever shifting stable loaded with comfortable road bikes and city and winter bikes
Mentioned: 0 Post(s)
Tagged: 0 Thread(s)
Quoted: 0 Post(s)
I'd recommend against a seatpost rack and go with a QR mounted rack.

bolts to brake boss and supported by axle QR.

There's the Axiom Streamliner for about 40 bucks that mounts to the QR, or you can go ultra svelte with a Tubus Fly/Luna and their QR adaptors.

Agreed though, Carradice/Bagman is a very nice way to go as well.

definitely use ultralight camping tactics.

06-17-09, 09:43 PM
Bicycle Lifestyle
Join Date: Jan 2008
Location: Pacific Grove, Ca
Posts: 1,737
Bikes: Neil Pryde Diablo, VeloVie Vitesse400, Hunter29er, Surly Big Dummy
Mentioned: 0 Post(s)
Tagged: 0 Thread(s)
Quoted: 0 Post(s)
use Old Man Mountain racks.
www.OldManMountain.com
depending on how much gear you are going to cary
you'd be amazed what you can roll on a 29er.