Since my wife posted the Sprint Tournament, I thought it might be interesting to provide the information about the clinic leading up to the tournament. We are both road TT / pursuit racers and sprinting was off our radar screen. However, the clinic and sprint competitions were so much fun, we had to participate in the tournament.
Velodiva and I attended a 3-day Kenny Williams Spring Track Camp March 20th through the 22nd at Hellyer Velodrome in South San Jose, CA.
Kenny Williams is a track coach from the Seattle area. In 1999, he won the U.S. Elite Criterium Championship and by 2004 was placing 3rd in the Elite TT championships. He won 14 master world championships and 35 master National championship and several Top 3 and 2 other elite National championships on the Track since 2000. Kenny and a couple of other clients flew in from the Northwest to join us and many track racers from the NorCal area. We heard good reports about his camp last year and were looking forward to the clinic.
Hellyer is 335 meters and the banking is 23 degrees maximum in the turns and the surface is concrete. There is a concrete infield for staging events and a warm-up / cool down circle.
We had a diverse group of participants in both age and ability. The participants...Kenny is on the far left. Also, not everyone participated in all three days. So we were missing about 3 people.
Day 1 was about proper warm-up and endurance events. Kenny started out by having everyone gear to 81 gear inches (48/16). His point is that a warm-up is not an effort and should be smooth and mellow. We started out at 15 mph and worked our way up to 28 mph on the last couple of laps. For all other efforts, we changed to 86 gear inches. Some guys wanted to use a larger gear but Kenny wanted to focus on technique versus speed. We proceeded to do some standing starts. Starts are quite technical and require proper technique and smooth power transfer. We did a couple in 81 gear inches and then he had us gear up to 86. We then increased the distance and he timed our starts. We did some two lap (670 meter) pursuit style efforts to get the idea of doing a 2K pursuit. After we completed the laps, Velodiva and another woman wanted to do a real 2K pursuit against each other. Velodiva won by 20 seconds. All of this took a lot of time and we started at 9:30 AM and finished at 5 PM. It was a great day.
Velodiva starting.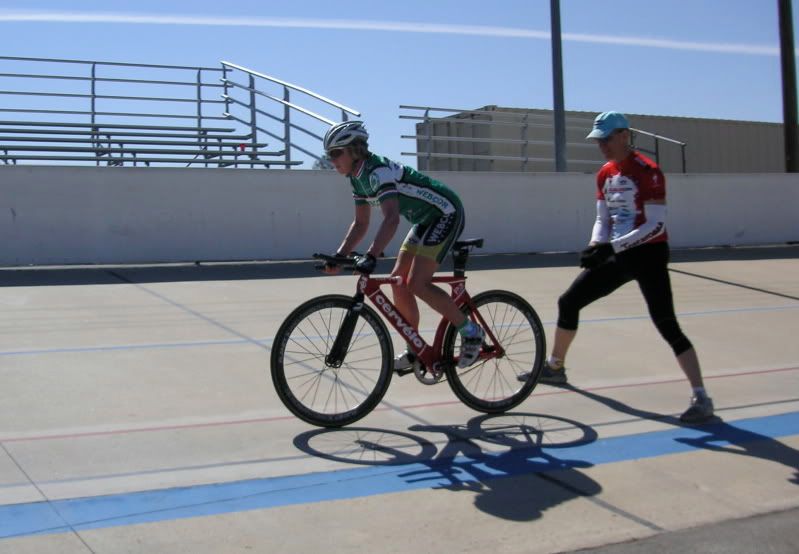 Velodiva during the 2K pursuit race.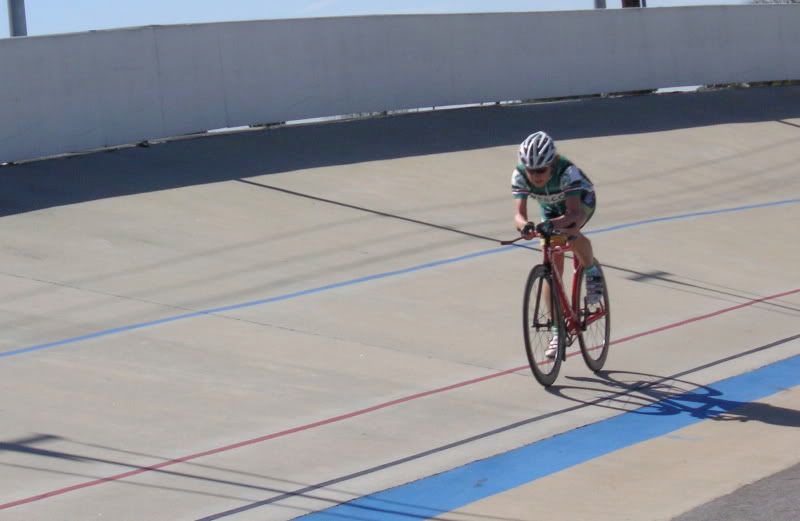 Day 2 was about sprinting. After the warm-up, we proceeded to flying 200 meters. The flying 200 meters is done with a one lap windup around the track at the rail. At the right place on the back stretch, one dives down to the pole lane crossing the starting line at max speed sprinting for 200 meters until the finish line. This time is then used to pair up sprinters and in real races establish the field. Based on our 200 meter times, we were paired and we did some drills.
This was followed by two, three person matched sprints. This is where you start rolling slowly around the track for two laps and then sprint to the finish. Both Velodiva and I thought these were a blast.
Hanging out in the infield waiting our turn.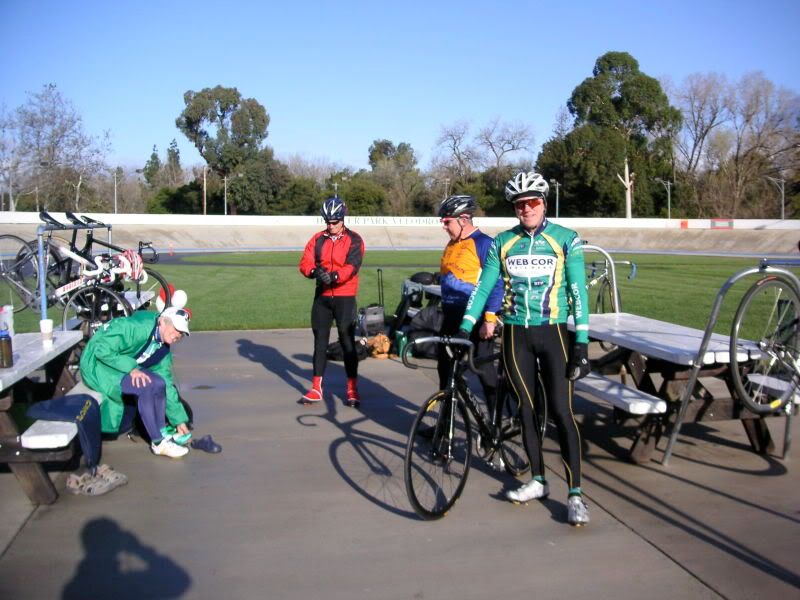 Webcor teammate and fellow from Seattle
Once in a while, we got to ride around the track and chat. Hermes and a buddy cruising the track.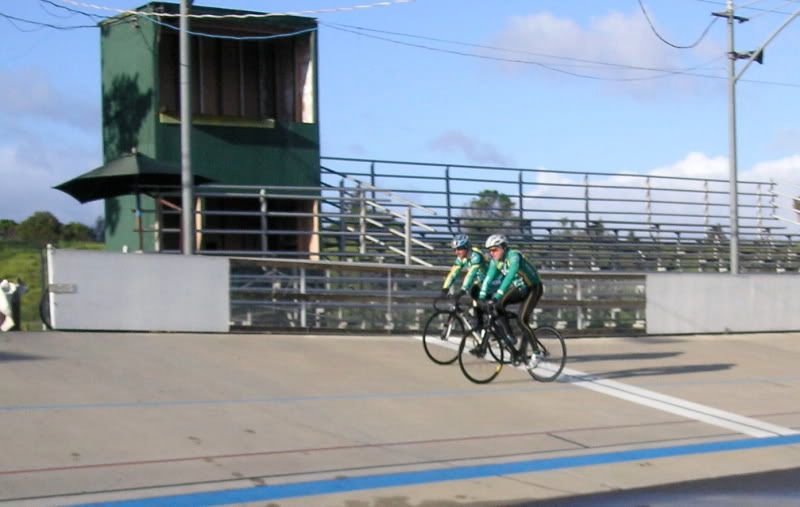 Day 3 was about mass start races.
After warmup, the first drill we did were Russians. THis is where 3 or 4 riders go on the track and the lead rider does a flying 200. The rider in the second position creates a small gap and then in turn three pulls out. The third rider closes the gap and passes the leader coming out of turn 4. If there are 4 riders, one and three pull out and rider 4 catches and passes rider 2.
These were fun to do but tricky to execute. When done correctly, they look really cool on the track and it is great practice.
We divided into two groups and rolled around the track. At the whistle, the last rider from each group would sprint to the front of the other team. We did this until each person performed 3 efforts. We then did two 15 lap points races. In the points race, we all race together and you sprint every five laps for points. These were a lot of fun and great experience.
Kenny and the supervisors did a great job – no crashes and not even a hint of an incident. We learned a lot of new things, got some great advice on technique and met new people and advanced relationships.
Points Race