spotted a new cycle machine w video screen at gym

12-06-16, 09:41 AM
Senior Member
Join Date: Jul 2008
Location: 25 miles northwest of Boston
Posts: 28,767
Bikes: Bottecchia Sprint, GT Timberline 29r, Marin Muirwoods 29er, Trek FX Alpha 7.0
Mentioned: 109 Post(s)
Tagged: 0 Thread(s)
Quoted: 4986 Post(s)
spotted a new cycle machine w video screen at gym
---
I've used various stationary bikes at the gym but shied away from spinning classes cuz I don't like the idea of someone yelling at me to motivate me. spotted 2 new units that intrigued me cuz they have a different form factor (low to the ground & leaning forward posture like a road bike) & appear to have large video screens! hopefully they are not TV channels but rather videos that correspond to the rider's actions?

anyone use something like this? I tried to remember the brand but that was yesterday ... so ummm ... not so much today

12-06-16, 12:10 PM
Senior Member
Join Date: Jul 2008
Location: 25 miles northwest of Boston
Posts: 28,767
Bikes: Bottecchia Sprint, GT Timberline 29r, Marin Muirwoods 29er, Trek FX Alpha 7.0
Mentioned: 109 Post(s)
Tagged: 0 Thread(s)
Quoted: 4986 Post(s)
turns out it is a Star Trac Espinner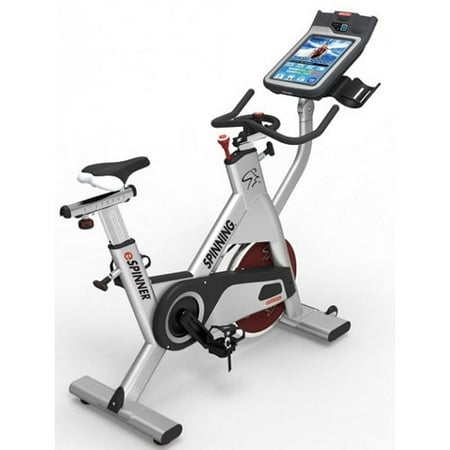 the video image was just an actor riding the thing. once I got going, the level adjustment didn't work so I bailed after 5 minutes & went to a regular stationary bike. scratching my head why it would cost $5,000.00. turns out resistance is set using the knob on the flywheel.
---
Last edited by rumrunn6; 12-06-16 at

12:52 PM

.

12-07-16, 02:30 PM
Senior Member
Join Date: May 2013
Posts: 367
Mentioned: 0 Post(s)
Tagged: 0 Thread(s)
Quoted: 57 Post(s)
Likes: 0
Liked 0 Times in 0 Posts
There is one at the gym I used to go to. It's just a slightly jazzed up spinner bike. It's a bit nicer than your standard Spinning bike since it has a HR monitor, ability to watch TV, a headphone jack and a fan, but at the end of the day, it's still a stationary bike. The gym I used to go to also had an Expresso Bike, which is closer to Zwift since the bike had a TV screen and virtual course powered by the power you put it. It was actually very similar to Zwift, except the bike actually had gear buttons on the handlebar. It was the upright model though, so it wasn't anything like a road bike. It was pretty neat though and I thought well ahead of the time (it predated Zwift).

I prefer using a real road bike on a smart trainer on Zwift though.

12-07-16, 02:41 PM
Disco Infiltrator
Join Date: May 2013
Location: Folsom CA
Posts: 13,508
Bikes: Stormchaser, Paramount, Timberjack, Expert TG, Samba tandem
Mentioned: 69 Post(s)
Tagged: 0 Thread(s)
Quoted: 3010 Post(s)
I've been seeing the ads for Peloton stationary bikes and it's sort of confused me that their workouts are watching some lady ride her own stationary bike and yell at you, rather than a nice bike ride.
__________________
Genesis 49:16-17
Thread
Thread Starter
Forum
Replies
Last Post
General Cycling Discussion

Posting Rules
You may not post new threads
You may not post replies
You may not post attachments
You may not edit your posts
---
HTML code is Off
---