New Indoor Bike Training Software: PeriPedal
---
Hi Everyone,
I've created a new piece of software for indoor bike training called PeriPedal. PeriPedal is a Windows application with the goal of making indoor bike training fun. It talks to your ANT+ sensors to display your speed, cadence, heart rate, and calculate your power. You select the workout you want to do and PeriPedal will show you your target wattage.
It works similar to other indoor bike training software. It has some cool features that the other programs I've tried did not have, and were the reason I created the software. A few of the features are:
Support for multiple users - Works with up to 4 users simultaneously. The workout is adjusted for each user based on their FTP.
Netflix Integration - Ability to log into to your Netflix account and have your Netflix video automatically started or paused based on your cadence.
R-R Interval Recording - Records every heart beat.
For a full feature list, visit the website:
http://www.peripedal.com

As of today I am opening up PeriPedal as a public beta. To sign up please go here:
http://www.peripedal.com/beta-test/
Give it a try and let me know what you think. I would love to hear your ideas and any bugs you may find.
If you like this program please spread the word to other riders. You can also consider
pre-ordering
the software. This will show me that users are interested in paying for the software and support more development.
Here is an example screen shot: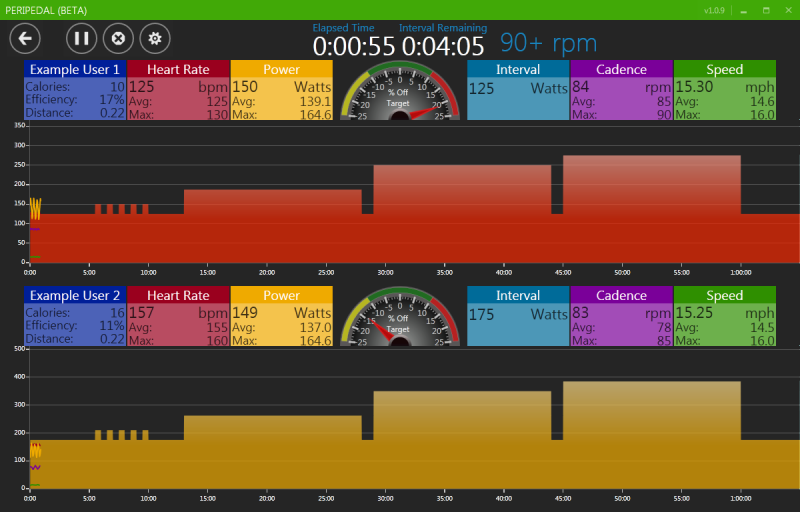 Thank You,
Adam