Zipp 3000

04-23-07, 08:30 PM
Car magnet
Join Date: Sep 2005
Location: Savannah, Georgia
Posts: 435
Bikes: 80's Hoffy track frame 49x15, 80's guerciotti track 47x15(destroyd by a car), '78 ross conversion(RIP, died of old age), '06 fuji track(RIP, hit by a trolley), '75 Alan Aluminum(in the works)
Mentioned: 0 Post(s)
Tagged: 0 Thread(s)
Quoted: 0 Post(s)
Likes: 0
Liked 0 Times in 0 Posts
Zipp 3000
---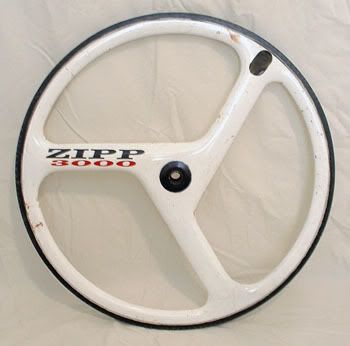 I just recently won a Zipp 3000 tri-spoke wheel on ebay with the conclusion that it will go for pretty cheap since it had no hub and it was discontinued about 12 years ago. I was right....
so now i have a problem.
Where do i find a hub to fit this beast? i've contacted zipp and they no longer produce nor can replace the axle assembly/hub parts in it. I contacted HED, hoping maybe that there were some similarities in their hub design because they shared the patent for the tri-spoke with zipp, but that was also a dud. I'm still waiting to hear back from Corima and sheldon brown.
but does anybody know anything to help me out, or point me in the right direction?...
or am i going to have to make a clock out of this thing?

07-08-07, 06:35 AM
Newbie
Join Date: Jul 2007
Posts: 1
Mentioned: 0 Post(s)
Tagged: 0 Thread(s)
Quoted: 0 Post(s)
Likes: 0
Liked 0 Times in 0 Posts
Zipp 3000 Trispoke and matching disc wheel for sale
---
HI just saw your post regarding hub for Zipp 3000. I have a 3000 and matching Zipp 404 Disc that I'm getting ready to put on Ebay. Both are in very good to excellent condition.

Also, just incase you were not aware that the 3000 can be used on the front or back. I have the parts that are original and only used once.

If you have not found a soloution to your problem and would be interested in my wheels let me know.

C-YA.

Barry

05-04-10, 05:14 AM
Newbie
Join Date: May 2010
Posts: 1
Mentioned: 0 Post(s)
Tagged: 0 Thread(s)
Quoted: 0 Post(s)
Likes: 0
Liked 0 Times in 0 Posts
Thread
Thread Starter
Forum
Replies
Last Post
Track Cycling: Velodrome Racing and Training Area
Electronics, Lighting, & Gadgets

Posting Rules
You may not post new threads
You may not post replies
You may not post attachments
You may not edit your posts
---
HTML code is Off
---