The Arpan Low Gravity Bicycle

04-12-08, 05:17 PM
Uber Goober
The Arpan Low Gravity Bicycle
---
Back before Christmas, I saw an ad for some Indian bicycles which were available fairly cheap but completely disassembled. So I put one on my Christmas list and soon had a very large package awaiting under the tree.
The bicycle in question was the Arpan Low Gravity bicycle. "Low Gravity" means "low center-of-gravity", meaning it has a large front basket that is down lower because the front wheel is smaller. The basket doesn't turn with the front wheel, so it offers some advantange in handling. At one time, these were made by Raleigh and other English makers as "Low Gravity" bicycles. Schwinn made a version in the US which they called a "Cycle Truck", from the late 30's through the late 60's. The Low Gravity bikes normally have a big frame up front which is intended to hold a large wicker basket. The Schwin Cycle Truck had a big wire basket, and the current Worksman Low Gravity bike has a similar basket. The Arpan has the frame only.
The advertisement for the bicycle basically stated that you get what you get, that it should be reasonably complete, and if anything's not there, you can pick it up cheap at your local bicycle store. One thing not included is any form of directions, diagrams, parts list, etc. That picture you see on the website is ALL you get to assemble it. That and the internet and the library, that is. Very interesting. The Arpan Low Gravity bicycle normally comes with rod brakes. Mine actually has a coaster-brake rear hub, and therefore came with rod brake on the front only. Actually, it came with the rear rod brake parts as well, only the handlebar doesn't have a rear brake lever, so you can't use them. The brackets for rod brakes all clamp onto the bike, so if you don't use them, you can't even tell they're supposed to be there.
So first thing was to unwrap everything. Every painted part of that bike was wrapped with yards and yards of brown paper and clear plastic, lots of fun to be had just getting everything out of the wrappers. On the other hand, it was pretty well protected.
First fun part was figuring out what everything was. Some parts were obvious. Some were not. I guess the last major items that I deduced what they were, was the threaded rods that hold the fenders. Some of the workings of this bike are similar to the older Raleigh rod-brake bikes, so that helps (via the library and internet, that is).
Next step: Wheel building. The hubs, axles, and wheel bearings were fully assembled, thankfully. But, the wheels were not. I had never put a bicycle wheel together before, but with some help from the internet and the library, figured it out. I started with the 20" front wheel. Got everthing all laced together, and the spokes were too long. I had used a cross-3 pattern. So I undid everything and relaced it in a cross-4 pattern (which I had never seen and couldn't even find a diagram of) and that worked. I mounted the wheels on an old bicycle fork in a vise to true them and got them reasonably close. The rims are steel, with a weld at one point, and that weld area is not perfectly round. So you can't pull them into an absolutely perfect circle. Take these to a professional wheel-builder and he'd probably curse them and you. Do it in your garage and you're okay. The rear wheel was also a cross-4 pattern.
Then there were the bottom bearings. These are cottered cranks, which I had never seen before. I made myself a cotter press, which turned into quite a little job itself, but once I got to the cotters, they went in pretty smooth. The bottom bearing is an adjustable-bearing, and I had to make a wrench to hold one part, and bought a Park tool to hold the other part. The ball bearings on this bike are all loose balls, kind of interesting trying to assemble the stuff. But it seems to be working okay.
On the front headset, one of the minor pieces that was missing from the box was the bottom bearing cup. As it happened, I had recently bought an old Huffy mountain bike at a police auction, so I pulled the headset bearings out of it and used them on this bike. (I couldn't just use the cup because the bearings are different styles altogether). Seems to work okay now.
I picked up a chain tool and shortened the chain and got that on without much trouble.
The seat that comes with the bike is a cheapo version of a fine seat. However, instead of leather, it has cheap hard rigid plastic. And the seat springs are made out of some fine-looking twisty wire, but they bent under my weight. (Maybe this bike was intended for 130-lb Indians instead of 260-lb Americans!). So I replaced the seat with the comfortable-as-a-2x4-seat from my old $100 mountain bike. Oh, there was no seat post in the box. A minor item, but I turned one up at Richardson Bike Mart for $10. It's the normal old taper-tube seat post like every old cruiser used when I was a kid.
I went to install the front rod brakes and discovered the brake yoke wouldn't adequately clear the front fender. Since I had a coaster brake anyway, I just omitted the rod brake and removed the lever from the handlebars. The handlebars, by the way, are cute little handlebars with grips at 90 degrees to the bar. But they work okay.
You can see the front basket I rigged up in the photos. I cut out a piece of plywood for the bottom and ran hardware cloth around the outside. I have some modification yet to be done, but that works pretty well. I used zip ties to hold it together. I started off drilling holes in the plywood intending to insert the wires from the hardware cloth, but that didn't work. But zip ties did.
These bikes were typically used as delivery bikes in the old days, and a sign is normally placed between the two horizontal bars on the frame. However, the Arpan includes only a small sign about 4"x10", which I have not yet installed.
Overall impression of this bike: Cheap. That about sums it up. It is steel. The frame itself is not especially heavy, and to be honest doesn't inspire a great deal of confidence. But I've ridden it a few times now, and no problems with it, either. The stickers on it are funny- it is a "Mission Commando"! I just assume they ran out of whatever decals would normally go on it and stuck what they had on there. No decals would have been better.. The "kickstand", the big frame that holds it up when parked, has the holes drilled a little crooked, so it is mounted crooked. It includes clips to hold the kickstand up, but I haven't tried mounting them yet, and just use a bungee cord for right now. The fenders are currently just barely clearing the tires, and I get an occasional rubbing noise from somewhere.
Riding it is definitely different. For one thing, it just seems odd to have a big basket up there that doesn't turn with the handlebars! The front basket-frame is not all that rigid and with any load in it can vibrate from side to side as you ride. With a couple of bags of groceries in it, the handlebars are pretty much the balance point. The significance of this is that if you get the front basket loaded more heavily than a couple of bags of groceries, then raising the handlebars will lift the rear wheel, not the front- meaning you can't lift the front wheel up over a curb. The bike does not handle especially well due partly to the lack of rigidity in the basket, so it is best suited for reasonably slow cruising. However, it is geared fairly high, probably 42:18 or so. For that matter, this bike is not that big, but it sits high, which is okay with me. To keep from hitting the folded-back kickstand with your toes, you have to pedal with the balls of your feet on the pedals, rather than the arches. I'm used to platform pedals, so this is a bit different for me.
Is it worth it? I'd have to say, "marginally". Putting this together was definitely an educational experience. The finished bicycle is not the best quality, but on the other hand, was way cheaper than the other commercially-available versions are. If you plan to seriously use something like this, especially with a full basket, I'd suggest going for the Worksman or Pashley versions. For occasional running to Walmart for chips and sodas and bread (which I just did a couple of hours ago!), and for a building-experience, this one works, though. If the bike was built more ruggedly, it could probably handle about two-thirds of a shopping cart of groceries, depending on the basket size you put in it.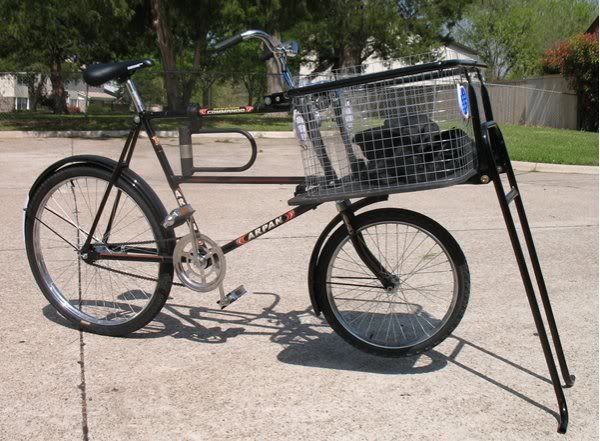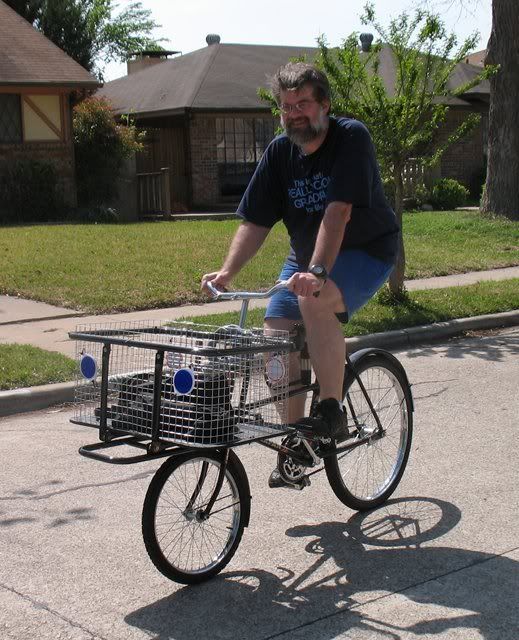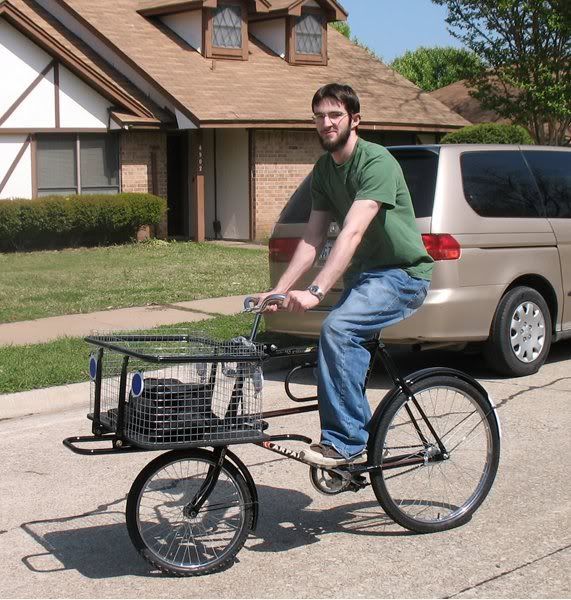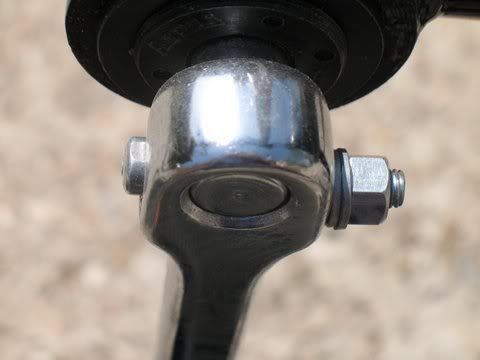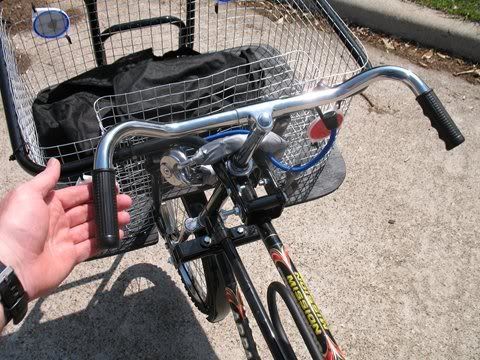 My bike is shown here:
http://www.arpan.com/english/product.asp?id=9
Worksman makes Low Gravity bicycles, as well as other industrial bicycles, see here (scroll down the page to the Low Gravity). I have one of their Industrial Cruissers, and it is very well built.
http://worksmancycles.com/shopsite_s.../indbikes.html
Pashley makes Low Gravity bicycles. The one most similar to mine, they call a Deli Bike, but they make other styles, too:
http://www.pashley.co.uk/products/delibike.html
A while back, I ran across this website. They have a bike with a rigid-mounted basket, though the front wheel is still normal size:
http://www.aerofast.com/aerofast/ind...es/2456mu.html
For the low-gravity basket itself, you can scrounge one up if you're lucky, make one like I did, or get one here:
http://www.hembrow.eu/delivery.html
I have also seen some Dutch and German manufacturers that make similar delivery bikes. Try googling "low gravity bicycle" or "deli bicycle", etc. On Ebay in the US, you'll see mainly the occasional Schwinn Cycle Truck, which can go for a fair price due to being vintage.
As far as I know, the guy I bought my Arpan bike from is not importing any more, so you may not be able to find another one just like it. If you want the build-it-yourself experience, check with these folks, who handle some similar bikes:
http://www.yellowjersey.org/EASTMAN.HTML
If you google "Low Gravity Bicycle", you'll pull up a half-dozen different Indian manufacturers of them.
Added: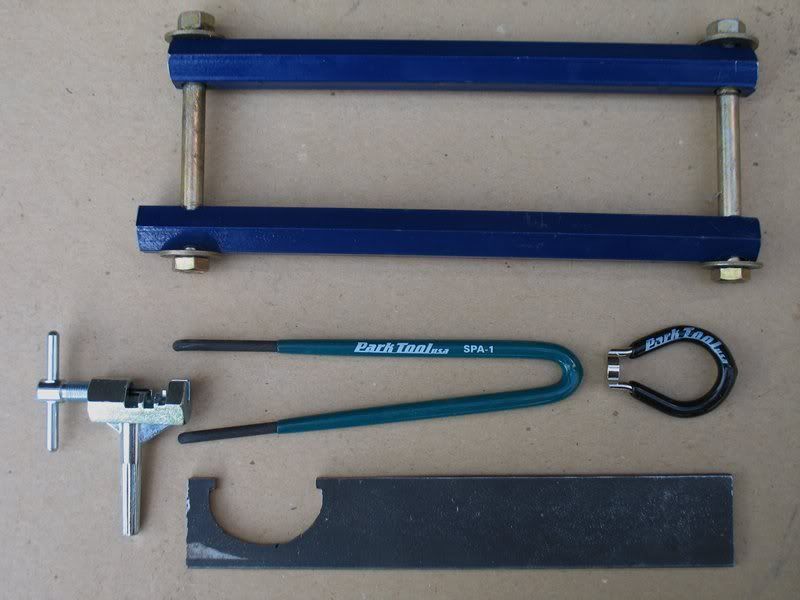 My cotter press, bottom-bracket adjustment tools, chain tool from Wallyworld, and spoke wrench.
Park makes a bottom-bracket tool similar to mine that has 6 or 8 nibs, but my BB adjustment nut just has two slots. I could have filed additional slots in the nut, or filed them off the Park tool (former obviously is more desirable!)
__________________
"be careful this rando stuff is addictive and dan's the 'pusher'."
---
Last edited by StephenH; 04-12-08 at

05:35 PM

.

04-14-08, 09:09 AM
Pedaled too far.
Join Date: Oct 2005
Location: La Petite Roche
Posts: 12,851
Mentioned: 0 Post(s)
Tagged: 0 Thread(s)
Quoted: 6 Post(s)
Likes: 0
Thanks for the cautionary tale. Sounds like it was an inexpensive adventure.
__________________
"He who serves all, best serves himself" Jack London