Welding a hardcore bike trailer axle

07-25-08, 10:56 AM
Pants are for suckaz
Join Date: Mar 2007
Location: Mt. Airy, MD
Posts: 2,578
Bikes: Hardtail MTB, Fixed gear, and Commuter bike
Mentioned: 0 Post(s)
Tagged: 0 Thread(s)
Quoted: 0 Post(s)
Welding a hardcore bike trailer axle
---
Below is the process I used to weld an axle for a future bike trailer. The wheels are 10" pnumatic "hand truck" style tires. I know 10" is a little small but they are rated to 300lbs and they were <$5 each so I think I can make them work. Using wheels rated to 300lbs made me want to build an axle that could match that type of load. I decided to use a piece of scrap 3/4" square steel tubing with axle bolts welded into it.
First I cut a 16" piece of square steel tubing with my metal cutting chop saw. Next, I ground most of the surface rust off the piece of tubing and coated it with a chemical that turns the remaining surface rust into black primer. I got some 5/8" by 7" bolts and cut the heads off of them as well. I drilled a few holes in the ends of the tubing to allow me to tack weld the bolts to the square tube.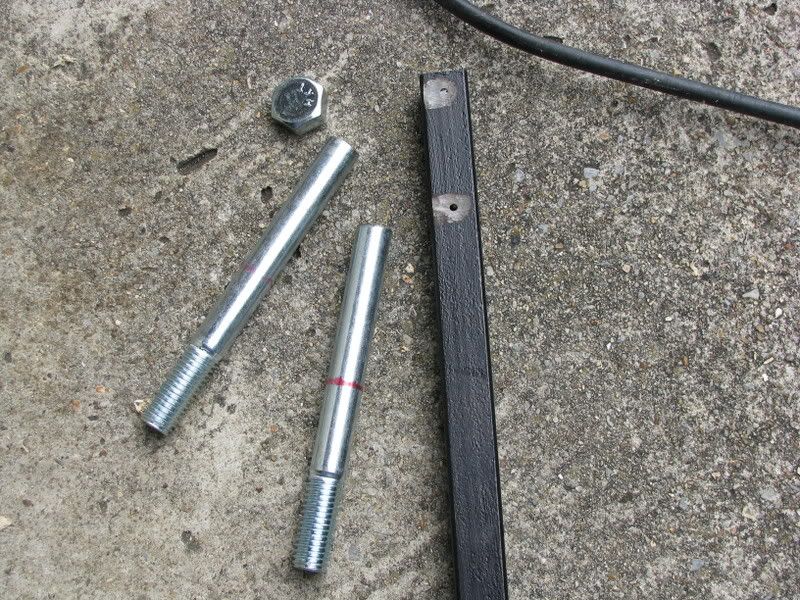 I didn't get a picture of the bolt before I cut it.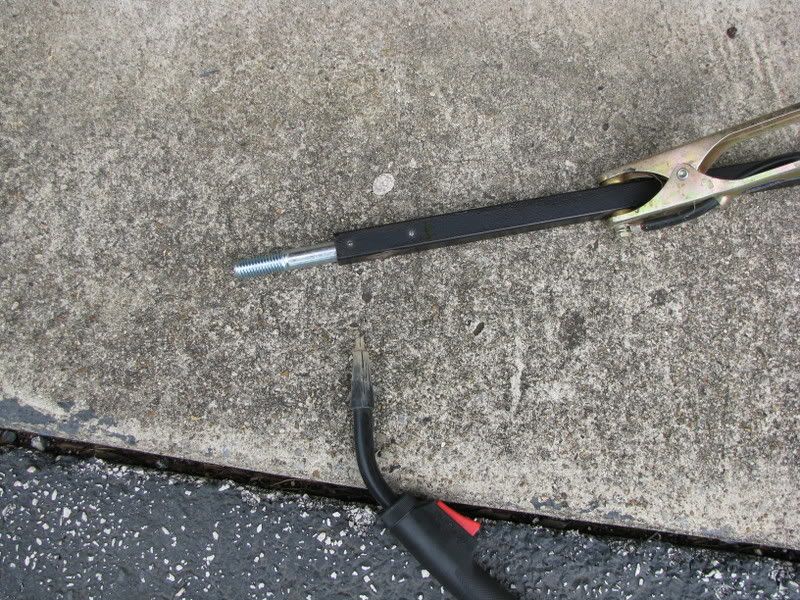 Here is a shot of the bolt in place ready to be welded.
Here it is after tack welding in place. Because there is almost no tension pulling the bolts outward, even the 6 little tack welds I used was overkill for holding everything in place.
Here is the axle after grinding the welds smooth.
And another coat of rust-to-primer solution has been applied making sure to mask off the threads so the lock nuts that hold the wheels in place will work correctly.
Total cost:
2 wheels @ Harbor Freight- $5 each
2 Bolts- $2 each
2 Lock Nuts- $0.60 each
16" piece of 3/4" square steel tube from scrap pile- $free
Total- <$11
My welder is my most-favoritest tool in the whole garage. I can burn myself, blind myself, and electrocute myself, all with the same tool. Sometimes I make useful stuff like this though.

07-25-08, 12:45 PM
Senior Member
Join Date: Jul 2008
Posts: 1,392
Mentioned: 0 Post(s)
Tagged: 0 Thread(s)
Quoted: 11 Post(s)
You might be surprised about how much side load you get on the wheels. My oxy-acetylene tanks are on wheels like that, with axles made more or less like yours. (I I used plain rod and cut threads on them, because I had the rod and it's cheaper than buying bolts....) ONe of the axles came loose pulling it around on the gravel. I ended up running a bead around the whole bolt/tube intersection.

07-25-08, 04:39 PM
Senior Member
Join Date: Jul 2006
Location: San Jose (Willow Glen) Ca
Posts: 5,840
Bikes: 90/91 De Rosa, '84 Team Miyata, '82 nishiski,
Mentioned: 49 Post(s)
Tagged: 0 Thread(s)
Quoted: 708 Post(s)
maybe there should be a group buy on welders......so far I havn't found an even close to semi significant other justfyable project for getting one


Posting Rules
You may not post new threads
You may not post replies
You may not post attachments
You may not edit your posts
---
HTML code is Off
---