Xtracycle --> Sun Atlas build

06-05-12, 02:31 PM
Senior Member
Join Date: Nov 2007
Location: Boise,ID
Posts: 517
Mentioned: 0 Post(s)
Tagged: 0 Thread(s)
Quoted: 0 Post(s)
Likes: 0
Liked 0 Times in 0 Posts
Xtracycle --> Sun Atlas build
---
I have had my Xtracycle for 5 years or so. It has been great and life changing. I ran across a Sun Atlas frame for sale with out the fork on CL for a nice price. Plus I get to upgrade the frame stiffness.
Existing Xtracycle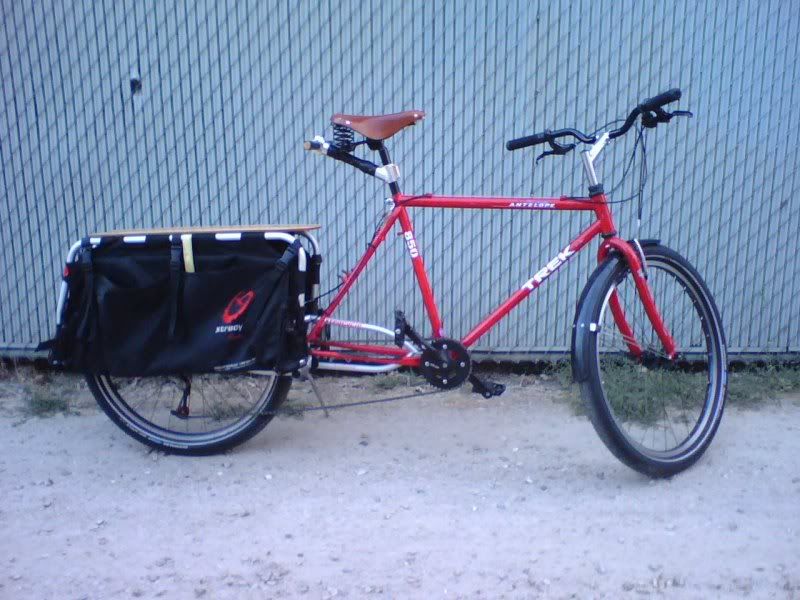 The new Atlas Frame- I orderd a stock Atlas fork.
I knew my Kickback centerstand would be an issue from the start. I have some ideas/modfications to make it work. Or the Yuba Stand Alone looks good too.
I started transferring all the parts. A couple of observations:
Cable routing options suck. I will probably run full housing instead.
Fenders and fat tires(Big Apples 26x 2.35) could be tricky. Plus the fender eyelets in the front suck.
This bike is longer,so new cables and chain will be needed.
V racks(upright) don't have long enough legs to reach the bottom of the Atlas ports.
I will update more as the build progresses.

06-05-12, 08:00 PM
Share the road.
Join Date: Jul 2008
Location: Marysville, CA
Posts: 1,233
Bikes: Van Dessel WTF, Rocky Mountain Fusion, 2013 Santa Cruz Tallboy LTc, 2015 Teammachine SLR03, Yuba Mundo, 2008 Brompton M3L
Mentioned: 2 Post(s)
Tagged: 0 Thread(s)
Quoted: 33 Post(s)
Likes: 0
That is awesome. I am waiting anxiously to see it built up. Congrats!