Senior Member
Join Date: Oct 2010
Location: Fort Collins CO
Bikes: Torker Graduate, Framed Minnesota1.0, Salsa Fargo, 2014 &2013 Felt NBBcruiser, '59 magneet path racer,
Posts: 811
Mentioned: 0 Post(s)
Tagged: 0 Thread(s)
Quoted: 6 Post(s)
older burley with bunks above the tops of the wheels.
[IMG]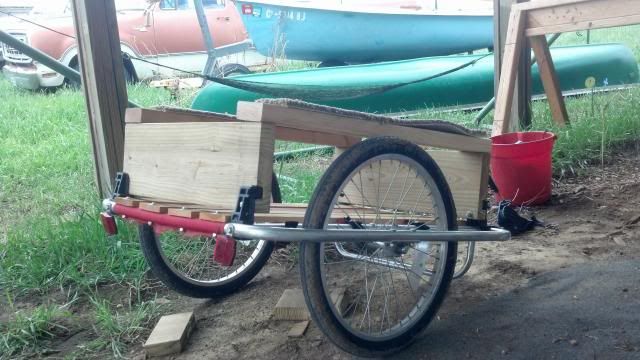 [/IMG]
use a rack hitch on the front of the canoe, I didn't get any pictures of that. I made a canoe bike trip after building the trailer and decied that it wasn't really working for me. On the other hand I have hauled horse troughs, bales of hay and kegs.
for a SUP you might want to research surf board racks that mount on the bike.
cheers,