WTB: Suntour Sprint FD-3900H Front Derailleur

04-03-18, 10:59 AM
Full Member
Join Date: Feb 2015
Location: Milwaukee-Chicago (Last stop on the North Shore Metra Line)
Posts: 386
Bikes: 1975 Fuji 'The Finest', 1975 Fuji Super Road Racer S10-S,1980 SR 10-Speed, 1980 Fuji Newest, 1984 Araya 14-Speed, 1985 Bridgestone 500, 1986 Fuji 'Sekkei Series', 1995 Gary Fisher Kaitai MTB
Mentioned: 5 Post(s)
Tagged: 0 Thread(s)
Quoted: 131 Post(s)
WTB: Suntour Sprint FD-3900H Front Derailleur
---
Looking for the front derailleur (shown below) for the Suntour Sprint 9000 series group. Doing a build shortly that will use much of this 9000 series. want a clean one with the painted labeling on the cage intact.
Yes I do see the couple of NOS models on eBay, but both are a bit more than I wanted to spend.
Thanks -Don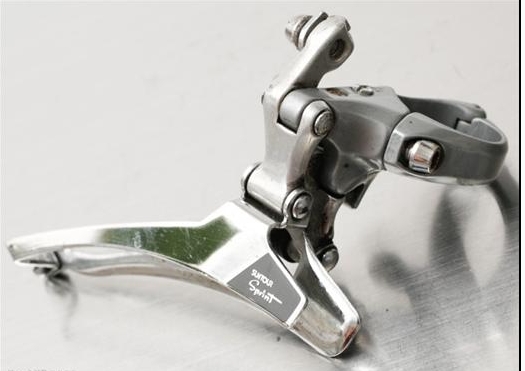 04-09-18, 10:41 AM
Member
Join Date: Jul 2012
Location: Toronto
Posts: 30
Mentioned: 0 Post(s)
Tagged: 0 Thread(s)
Quoted: 9 Post(s)
Likes: 0
Liked 0 Times in 0 Posts
Not a Sprint, but I have a Superbe in very nice condition. PM me if that turns your crank... LOL... GET IT!!! CRANK!!! HA!!!

04-10-18, 08:13 PM
Full Member
Join Date: Feb 2015
Location: Milwaukee-Chicago (Last stop on the North Shore Metra Line)
Posts: 386
Bikes: 1975 Fuji 'The Finest', 1975 Fuji Super Road Racer S10-S,1980 SR 10-Speed, 1980 Fuji Newest, 1984 Araya 14-Speed, 1985 Bridgestone 500, 1986 Fuji 'Sekkei Series', 1995 Gary Fisher Kaitai MTB
Mentioned: 5 Post(s)
Tagged: 0 Thread(s)
Quoted: 131 Post(s)
Thanks for the offer. I actually have several of the Superbe and Superbe Pro front derailleurs. It's my 'go to' group set on all my better bike builds. However, on this latest build I'm going to try the second in the Suntour command.

Albeit, initially I'll still be using a SB crank - for real

Thread
Thread Starter
Forum
Replies
Last Post
Classic and Vintage Sales
Classic and Vintage Sales
Classic and Vintage Sales
Classic and Vintage Sales
Classic and Vintage Sales

Posting Rules
You may not post new threads
You may not post replies
You may not post attachments
You may not edit your posts
---
HTML code is Off
---