question about measuring single speed hub

06-28-08, 01:35 PM
Senior Member
Join Date: Jun 2008
Location: Cambridge, MA
Posts: 91
Mentioned: 0 Post(s)
Tagged: 0 Thread(s)
Quoted: 0 Post(s)
Likes: 0
Liked 0 Times in 0 Posts
question about measuring single speed hub
---
Hi all. I have read the forums and different websites about building wheels. I have figured out how to measure the front hub, but my rear one I am having difficulty with. I am using a single speed Gipiemme hub that is shown in the picture. For the OLD (over locknut distance) i am measuring from the end of the black bolt on the left to the end of the black bolt on the right. When I do that, I get 127mm, which seems correct. But then when I go and calculate the spoke length it comes to 315mm, which seems way too long.
So my question is, am I measuring the correct way or should the OLD be measured some other way. It seems wrong to measure from black bolt to black bolt since then the middle would not be in the center of the hub and this wheel will not be dished as it is going on a single speed. But the websites (such as
http://sheldonbrown.com/rinard/spocalc.htm
) seem to imply otherwise.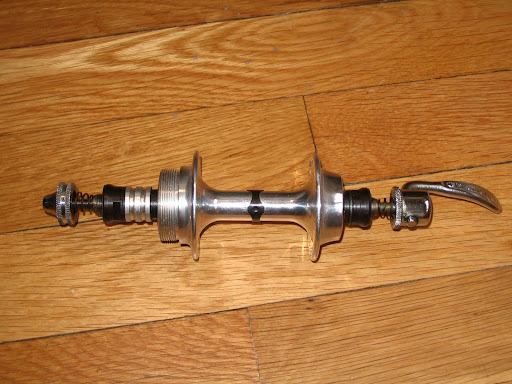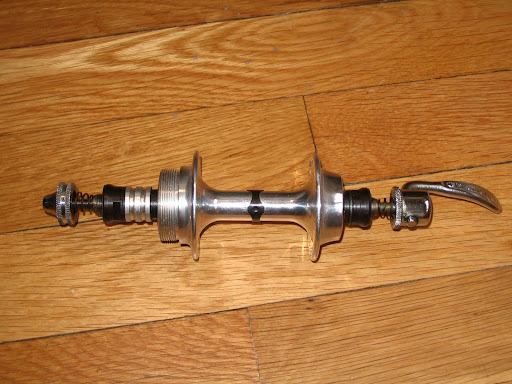 picture:
http://picasaweb.google.com/pax139/B...16062569712370
Thanks
---
Last edited by pax139; 06-28-08 at

01:38 PM

.

06-28-08, 01:58 PM
Senior Member
Join Date: Jan 2006
Posts: 66
Bikes: '78 trek 530 w/ full 600 group, conversion atami '70s frame.
Mentioned: 0 Post(s)
Tagged: 0 Thread(s)
Quoted: 0 Post(s)
Likes: 0
Liked 0 Times in 0 Posts
By black bolt you are referring to the black locknuts?
In that case you are measuring OLD correctly, but you probably want to change the spacing before you build it. You will probably want to space it to get a good chainline, and bring the hub body closer to the center.

06-28-08, 02:27 PM
Senior Member
Join Date: Mar 2008
Posts: 7,935
Mentioned: 36 Post(s)
Tagged: 0 Thread(s)
Quoted: 813 Post(s)
Likes: 0







Lucky for you spocalc allows you to tweak the numbers. My suggestion for you would be to stick a SS freewheel on the hub, swap some spacers (on the axle) around and figure out your chainline. After that you can determine YOUR left flange/right flange offset, add those numbers to spocalc and get some corrected spoke lengths out of it.
Thread
Thread Starter
Forum
Replies
Last Post

Posting Rules
You may not post new threads
You may not post replies
You may not post attachments
You may not edit your posts
---
HTML code is Off
---