Bottom Bracket Help

07-11-09, 02:10 AM
Newbie
Join Date: Jul 2009
Posts: 1
Mentioned: 0 Post(s)
Tagged: 0 Thread(s)
Quoted: 0 Post(s)
Likes: 0
Liked 0 Times in 0 Posts
Bottom Bracket Help
---
Hey guys,
I'm in the middle of restoring my dad's old Malvern Star 10 speed and have run into some trouble sourcing a bottom bracket.
When stripping the bike back, I didn't realise that Malvern Star bottom brackets were very specific and you can't just put a new BB in.
Because it was in terrible condition, i stupidly through out the BB and am now chasing a new one.
My problem is, I do not know enough info about the bike to begin my search.
I was hoping i could post a pic of the bike and a Malvern Star expert out there could tell me the year and model and perhaps even point me in the right direction of where to source this BB from.
Your help is really appreciated!

07-11-09, 02:44 AM
Senior Member
Join Date: Nov 2008
Location: niagara region
Posts: 358
Bikes: 1987 bianchi campione d'italia, 1970's eatons glider, 1990's hybrid, 1992 trek antelope
Mentioned: 0 Post(s)
Tagged: 0 Thread(s)
Quoted: 0 Post(s)
Likes: 0
Liked 0 Times in 0 Posts
The Vintage Trek website should point you in the right direction in determining the year of manufacture. The Sheldon Brown website could have an answer for the bottom bracket problem.

07-11-09, 04:49 AM
Freewheel Medic
There is a cartridge BB which does not tread into the BB shell. The cup and the cartridge thread together to secure it against the outside edges of the shell. One might fit inside your shell and it might not. You then might also be forced to use a different crankset. Harris used to sell these, but I don't see them at this point. Best of luck.
__________________
Bob
Dreaming about riding in NH's summertime!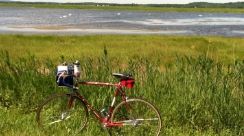 Visit my websites:
FreeWheelSpa.com
or
pastorbobnlnh.com

07-11-09, 04:58 AM
Freewheel Medic
__________________
Bob
Dreaming about riding in NH's summertime!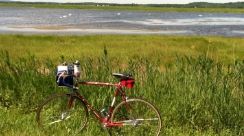 Visit my websites:
FreeWheelSpa.com
or
pastorbobnlnh.com
Thread
Thread Starter
Forum
Replies
Last Post

Posting Rules
You may not post new threads
You may not post replies
You may not post attachments
You may not edit your posts
---
HTML code is Off
---