197? Schwinn Varsity

09-07-09, 06:14 PM
The Sleeper
Join Date: Jul 2009
Location: Wichita, KS
Posts: 152
Bikes: GT Transeo 2.0 Disc 2009
Mentioned: 0 Post(s)
Tagged: 0 Thread(s)
Quoted: 0 Post(s)
Likes: 0
Liked 0 Times in 0 Posts
197? Schwinn Varsity
---
Here is one I scooped up Saturday, it rides really smooth. It was loaded and unfortunately I lightened it up a bit since I will use it to commute also and it was killer heavy. Put aluminum rims on it and rigged it to be single speed until I can get it done properly I will ride it as is I like it a lot.
**update, this is a 1975 according to a serial number lookup
---
Last edited by RiverCityCyclis; 09-07-09 at

08:37 PM

. Reason: update year

09-07-09, 07:16 PM
Freewheel Medic
Nice job! Don't you love the way Schwinn paint cleans up? That's a great color. It must be Chestnut. Beautiful!
__________________
Bob
Dreaming about riding in NH's summertime!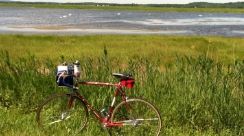 Visit my websites:
FreeWheelSpa.com
or
pastorbobnlnh.com

09-07-09, 07:33 PM
The Sleeper
Join Date: Jul 2009
Location: Wichita, KS
Posts: 152
Bikes: GT Transeo 2.0 Disc 2009
Mentioned: 0 Post(s)
Tagged: 0 Thread(s)
Quoted: 0 Post(s)
Likes: 0
Liked 0 Times in 0 Posts
Thanks I had taken the fenders off originally but it just looked incomplete so I pounded out the bent up one and put them both back on once I get some new grips and a freewheel cog on it will definitely get rode a lot :-)

09-07-09, 09:22 PM
aka Tom Reingold
Join Date: Jan 2009
Location: West Village, New York City
Posts: 37,144
Bikes: 1962 Rudge Sports, 1971 Raleigh Super Course, 1971 Raleigh Pro Track, 1973 Raleigh Twenty, 1974 Raleigh International, 1975 Viscount Fixie, 1982 McLean, 1996 Lemond (Ti), 2002 Burley Zydeco tandem
Mentioned: 419 Post(s)
Tagged: 0 Thread(s)
Quoted: 5365 Post(s)
Good work. Did you do a comparison of how it rides with the steel and alloy rims?

My daughter is my apprentice mechanic, and she has just discovered Schwinns. She adores the way they ride, even though they are, as you say, killer heavy.
Thread
Thread Starter
Forum
Replies
Last Post
General Cycling Discussion

Posting Rules
You may not post new threads
You may not post replies
You may not post attachments
You may not edit your posts
---
HTML code is Off
---