Faith-Vigilance-Service
Join Date: Jul 2004
Location: Port Orchard, WA
Bikes: Trinity, Paradisus, Centurion, Mongoose, Trek
Posts: 8,330
Mentioned: 1 Post(s)
Tagged: 0 Thread(s)
Quoted: 0 Post(s)
Motor controller question
---
I was looking at the Crystalyte 5303 racer motor (48v) as a possible fun project for one of my bikes. Also to use as commuting. HOwever, I am not impressed with the $230 price tag for the 48v motor controller. That is simply outrageous for a motor controller that one of the online sellers has admitted to stop selling for lack of a decent warranty, high price, and reports of quality issues.
My question is...
I found the Golden Motor website, and I like that he has some 48v controllers. Both reasonably priced, and with good rep. However, can I use either of these two controllers for the Crystalyte 5303?
I'm assuming I may need to do some rewiring of the leads, or pehaps not?

I like the idea of this one best, but it has less peak wattage rating (800w). The regen braking seems like a good idea for efficiency.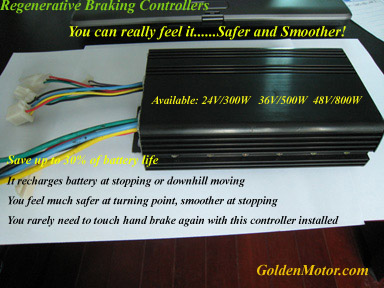 My plan would be to get ahold of some LiFePO4 48v/20ah batteries from the ping dude in China (~$800), when/if he ever gets his sight back up.
Any suggestions here?
__________________
President, OCP
--
"Will you have some tea... at the theatre with me?"
--