Electra Cruiser Lux 7D Fatbike. Review/thoughts/comments

07-15-19, 07:56 AM
Full Member
Electra Cruiser Lux 7D Fatbike. Review/thoughts/comments
---
I put this over in beach cruiser because it's essentially a beach cruiser with fat tires, but after a couple of hundred
views and not a lot of responses I thought I would give it shot here. I'm not a heavy duty rider but more of a heavy rider with physical issue that wants a slightly more capable cruiser. Thanks.
TLDR. Looking for a review as it seems like the bike for me. Do the big tires really slow it down? Not my pic but it looked good.
The story....
So I'm looking for another bike. I've had a selection over the last few years but I have arthritis and it has made riding difficult in various ways so I've sold them all off and am looking for a compromise.
Trek road bike - leaning too far forward and it was tough on my neck and shoulders. Most of my riding now will be on bike paths and the dirt roads around my house so not for me anymore. No complaints just couldn't ride it anymore.
Trek DS 8.4. Loved the bike but needed the money at the time so I sold it. If I had anything bad to say I thought the tires were a little narrow (700-38) and anything other than hardback or pavement and it just dug in. On the positive I like the 27 gears the suspension fork and the hydro disk brakes. Again I really liked it but I would've had the same issue as with the next one.
Electra Moro 3i. Again I loved the look and feel but arthritis reared it's ugly head and my shoulders couldn't take the lean. I tried changing the stem and bars but it wasn't enough so I ended up selling it. I really liked the bike but on the down side it still could've used a little more tire and it needed more gears (should've had at least 5, the new one got 8 and 2.8 inch tires) While the brakes weren't hydro, as a bigger guy I loved the disks
Electra Cruiser 1. What's not to love? 2 moving parts and it's like riding a lounge chair. The geometry is great but my knees are having an issue with the coaster brake, and the lack of any gearing limits it (at least for me) on anything but the flats and around my house it is anything but.
So back to the Cruiser Fat Tire. It has the geometry of the cruiser with the barcalounger seating, it has disk brakes...not hydro but that's upgradeable.
It has more tire, though maybe 3.5 is a little more than I need but on the plus side they will act like suspension. It has a few gears. While only 7 it does have a pretty wide range.
Now to my question. I've never had any issues with Electra's build quality , maybe not the highest spec, but always adequate. My question, what do these things ride like? I'm not looking far a racer or downhiller but an 8-12 mph cruiser on a dirt road with rain ruts and potholes ( think Jeep trail but that's were I live) with enough gearing to get back again. I guess my question is does it require that much more effort to cruise?
I have a Trek/Electra store but they don't have one and while they could order one in, I'm asking you fine folks as I can't seem to find any reviews other than some German guy that thinks it's "Rad" so I was hoping for something with a little more substance.
The runner up in this would be the Non Fat tire cruiser lux 7D or the Townie Path.
The Townie has more gearing (27) and hydro disk brakes - both very nice - but I'm leaning more to the cruiser geometry. That and there is just something off-putting about the townies look...can't put my finger on it, bust just not a fan. The regular 7D seems to be the same bike with fat tires and disk brakes.
What says bike forums?

07-15-19, 09:05 AM
Senior Member
Join Date: Sep 2015
Location: Left Coast, Canada
Posts: 5,126
Mentioned: 24 Post(s)
Tagged: 0 Thread(s)
Quoted: 2235 Post(s)
Well, I have no love for cruisers as a serious form of transportation. They are more like art pieces/conversation starters used to ride a couple of blocks on.
The geometry is all wrong for generating power while pedaling. It's like sitting upright on a dining room chair and the leg doesn't extend fully. They are easy to pedal for a short distance but then you start to realize how much geometry does matter when cycling. You have fat heavy tires but no application for them and weight built in just for looks. Electras are ok for what they are but the quality isn't meant to take a lot of use or abuse. It's all about the cosmetic with cruisers.

You won't be doing 8-12mph for very long on it unless it's downhill.

I know that sounds negative but there's a reason you don't see people riding cruisers for any real distance. For that application in that posture look at utility type bikes like the old Raleighs.

Just my 2cw.

07-15-19, 09:41 AM
Full Member
I appreciate the input. These aren't for everyone and this sub is for a more serious rider and I really not. Im not discounting your opinion but Im Looking for people that have have experience with them.

07-17-19, 07:43 AM
Senior Member
Join Date: Dec 2007
Posts: 1,373
Mentioned: 4 Post(s)
Tagged: 0 Thread(s)
Quoted: 257 Post(s)
I briefly had a low rider with the ape bars and really hated the feel.
IMO the high rise of the bars in relation to the stem would be twitchy and not friendly on your shoulders, arms and hands on longer rides. Riding straight was fine with the low rider but turning was an unwanted adventure with weight in all the wrong places. If you are looking to raise the bars, find a frame with higher stack heights and get mid-rise/swept bars and an angled stem to get it up even higher. What is the seat height to grips differential you are trying to attain? I includes a geo chart in case you were not sure of stack height measurements.
Also while bigger tires are great for grip and some suspension, you will generally find them slower and tracking more than narrower tires, mainly because of physics.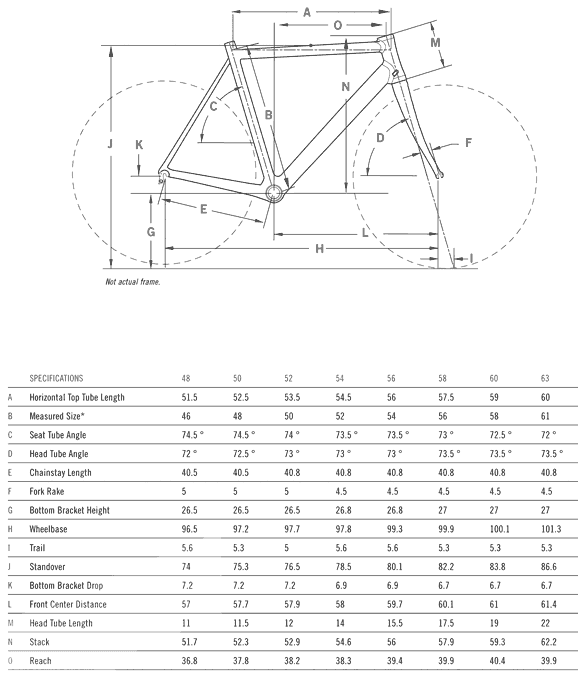 07-17-19, 09:36 AM
Full Member
Thanks for the info. I had a regular cruiser and yes their forte is going slowly in a straight line. Unfortunately due to my arthritis unless there is some new breakthrough if I want to ride, that's my path...slowly in a straight line.

While Im not totally ready, at least mentally to consign myself to the boardwalk quite yet I'm aware of my limitations and pain levels and this kind of restricts me to a cruisers geometry. (The Townies specs look like it would work as well but, and I know this is vanity, in my eyes, it's a little too boardwalk for me even with 27 speeds and hydro disk brakes.

This leaves me with the fat bike. I could put a suspension fork on a regular cruiser just to ease the ride. With-a 1 in steerer my options are not good and then upgrade the brakes to XT-XTR. Or go with the Fat bike and pay the weight penalty.

Im not looking to bomb down my local 11,000 foot ski trail but just kinda cruise along the bad dirt roads around where I live without destroying the bike or me.

07-17-19, 04:50 PM
Senior Member
Join Date: Jun 2008
Location: Somewhere South
Posts: 1,632
Bikes: All of my Bikes are Cruisers
Mentioned: 1 Post(s)
Tagged: 0 Thread(s)
Quoted: 262 Post(s)
Looking at the fat tires that come on the Lux Fat Tire 7 , theyíre 3.5Ē and look like theyíre semi slicks . I think they should work great for what youíre planning on using it for .
If you get one before I do , please post your review.
itíll most like be next month before I can visit my local Trek store to check one out . I doubt they have one in stock . Thanks , Kirby

07-17-19, 08:49 PM
Full Member
Hi Kirby. Will do. I've looked online and would probably have to order one as well. I'm hoping to get one by the end of the summer and if I do I will post some pictures and a review. Please do the same if you beat me to it.

I seem to to have a lot of luck in liking bikes that no one buys. I ran into the same issue when I got my MOTO 3i. I looked online and there were almost zero reviews for it. When I finally got it the LBS said this was the only one they had ordered and sold and they are a Trek Superstore. When I sold it the guy that bought had gone to the store to get some info and they told him they had only sold the one. This will probably be the same way as I've never seen another one locally.

07-18-19, 02:23 PM
Senior Member
Join Date: Dec 2007
Posts: 1,373
Mentioned: 4 Post(s)
Tagged: 0 Thread(s)
Quoted: 257 Post(s)

07-19-19, 07:16 PM
Full Member
While it looks cool and probably works very well. Being just shy of a Grand puts it out of my reach and far beyond my ability as a rider.
Thread
Thread Starter
Forum
Replies
Last Post

Posting Rules
You may not post new threads
You may not post replies
You may not post attachments
You may not edit your posts
---
HTML code is Off
---