Couple of months on and no ride reports on the new bikes!!!!

10-08-08, 12:25 PM
Time for a change.
Join Date: Jan 2004
Location: 6 miles inland from the coast of Sussex, in the South East of England
Posts: 19,914
Bikes: Dale MT2000. Bianchi FS920 Kona Explosif. Giant TCR C. Boreas Ignis. Pinarello Fp Uno.
Mentioned: 1 Post(s)
Tagged: 0 Thread(s)
Quoted: 2 Post(s)
Couple of months on and no ride reports on the new bikes!!!!
---
I know we have had several members with new bikes recently and even have new members that have upgraded their bikes. With the Sales coming up on "08" models about to start- It is about time we had a few reports on the recently aquired bikes so that those of us not feeling the Credit Crunch can start looking for their new rides.

Bought my bikes last year and it will be a little while before I get another but how about an update on those recently aquired bikes to advise others that the New Bike works/ is rubbish/ fell apart or is the best thing since sliced bread (Whatever that was)
__________________
How long was I in the army? Five foot seven.


Spike Milligan

10-08-08, 12:52 PM
Senior Member
Join Date: Aug 2008
Location: Foothills, NC
Posts: 415
Bikes: 2009 Specialized Crosstrail Elite, 2008 Cannondale Six13 3
Mentioned: 0 Post(s)
Tagged: 0 Thread(s)
Quoted: 0 Post(s)
My wife and I upgraded from our XMart bike to specialized crosstrail Elite 2009 models, I can say we have put about 200 miles on them since we purchased them and we really love them, One of the fetures I like about the elite model is the lockable from fork. You can unlock it and have the adjustable suspension when off road and on trails and you can lock it out into a solid fork when you are on pavement. We both like this feature. The difference between the Xmart Schwinns and the Crosstrails was like going from a Yugo to a Buick.

10-08-08, 01:21 PM
TCR Advanced SL
Join Date: Oct 2007
Location: Ulah Proper N.C.
Posts: 1,043
Mentioned: 0 Post(s)
Tagged: 0 Thread(s)
Quoted: 0 Post(s)
I had the itch to build up a carbon fiber frame. So I purchased a 61 cm Bottecchia (ADK) frame from Bikes Direct. The frame is excellent quality, and plenty stiff too. I used an Ultegra gruppo, Mavic Aksium Race wheels, Vittoria EVO Open Corsa tires, Nashbar stem, handlebars, CF seatpost and a Brooks B17. Completed weight 17.75 lbs. I have since purchased another Ultegra gruppo and I am planning to build up a Giant TCR Advanced frame in the spring. I'll try to get a picutre up of the Bottecchia within a day or two. Lp

10-08-08, 01:40 PM
Senior Member
Join Date: Feb 2004
Location: St Peters, Missouri
Posts: 29,127
Bikes: Catrike 559 I own some others but they don't get ridden very much.
Mentioned: 10 Post(s)
Tagged: 0 Thread(s)
Quoted: 1099 Post(s)
Probably isn't the kind of answer that you envisioned.

I rode the dark side bike this afternoon for the first time since it's handlebar reconfiguration.

The dark side bike is a Raleigh Technium mountain bike from the 80's that's been converted to a 700c fixed gear. This week I installed a road handlebar chopped and inverted like a bull horn and a much taller and shorter stem. I was very pleased with the result. It's much, much more comfortable to ride and much more controllable. I'm thinking that a stem with 2 cm more reach would be perfect.

10-08-08, 01:44 PM
Time for a change.
Join Date: Jan 2004
Location: 6 miles inland from the coast of Sussex, in the South East of England
Posts: 19,914
Bikes: Dale MT2000. Bianchi FS920 Kona Explosif. Giant TCR C. Boreas Ignis. Pinarello Fp Uno.
Mentioned: 1 Post(s)
Tagged: 0 Thread(s)
Quoted: 2 Post(s)
__________________
How long was I in the army? Five foot seven.


Spike Milligan

10-08-08, 01:50 PM
feros ferio
Join Date: Jul 2000
Location: www.ci.encinitas.ca.us
Posts: 19,193
Bikes: 1959 Capo; 1980 Peugeot PKN-10; 1981 Bianchi; 1988 Schwinn KOM-10;
Mentioned: 27 Post(s)
Tagged: 0 Thread(s)
Quoted: 643 Post(s)
I don't have room for another bike, and I don't want to part with anything I currently own.
__________________
"Far and away the best prize that life offers is the chance to work hard at work worth doing." --Theodore Roosevelt
Capo: 1959 Modell Campagnolo, S/N 40324
Capo: 1960 Sieger, S/N 42624
Peugeot: 1970 UO-8, S/N 0010468
Bianchi: 1981 Campione d'Italia, S/N 1.M9914
Schwinn: 1988 Project KOM-10, S/N F804069

10-08-08, 08:50 PM
Member
Join Date: Jul 2008
Posts: 26
Mentioned: 0 Post(s)
Tagged: 0 Thread(s)
Quoted: 0 Post(s)
I picked up the 2007 version of SE Racing's single-speed mtb at my LBS last week. For a picture and reviews by much more experienced riders than I am, here's a link:
http://twentynineinches.com/2008/04/...-final-review/
. My bike is stock, except that I added Shimano's platform/clipless combo pedals. I've been riding in my usual fall knock-around boots so far; haven't had any temptation to break out the SPD shoes. I did get a few bucks off out the door. I did do a little comparison shopping, but this was the one single speed mountain bike available at a nearby shop and within my budget.
I'd been holding off posting about the bike since I've only managed a handful of short rides this week, but, on the other hand, short spur-of-the-moment rides were what I bought it for, although I'm certainly hoping to get some longer and more trail-oriented rides in before winter. I've done a little of all the kinds of riding that are easily available around here--country roads, suburban neighborhood, bike path, a couple of easy trails--and I'm very happy with the bike's versatility. I find the stock gearing very comfortable, no problem in handling rolling terrain; I'll have to get out and try some more serious hills and see what I think, but I found one short but sudden hill that always knocked me down a gear or two (it comes at a point in my ride where I'm not really warmed up) was easy enough--just stand up and do it. I think trails will be good fun--from the bit of off-road stuff I've tried so far, I'd say the bike pretty much smiles when you turn off the tarmac. This is an inexpensive bike by BF's usual standards (although right where I wanted to be), but everything seems good so far. And, while I've probably been affected by the pro-singlespeed rants here and elsewhere, I like everything about riding with just the one gear. One thing I noticed was that the bike gives a very good workout in a fairly short time; after a mornng ride, I went for a walk in the nature preserve with family & dogs, and I could feel that I'd already put my legs to good use.
Here's where things get more subjective, and I don't want anyone to think that I'm criticizing the choices anyone else makes about cycling's place in their life, at all. I thought a lot about buying this beast (and I don't particularly enjoy the consumer-reports aspect of shopping; I haven't bought a non-used bike in more than twenty years). I spent this summer as a novice roadie, riding my decent old 12 speed farther and (I think) faster, switching to clipless pedals and better shoes, adding a cycle computer, all that good stuff. But I felt that biking this way was taking me farther from my family and the center of my life--it was a hobby that I had to zone out time for in the midst of other stuff; it required a plan. I wanted to be able to ride often, to ride comfortably with my youngest son (and he said he wanted to begin trying some trails), to take care of the bank/library/store sorts of errands without using the car, to get in 5-10 miles when I found I had the time and without much premeditation. Seems to be working.
As I rolled the bike out the door, the LBS guy said, "you'll have a lot of fun with that." Seems like.
---
Last edited by Apologist; 10-08-08 at

08:56 PM

. Reason: typo

10-08-08, 09:44 PM
www.ocrebels.com
Join Date: Aug 2006
Location: Los Angeles area
Posts: 6,189
Bikes: Several bikes, Road, Mountain, Commute, etc.
Mentioned: 1 Post(s)
Tagged: 0 Thread(s)
Quoted: 83 Post(s)
Well, not this year, but mid summer last year a guy in our club was selling a used Calfee Tetra (frame, fork, FSA headset, FSA stem, FSA carbon bars and a carbon seatpost) . . . for $1200.00. It was one CM larger than the size I was riding, but I was looking for a frame "just a tad" larger, i.e. what Rivendell (Grant Petersen) would have recommended as the best "comfortable" size.

So I pulled the cash out of my savings and did the deal. Yeah, my first carbon bike, with all kinds of carbon components. I bought an Ultegra group (compact crank) and some Cane Creek wheels, added my favorite Serfas saddle, SPD-L Pedals and I was ready to go. Really.

Loved the bike from the first ride on. The first double century I rode with the Calfee was Grand Tour '07. After that, I rode it on the Solvang Fall double, .07. In '08 I rode it on the Butterfield Double, Solvang Spring Double, Grand Tour Double and Knxoville Double, plus several climbing specific events (Breathless Agnoy, Heartbreak Century, Mt. Shasta Double Metric, Cool Breeze Double Metric, Ride Around the Bear Century, Wildflower Century, etc.).

Changed to an Ultegra triple crank in March of '08 for the Mulholland Double, but it was still too tough for me and I DNF'd at mile 162. Tried some Topolino wheels but had nothing but trouble and went back to the Cane Creeks. Recently changed out the Fizik bar tape for some Planet bike tape.

I still save the Calfee for "big event" rides, and use my Ti GT for club rides, the Mercian for touring,
the Hercules for shopping and the MASI for fixed gear recovery rides. I have seven bikes (none of which is a Seven), and I have promised myself that I will sell (or donate) at least one bike before I aquire another one. And I mean that. I am sure. Well, pretty much.

I didn't post a photo cause no one else did, but I can it you'd like.

Rick / OCRR

PS: My wife bought me a Rhubarb pie from Marie Calledar's and it makes a great recovery food after a training ride. I know, because I've been doing some serious testing. My wife doesn't like Rhubarb, so I have to eat the whole darn thing myself!

10-08-08, 10:03 PM
Don't mince words
Join Date: Jan 2007
Location: Vacaville, CA
Posts: 6,967
Bikes: '16 BH Quartz, 2017 Calfeecustom carbon tandem, Fuji D6 TT bike
Mentioned: 0 Post(s)
Tagged: 0 Thread(s)
Quoted: 3 Post(s)
I've been riding my Diva exclusively since I got it in late May. The more I ride it the more I love it. The only time I don't ride it is when we're on the tandem. I

this bike.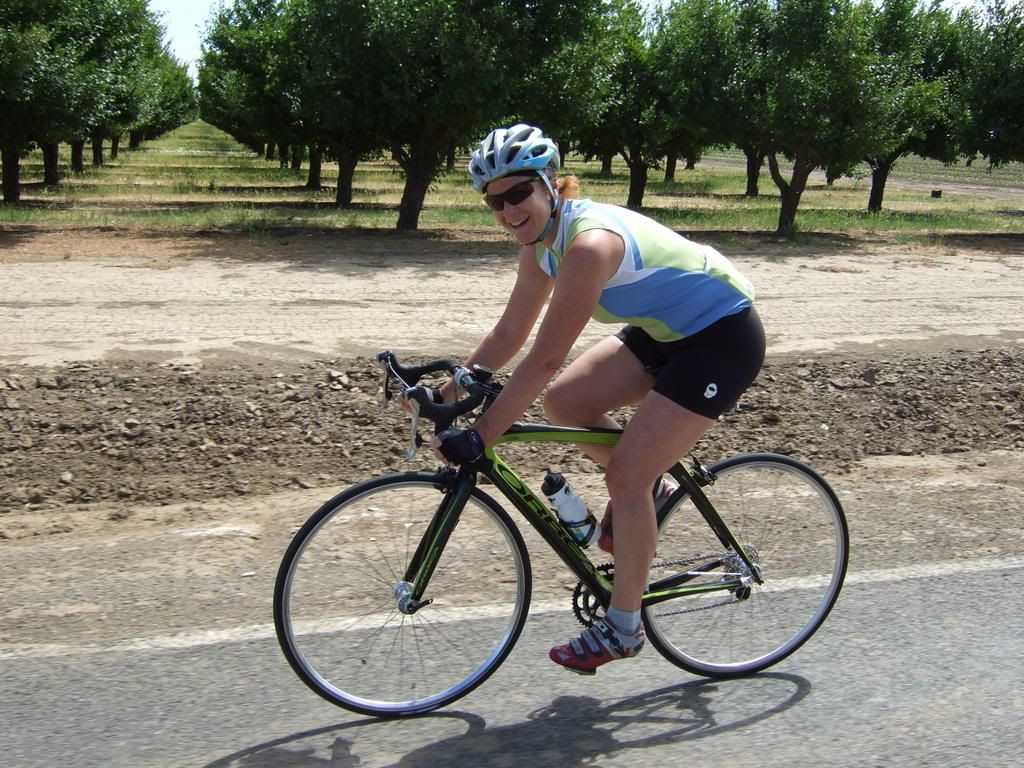 10-08-08, 10:05 PM
Surly Girly
Join Date: Mar 2007
Location: SoCal
Posts: 4,117
Mentioned: 0 Post(s)
Tagged: 0 Thread(s)
Quoted: 2 Post(s)
I took delivery of my new Surly LHT yesterday. Hubby got the call that my pedals were in, so he drove down to get the bike and the pedals (30+ minutes each way by freeway). He surprised me, as it was waiting for me inside the front door when I got home from work. Today, he installed the pedals (A530s) and tomorrow he'll lube the chain (he said it needs more lube). I can't wait to begin customizing it to make it mine.

__________________
Specialized Roubaix Expert
Surly Long Haul Trucker

10-09-08, 05:17 AM
Senior Member
Join Date: Aug 2006
Location: Tallahassee, FL
Posts: 9,203
Mentioned: 3 Post(s)
Tagged: 0 Thread(s)
Quoted: 150 Post(s)
I have several hundred miles on my new Motobecane Sprintour now and am really enjoying it. It replaced my old 1990-ish Cannondale road bike that was wrecked in an accident in June.

At first I thought the original riding position might be a bit too aggressive for longer rides (bars ~5" below saddle), but I took it on the Pumpkin Patch Century and it was supremely comfortable. I felt better after that century than I did after any other century I have ridden despite the fact that I have been in better shape for other centuries. I was concerned that my back, neck or hands might balk at longer hours in the lower position, but found the opposite to be the case. I guess I won't be flipping the stem after all.

The aluminum frame with CF fork and seat stays gives a comfortable and responsive ride. The geometry and component choices all seem to be well thought out and there is nothing that I am tempted to change. It has an FSA SL-K Lite MegaEXO triple and while that is working out fine I think a compact double would have been fine too.

10-09-08, 05:24 AM
Senior Member
Join Date: Jun 2004
Location: Illinois (near St. Louis)
Posts: 852
Bikes: Specialized Expedition Sport, Surly LHT
Mentioned: 0 Post(s)
Tagged: 0 Thread(s)
Quoted: 4 Post(s)
Wife and I have new LHTs, got about 700 miles on them so far. Observations:
1. They weigh less than our old steeds- Specialized Expedition Sports, with flat bars and fixed forks.
Contrary to what we've read, they climb great (compared to what we came off of). I'm a little reluctant to try a road bike- might spoil me)
2. They are very comfortable, 75 milers no problem. First century is this weekend.
3. The change from flat bars to drops was great. Love it. Takes me back to college days.
4. The drive train is super (Tiagra front, XT rear).
5. The gearing is OK. Low end fine, high end fine. There's a jump that's too big in my cruising range- 80 cadence at 18 mph to 91. I may try a Harris touring cassette- got to play with Sheldons GI calculator a little and see if there's anything I can do
6. We have not ridden them loaded yet.

Changes from the complete version (that's how we bought them): Brooks B17, Profile Design Split Second Aero bars, Ritchey Pro Max drops, Cane Creek SCR5C levers (compact levers).

10-09-08, 07:29 AM
Senior Member
Join Date: Feb 2007
Location: S.E. Pennsylvania, USA
Posts: 1,737
Mentioned: 0 Post(s)
Tagged: 0 Thread(s)
Quoted: 2 Post(s)
12
---
Last edited by BSLeVan; 10-16-08 at

03:42 PM

.

10-09-08, 08:43 AM
VoodooChile
Join Date: May 2008
Location: AZ
Posts: 1,048
Bikes: Salsa Casseroll
Mentioned: 0 Post(s)
Tagged: 0 Thread(s)
Quoted: 0 Post(s)
I picked up a 2009 Salsa Casseroll on September 13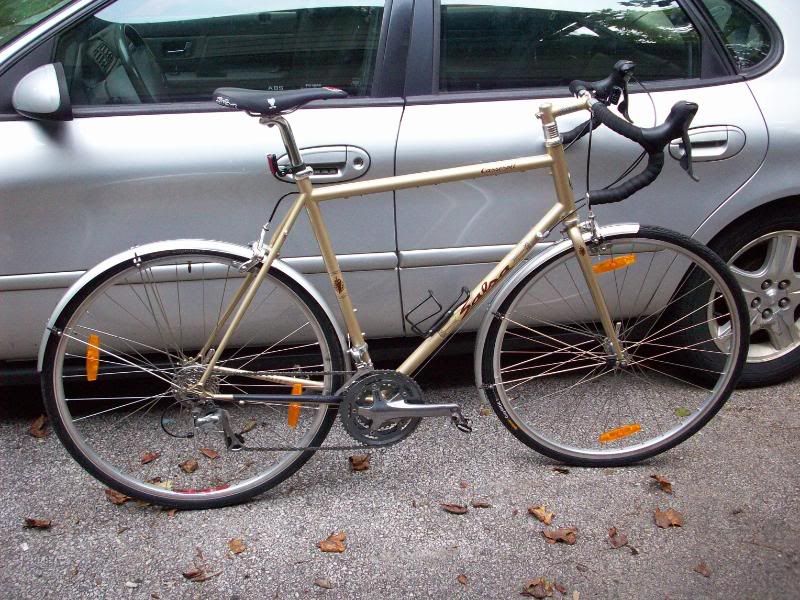 As this is my first foray into the world of road biking, a little background might be in order. In March of 2006 m'lady and I decided to take up bicycling as a form of exercise. I purchased a big-box Schwinn Ranger and a fat, overstuffed saddle. We rode less than once a month on the local MUP rail/trail and put the bikes away in October. We pulled the bikes out in April 2007. On that first ride we rode for two hours and discovered that we had missed riding over the winter. We started going out every weekend (sometimes twice) and continued riding all winter long (although a good bit less frequently after Thanksgiving). This spring I upgraded to a Trek 7300 hybrid, which I put about 1500 miles on before I rode my first supported century in August. I enjoyed the distance ride so much that I started looking for a better long distance bike. I didn't want a touring bike, as my goal wasn't touring, but randonees and brevets, so I zeroed in on steel frame. I also have some financial restraints, so Waterfords and Rivendells are out of the equation.
Having said all that, here's what I discovered about the Salsa, and road bikes in general.
First: The frame is CroMoly and is TIG welded, not lugged. I thought that a steel frame would be heavier than the aluminum hybrid. I was mistaken. The Salsa is light enough to lift onto a car rack with one hand. The ride is not particularly harsh, but my only frame of reference is the fully suspended Trek.
Second: Even having significantly raised the handlebars (look at all the spacers), the riding position has taken a lot of getting used to.
Third: Doing stretching exercises and core exercises has eliminated lower back discomfort that I was worried about with the a road bike.
Fourth: Compared to the steering geometry on a hybrid, the Salsa was a twitchy handful at first, but I've gotten used to the faster steering.
Fifth: The Salsa is a factory build and came with full 105 group. Shifting with the integrated "brifters" is intuitive: big lever, bigger ring/cog...small lever, smaller ring/cog. No muss, no fuss, just clean shifts.
Sixth: The stock saddle, a WTB caused some chafing during a short ride after I'd put about two hundred miles on the bike.
I have replaced the WTB with a
Selle AnAtomica
, but I haven't had the time to get it dialed in, and the AnAtomica is actually painful.
Unfortunately, real life has intruded: my son was in a serious car accident (surgery to fuse two vertebrae, a couple days in ICU - he's been discharged and seems to be fine; long term prognosis is excellent); I am in the process of moving (settlement to sell my house is scheduled for this Tuesday, and I still have to move most of my crap from my house to my apartment). This has forced me to skip two supported centuries that I had signed up for, and to suspend my saddle tuning.
My riding over the last two weeks has been limited to three or four rides of only about ten miles each, but once my move is completed this weekend, and assuming that my son's convalescence continues at a favorable pace, I plan to get in a LOT more saddle time...after all, I have another century scheduled on the 26th


Posting Rules
You may not post new threads
You may not post replies
You may not post attachments
You may not edit your posts
---
HTML code is Off
---