Dahon Yeah!

08-19-21, 08:18 PM
Junior Member
Join Date: Feb 2013
Location: Montreal
Posts: 18
Bikes: '87 Cannondale crit, '94? Caad2 '80 Peugeot men's/mixte tandem, Raleigh Twenty fixed and 3spd, Specialized Sirrus, Norco Spitfire BMX, AVP "trail-a-bike" etc.
Mentioned: 0 Post(s)
Tagged: 0 Thread(s)
Quoted: 0 Post(s)
Dahon Yeah!
---
Hi Gang. Iíve just picked up a pair of 6spd Dahon Yeah folding bikes. A bit like a boardwalk I think. Basically the most entry of entry level bikes theyíve made in my estimation. Or at least in the past twenty odd years. Hi-ten steel frame. Cheapo fork. Steel seat post and cranks. Loose ball bb. What have I done?! Every review I came across said pass, but I canít help myself.
On the plus side, real Dahon folding mechanism, alloy rims (steel hubs lol), lightweight plastic mudguards and even a little rack.
My plan is to fix one up for a friend and then upgrade the other for myself. Iíd love to see what kinds of mods others have done, but I havenít stumbled across a Dahon Mods community yet.
Some ideas include front derailleur with a decent road or touring setup, modding or changing our the handlebar/stem, stuff like that. Or maybe a fixie since it has BMX style dropouts. Or a three speed IG with a coaster brake.
Looking for inspiration. Something like the old Raleigh20 forum. Iíve got a pair of twenties and theyíre awesome. The only weakness IMO is the awkward folding and idiosyncratic everything, but thatís the fun of it.
https://raleightwenty.webs.com/apps/forums/
Some obvious upgrades Iíd like to do include lacing the stock rims to better hubs, upgrade drivetrain, alloy seat post etc. Thereís a bunch of weight savings to be had for very little money. Does anyone have leads or inspiration for me?
Thanks.

08-21-21, 05:23 AM
Senior Member
This is my Dahon Boardwalk. I recently took it out of storage and started riding it again after several years. I have replaced the seat (Brooks B17), crank and bottom bracket (the original crank / bottom bracket was thoroughly terrible), wheels (including hubs with QR skewers), grips, and shifter (I hated the grip shift and so replaced it with a Shimano Rapidfire shifter, which is way better). Much more enjoyable to ride after my changes.
---
Last edited by The Chemist; 08-21-21 at

05:27 AM

.

08-21-21, 07:18 AM
Senior Member
Join Date: Apr 2006
Posts: 3,648
Mentioned: 13 Post(s)
Tagged: 0 Thread(s)
Quoted: 378 Post(s)
Likes: 0
These are my 2 Boardwalks. One is a 2000 and the other is a 2001. Repaired the drive train and used 7 speed bits as they were easy to get. Roger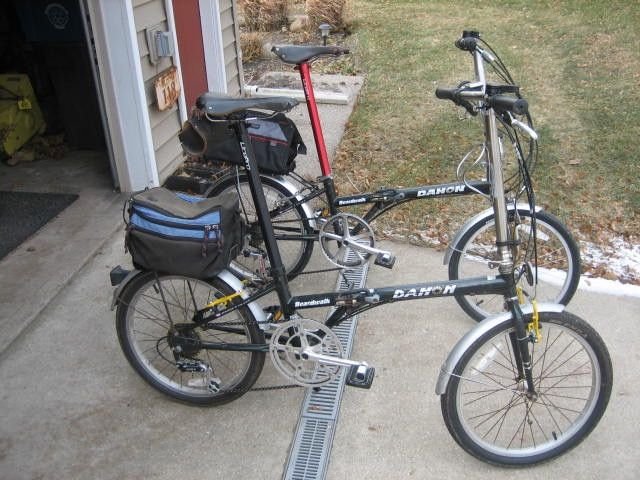 08-21-21, 03:40 PM
Doesn't brain good.
Join Date: Jun 2015
Location: Pacific Northwest
Posts: 2,263
Bikes: 5 good ones, and the occasional project.
Mentioned: 19 Post(s)
Tagged: 0 Thread(s)
Quoted: 1239 Post(s)
20210821_090900
by
Richard Mozzarella
, on Flickr
This bike started out as a $30 pile at a local co-op. Shimano Nexus 7 included. But the hub was missing some bits & the bike looked like it was run over. I disposed of the original taco wheels in a recycle bin. I then took the hub I found in a random milk crate to a place in West Seattle that Sheldon Brown's website recommended for an overhaul & to retrieve the missing parts & a 17 tooth cog.
20210821_090914
by
Richard Mozzarella
, on Flickr
A closer view. Since the crankset was smashed. I wrote to Haberstock Mobility in Switzerland (?) for a new Schlumpf "type '08" speed-drive with a 34 tooth chainring. After a few weeks when it arrived in a yellow DHL truck, I then went back to Aaron's Cycles in West Seattle to have it installed.
The Surly Singleator in the above photo was a bear to find. Silver. It came from a ma-n-pa shop in Brooklyn somewhere. Probably NOS as it was the only one listed on page 36 of Google Shopping. The silver "upgrade kit" was a bit easier to find but was still a challenge to find a place that actually had one in stock. Once installed, it was obvious the derailleur hanger it was attached to needed to be straightened.
20210821_090928
by
Richard Mozzarella
, on Flickr
For the wheels, I laced in a new Shutter Precision from China by way of Ebay from some guy in England that presumably bought all of the stock of the usual UK online retailers. Even Shutter Precision themselves didn't have one at the time. Silver anything in bike parts are hard to get.
The rims are Velocity Dyad's from Minnesota. That were scheduled to be on backorder for 3 months. It was an additional 1&Ĺ months over due by the time it finally arrived.
I cut my own spokes & built both wheels myself.
Then ordered the Schwalbe 406x35 tires from Amazon dot co dot uk because North America had run out. They arrived in 2 shipments, over a week apart from 2 different carriers.
20210821_091122
by
Richard Mozzarella
, on Flickr
In the rear, I installed a 6000 series roller brake from another Ebayer from California. The original 3000 series roller from Ebay China turned out to be an Inter M 50 & was not the item I purchased. It wasn't worth the hassle. For my own sanity, I chalked it up to a language barrier problem. Shimano says not to use the 6000 series brake on any wheel smaller than 26 inches. I dunno, you gotta try pretty hard to skid. I actually like that I have 30% more braking on account of wheel diameter. OEM Shimano rollers have never been that spectacular to begin with. I feel this is at least comparable to a rim brake now. Shimano roller brakes do ship dry & require expensive Shimano grease. It's a good thing MOS II CV axle grease from an autoparts retailer is the same stuff & a plastic medecine injector to inject it into the brake can be found at any pharmacy.
In the front, are Kool Stop CX pad carriers with the orange & black inserts. Swapping pads with any conventional insert should be an easy affair with further needs of adjustment unnecessary.
Both brakes are actuated by kevlar reinforced compressionless housing & the OEM long pull brake levers.
The Nexus 7 hub is actuated by an Amazon sourced Microshift trigger shifter. When combined with the speed-drive gives a range of ~24 to 98 gear inches...about 405% range or so. Which is respectable for any bike, much less a folder.
20210821_091227
by
Richard Mozzarella
, on Flickr
When I laced up the front wheel, I discovered one side had to be radial laced on account of an interference issue with the fork. The SP dynamo for a Brompton has higher flanges further outboard than the Dahon OEM hub. Also the Brompton 74mm OLD hub spacing is not necessarily interchangeable as I had hoped it would be. Brompton has a smaller axle diameter than that of the Dahon & when installed on a Dahon the wheel would not center in the dropout consistantly. The solution is a short section, a few mm tall, of ⅜ stainless steel automotive brake line pressed onto the axle nubs to fill in the gap of the drop out, effecting the expected 9mm axle the dropout expects to see. Pressing on the near interference fit collars with a smear of JB Weld to secure the stainless axle collar in place is trivial.
I'm sure there are more details I am forgetting, but this should inspire you enough for a few ideas.
All told for this $30 pile that will retail all-day long on the second hand market for $300: I'm into it about $1400 & a bunch of my own time & labor. But it's mine & it is more capable, & lower mainenance, & more durable than many new folders that retail for 2x the price. Heck, the IGH upgrade of a Bike Friday is around $1700. So I think I got a fair deal for 14 speeds of IGH glory.

Covid parts pandemic challenge met & dominated.

---
Last edited by base2; 08-21-21 at

10:44 PM

.

08-22-21, 08:24 PM
Junior Member
Join Date: Feb 2013
Location: Montreal
Posts: 18
Bikes: '87 Cannondale crit, '94? Caad2 '80 Peugeot men's/mixte tandem, Raleigh Twenty fixed and 3spd, Specialized Sirrus, Norco Spitfire BMX, AVP "trail-a-bike" etc.
Mentioned: 0 Post(s)
Tagged: 0 Thread(s)
Quoted: 0 Post(s)
Iím inspired!
---
Thanks for your replies. Thereís no way my bikes will be in league with yours when Iím done. So far Iíve torn down and cleaned up the nastier of the two bikes and reassembling after an overnight soak of most of the rusty bits. Iíll post updates once Iíve got more progress.

08-23-21, 02:38 PM
Since you mention new hubs & drivetrain, you might consider a wide-range 1x instead of front shifter. Microshift Advent 9-speed (11-46t) is a well-reviewed budget MTB drivetrain. It's offered on some kids' 20" bikes, so ground clearance must be somewhat viable.

08-24-21, 03:04 AM
The Microshift Advent upgrade can work well - I have installed that groupset on a Tern Link D8 with 20Ē wheels without any issue, and the range is pretty good for life in a hilly city. Youíll need new hubs for a cassette setup anyway.

08-25-21, 02:32 AM
Senior Member
Join Date: Aug 2014
Location: UK
Posts: 501
Bikes: Dahon Jetstream p8 (sold), customized Dahon Helios P18, customized Dahon Smooth Hound P9, Planet X Free Ranger (mullet setup), Frog 52 9s and Frog 48 1s
Mentioned: 0 Post(s)
Tagged: 0 Thread(s)
Quoted: 161 Post(s)

08-25-21, 05:24 PM
Hereís a photo of the Tern Link with Microshift Advent groupset, see what you make of it for clearance in gear 3 which is when itís closest to the ground. This is using the medium arm derailleur option, not the long arm option, and with the 11-44t cassette. Canít say that Iíve found it problematic with Schwalbe Big Apple tyres installed riding on roads and gravel bike paths. The derailleur is pretty chunky and could probably take a scrape without a drama.