Hi!
I'm from Germany and looked for BikeForums.net, because I have a problem that nobody here could solve so far. Please excuse my english if it sounds a bit strange sometimes.
I tried C&V Forum first, but nobody there could lightening me

.
I need help to identify a quite strange road frame from mid 90's. I purchased this bike used one year ago, it is quite unusual, but it fitted and was cheap, and also it was a kind of independently.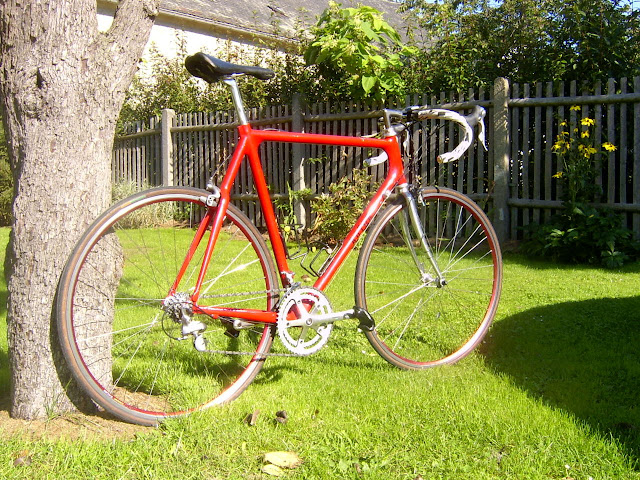 I have detailed pictures in this web album:
http://picasaweb.google.de/jenser0/Rotor
I'm quite sure that the equipment (except wheels) is completely original, and I would date it to mid to late 90's. There's no number or other identifying markings, only frame size on bottom bracket - 62 measured from bb center to top of seat tube. Top tube has 57cm. This geo is on the edge to custom I think.
When you see it first, you'd say this is a monocoque carbon fiber frame. I thought so too, but what you see is 100% aluminium or alloy. These smooth transitions from tube to tube are thin, welded tins which are combined with other parts (seat clamping, bb, head tube) to a kind of lugs. The main tubes and the monostay are glued or pressed into the lugs with short inner tubes, so you can see nothing from the outside. You can see that looking into the seat tube (sorry my cam doesn't get it), where is the only place I know. The other fittings I suspect are similar.
The seat clamp is also quite unusual, seat post is fixed with two bolts screwed in from the backside. This is the main thing why I say it's french, I know similar ways from the Vitus aluminium frames. The fork also looks similar to Vitus, but it isn't exact the same. A Stronglight headset it has, too. But I'm not so sure if it's french.
The Label "Rotor" is a custom bike shop in Leipzig/Germany. You get your frame built up, painted and labeled, but they are no frame builders. I was in this shop - these guys also didn't know, too old, no documents, the shop just started existing in those days.
Has anybody seen a frame like this? Some may be remembered to the Cinelli Laser, but the Laser was made of steel tubing and lots of bondage. There's no bondage on my frame I think, It wold sound "toc" when you hit that slightly with a screw driver. But it does "pling"

.