LR 15 Dropout Compatibility

06-11-13, 02:25 AM
Newbie
Join Date: Jun 2013
Posts: 3
Mentioned: 0 Post(s)
Tagged: 0 Thread(s)
Quoted: 0 Post(s)
Likes: 0
Liked 0 Times in 0 Posts
LR 15 Dropout Compatibility
---

06-11-13, 06:56 AM
Randomhead
Join Date: Aug 2008
Location: Happy Valley, Pennsylvania
Posts: 23,302
Mentioned: 0 Post(s)
Tagged: 0 Thread(s)
Quoted: 4 Post(s)
you can find the columbus catalog and check, I don't know if it works

One thing to take into consideration with those dropouts is that the cs/ss angle is a little weird. I have seen some bikes that looked really horrible because the ss angle didn't match the angle of those drops

06-11-13, 08:29 AM
Decrepit Member
Here's the 2010 Cromor data. The LR 15 track end chain stay plug is 11.4mm, and the seat stay plug is 9.9mm
The tubeset offered by Nova includes the 24mm oval chain stay (CRM114OV) and the 16mm seat stay (CRM615560).
The chain stay at the dropout end has a 12.5mm O.D. and 0.8mm walls, so 12.5 - 1.6 = 10.9. The 11.4mm plug won't fit into a 10.9mm hole without some work.
Unfortunately, the seat stay diameter at the small end of the tube isn't provided on the data sheet, so you may want to contact Nova and ask. The wall thickness is 0.8mm, so subtract 1.6mm from the O.D. you get from Nova for the I.D., knowing that it needs to accept a 9.9mm plug.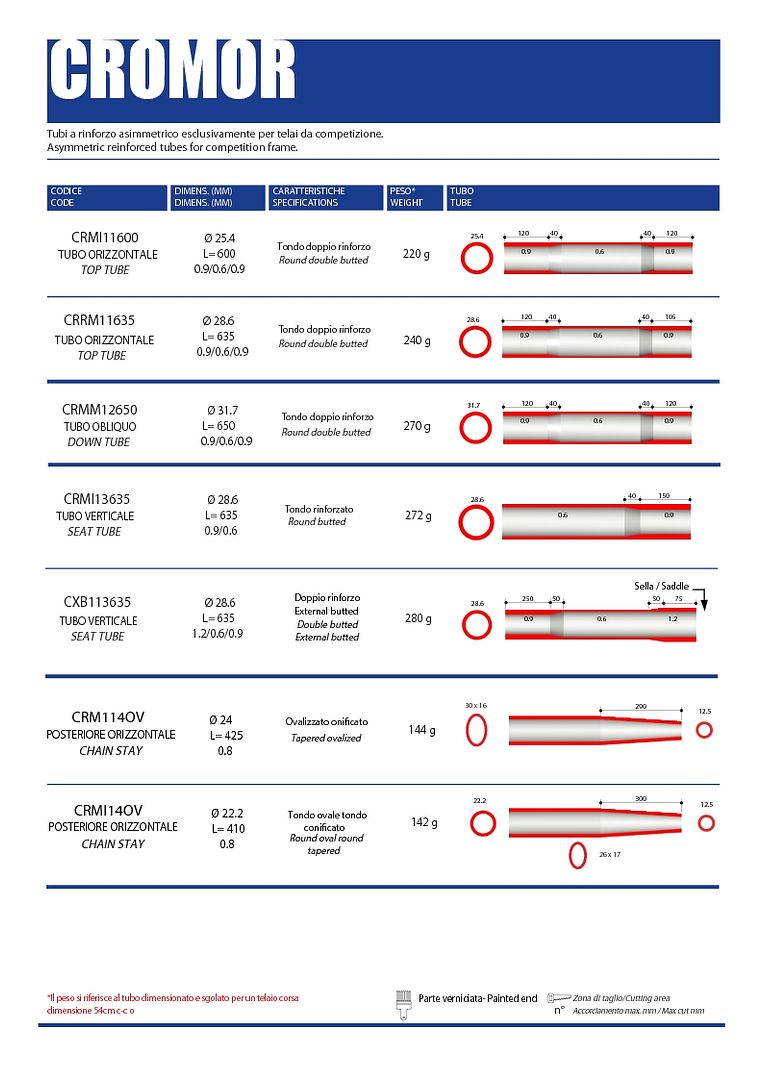 __________________
- Stan
my bikes
Science doesn't care what you believe.


06-11-13, 09:33 AM
Randomhead
Join Date: Aug 2008
Location: Happy Valley, Pennsylvania
Posts: 23,302
Mentioned: 0 Post(s)
Tagged: 0 Thread(s)
Quoted: 4 Post(s)
having the dropout bigger than the hole is the desired situation. You have to reduce the size of the plug to fit.

06-11-13, 02:59 PM
Old fart
Join Date: Nov 2004
Location: Appleton WI
Posts: 24,205
Bikes: Several, mostly not name brands.
Mentioned: 148 Post(s)
Tagged: 0 Thread(s)
Quoted: 3245 Post(s)
That's a nice thing with the Nagasawa dropouts; the seat stay socket is a separate piece that can pivot a little on the dropout to accommodate different angles:

06-11-13, 03:42 PM
Senior Member
Join Date: Sep 2009
Location: EagleRiver AK
Posts: 1,274
Mentioned: 0 Post(s)
Tagged: 0 Thread(s)
Quoted: 21 Post(s)
Likes: 0
16mm (big end) single taper stays are usually 12.5mm OD on the small end, too big for a good fit to those plugs. Better to use 14mm/10.5mm single taper stays. While they (and the chainstay ends) may initially be too small, you can cut some excess length from the small end to where they are a better ID fit to the plug as the taper expands. Combine with filing the plug down for an exact final fit.
To use the 16mm CS, you might consider using Novas MTB track DO;
https://www.cycle-frames.com/bicycle-...lug-style.html
Easy enough to cut& file away the derailleur hangar, the plugs are sized for 12.5mm OD CS & SS, the wider angle is more suitable for typical geometry than the 50° of the other track DO.
Plate track dropouts are also an easy and versatile option.
Thread
Thread Starter
Forum
Replies
Last Post
Track Cycling: Velodrome Racing and Training Area

Posting Rules
You may not post new threads
You may not post replies
You may not post attachments
You may not edit your posts
---
HTML code is Off
---